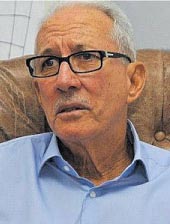 (Trinidad Guardian) The gloves are off – on all sides.
Attorney for A&V Oil and Gas CEO Hannif Nazim Baksh, Ramesh Lawrence Maharaj SC, is challenging a decision by state-owned Petrotrin on Fridayto terminate the contract of the lease operator.
After Petrotrin announced it had given the operator notice of termination of contract, Maharaj said he'd written to Petrotrin demanding a response by January 2, 2018.
"If none is forthcoming, we have the option to go to court for an injunction to block their termination decision. A breach of contract can result in Petrotrin paying over $1 billion in damages," Maharaj added.
Petrotrin's termination and Maharaj's reaction are the latest developments in the company's alleged "fake oil" matter which arose several months ago.
An August Petrotrin audit report had alleged volume discrepancies occurred between oil production and actual receipts. An employee and lease operator fell under scrutiny, after it was alleged the state-owned company overpaid $80 million for oil which wasn't supplied.
Petrotrin's board subsequently commissioned external forensic audits by Kroll Consulting of Canada and global oil and gas consultants Gaffney Cline, which confirmed the internal findings.
After that, Petrotrin employee Vidya Deokiesingh – the ruling People's National Move-ment's general election candidate for Siparia – was placed under disciplinary proceedings two weeks ago.
Further action continued rolling on Friday, when Petrotrin's board announc-ed – via statement – that the company has given notice of the termination of contract to the lease operator "associated with the discrepancies in reported oil production and actual receipts" revealed by its Internal Audit Department. Petrotrin noted its Audit Department's findings were confirmed by Kroll Consulting.
The statement added, "Another report, from global oil and gas consultants Gaffney Cline, had also advised that the reservoir from which the oil had been produced was incapable of yielding the reported volumes. Petrotrin gave written notice of termination to the lease operator this week after it communicated its findings to the operator and gave it an opportunity to respond."
Petrotrin chairman Wilfred Espinet said while some commentators have expressed concern at the rate of Petrotrin's progress in the matter, it was critical the board act only after careful consideration of all relevant matters, including the response of the lease operator to the findings.
"Adherence to process is the most important component of this exercise. We're being guided by expert counsel, and are committed to ensuring that we do things in accordance with proper procedure," Espinet added.
However, Maharaj said his firm – which had up to Friday to respond to the termination notice – wrote to Petrotrin indicating the company's decision was not being accepted.
"That is because they have no legal or factual basis for termination of the contract, as they haven't produced any evidence to show A&V was involved in any wrong-doing in the supply of oil. They've also breached the contract by not acting in good faith, since they have refused to give us a copy of the Kroll and Gaffney Cline reports on which they based their decision," Maharaj added.
Maharaj said his company had now triggered the dispute resolution mechanism which requires Petrotrin to meet him to further discuss the matter on January 2 at Petrotrin headquarters.
"We indicated to them all of this is without prejudice to our right to contend and we're entitled to get an injunction from the High Court against them to restrain them from acting on their decision to terminate the contract," Maharaj said.
"We indicated their decision is in violation of good faith and natural justice and we asked them – under the contract – to comply with the requirements of conciliation and mediation. If they don't, we're entitled to go to court to compel them to obey under the terms of the contract."
Maharaj said his client is also demanding the money which Petrotrin owes A&V for supply of oil from August – when the audit report was done – to date.
"That is to the tune of $70 million. A breach of contract can a result in Petrotrin paying over $1 billion in damages because the investment of our client was almost $1 billion."
AG must follow money now – Lee
Opposition whip David Lee said on Friday that Petrotrin's decision to terminate the A&V Oil and Gas contract was vindication of Opposition statements on the matter, adding the Attorney General must now "follow the money" in the matter to recoup taxpayers' funds involved.
"This issue is live, real and fresh, an opportune time to 'follow the money.' We also expect the company's report to be sent to the appropriate legal directions for follow-up," Lee told the T&T Guardian.
"And since Minister (Franklin) Khan said the company employee allegedly cited in the audit report was subject to disciplinary proceedings, the public should be given details of this, when it will be completed and if it has, what's the outcome."
Energy Minister Franklin Khan didn't reply to calls on Friday on what action would transpire following Petrotrin's decision to terminate the operator's contract.
But Khan recently said Petrotrin had engaged senior counsel to assist after the Kroll report, adding the matter was being pursued by Petrotrin's board and an official report hadn't been referred to the police. Khan also said he was awaiting outcomes and recommendations from the probes to determine what action was required of him as minister.
Around the Web