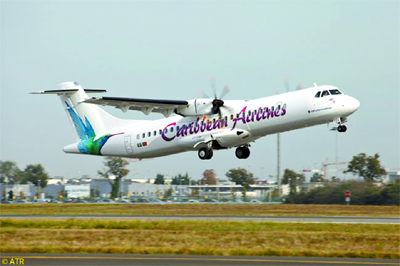 (Trinidad Guardian) Caribbean Airlines Limited (CAL)'s entire fleet of five ATR 72-600 turboprop aircraft have been down for the last three days, forcing the airline to press into service its fleet of Boeing-737-800 jet aircraft to alleviate the backlog of stranded passengers.
This was revealed by an aviation source. Tempers flared at the Piarco International Airport on Thursday after scores of passengers were forced to wait hours for flights to Tobago which were cancelled and they joined Tobago House of Assembly Minority leader Watson Duke in a sit-in protest.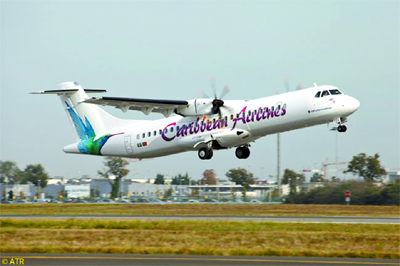 Passengers arriving on international flights within the next few days should brace for delays at the immigration hall. Friday evening, hundreds of arriving passengers said they waited as long as three hours to clear immigration. It was not the first time in recent months such a situation had occurred. However, a source within the Immigration Division said what occurred Friday night was roughly seven international flights arrived within minutes of each other between 9:30 pm and 10 pm. That translated into more than 800 passengers in the arrival hall waiting to be processed.
According to a CNC3 report, additional officers were dispatched to deal with the backlog, but the immigration official said even at full capacity there will be delays in such a situation. Because of the time difference between T&T and the US, several flight arrival times had changed. The lines were reportedly cleared by midnight.
Ironically, one day earlier in December 2016 passengers encountered the same fate with long delays with the same ATR type of aircraft as it was pulled from service due to a mechanical malfunction.
The insider said there were two other incidents earlier this year in July involving the ATR aircraft that were grounded as a result of technical problems.
He said "Pilots are not going to take aircraft into the skies if they're not working properly. Our planes have been giving trouble.
"Safety is our number one priority. Communication is important. I told my passengers after my aircraft broke that their safety was my number one concern.
"Sorry to have you waiting, we're not going anywhere right now, they're down for the last three days and it's not because we're taking industrial action."
He said the 737s have been taking up the slack where they can between the other international flights and CAL had been doing everything it can to make up for the delays of flights that had not gone on the ATRs.
He said even foreign ATR aviation experts were brought in to examine the aircraft but the problems continued and were taken off the service and grounded because of "technical issues."
Around the Web