A man was yesterday remanded to prison when he appeared at the Springlands Magistrate Court charged with chopping his former girlfriend and her mother on Christmas Eve.
Shamar Ally Mohammed of Number 70 Village, Corentyne, who was residing at Angoy's Avenue, New Amsterdam, appeared before Magistrate Rabindranauth Singh and was charged with two counts of attempted murder and one of assault causing bodily harm. The court heard that on December 24, 2016, at Number 70 Village, Mohammed, 44, with intent to commit murder, chopped Bhartie Udho, 23, severing her left hand. The second charge read that on the said day, Mohammed, also with intent to commit murder, chopped Amika Udho, Bhartie's mother. The hire car driver was not required to plead to the two attempted murder charges. He was also charged with assaulting Alicia Ali causing actual bodily harm. Mohammed, who was represented by Attorney Chandra Sohan, pleaded not guilty to the charge of assault. Sohan made an application for bail on the assault charge. He told the court that his client was not at the scene where the crimes were committed and that he had not been evading police as was reported. According to the attorney, his client was not aware that he was wanted by the police.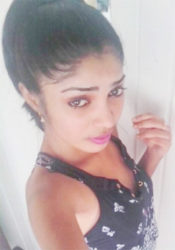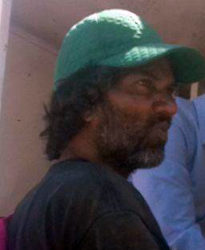 Police Prosecutor Bernard Browne objected to bail noting that the accused was a flight risk. The prosecutor said that after he allegedly committed the offences, the man fled from the Corentyne to the Canje Creek, in an effort to evade the police.
Magistrate Singh denied the bail application and the father of two is set to return to court on January 26, for reports.
Amika and Bhartie Udho and Alicia Ali were heading out on Christmas Eve, when Bhartie was attacked and severely chopped. Her right arm was fractured and her left hand severed.
Amika was chopped about her body while trying to save her daughter from the attacker.
Ali, Bhartie's younger sister, was also injured in the attack.
Bhartie, who had ended a relationship with her assailant some time back, had filed several complaints at the police station and had filed for and obtained a restraining order.
Bharti and her mother have been discharged from the Georgetown Public Hospital and this newspaper understands that they both require regular follow-up treatment.
Comments

A sketch of the proposed Curepe Interchange (Trinidad Guardian) China Railway Construction Corporation (CRCC) has been awarded a $221.7 million contract by the National infrastructure Development Company (Nidco) to build the controversial Curepe Interchange, the state company's chairman Herbert George has confirmed.

Legal Advisor to the Police, retired Justice of Appeal, Claudette Singh yesterday testified that there was insufficient evidence in the allegation made by Andriff Gillard of an alleged plot to assassinate President David Granger.

Today at 2 pm the 30 councillors of the Georgetown City Council will once again cast a vote on the future of metered parking in the city and several of them have told Stabroek News that they want to be sure their vote accurately represents a mandate from residents.

Crime Chief Wendell Blanhum yesterday made a written request to be recalled before the Commission of Inquiry (CoI) investigating the allegation of a plot to kill the President of Guyana to defend himself against "appalling" statements made by Assistant Commissioner of Police David Ramnarine.

Two men were yesterday remanded to prison by a city magistrate after they were charged with the fatal stabbing of Rawle Rodrigues which occurred in January.