Two young men are in custody and their accomplice is on the run after they were caught in the act of robbing a greengrocer on North Road.
Chaterpaul Bharrat, owner of Bharrat's Fresh Vegetables explained to Stabroek News that around 5:30 yesterday afternoon he received a call telling him that his wife and a worker at his store had been robbed.
The events as related to him by his wife, Devika Seenarine are that three men approached the stall on motorbike CG 8631. Two of the men accosted one of the workers with a gun and relieved her of her phone and other valuables.  The men then walked into the store and attempted to relieve his wife of an apron containing money from the afternoon's sales.
It was at this point that another customer, a Brazilian national tried to intervene and was robbed of two gold rings, a cell phone and $100,000 in cash.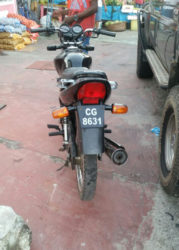 "Two came in and stick up de worker, tell she tek off what she get then they go to my wife and try to burst off the apron but the customer who went in deh ask them why they want to do that. They turn on he and tell he tek off everything; they tek two ring from he, a phone and $100,000 he de using fo buy things," Bharrat explained. He noted that this is the fourth time in two months his business has been robbed.
The customer who was carrying a firearm waited until the men exited the store before he gave chase discharging at least one round behind one of the suspects. This suspect however made good his escape while the customer was able to apprehend another one whom he had followed on foot to Light and Robb streets. He was assisted by a contingent of Presidential Guards who were passing the area at the time.
Meanwhile, members of the Guyana Police Force who had been alerted to the incident arrived on the scene and gave chase behind the rider identified as a 16-year-old.
The 16-year-old, according to witnesses, abandoned the motorbike and ran through Cummings Street onto Robb Street. He was later arrested by police who found him hiding under the bed of a resident in the area.  The firearm which the robbers used was found with the 16-year-old and was a toy pellet gun.
The accomplice who was able to escape has been described as tall with a tattoo prominently displayed on the left side of his neck.
Meanwhile, the proprietor and witnesses were full of praise for the quick response of the police. Bharrat noted that the area is normally the target of bandits and he has been working with the police to help address the situation by being vigilant and participating in community meetings.
Comments

The body of 13-year-old Leonard Archibald, who was raped and then dumped in the Berbice River, was recovered this afternoon.

Lawrence Duprey (Trinidad Express) Former executive chairman of CL Financial Lawrence Duprey was ordered by a Florida judge in July to pay more than US$60 million to British American Insurance Company (BAICO) in damages in relation to the TT$1.9 billion Green Island project in Osceola County, Florida.

Bharrat Jagdeo The PPP/C is committed to constitutional reform, says Opposition Leader Bharrat Jagdeo.

Ray Lengend Ray Lengend who went on a fire-bombing spree of mosques throughout southeast Queens, this week pleaded guilty to the crimes against Muslims who the 45-year-old Guyanese man claimed in 2012 had been "trying to take over his life", according to the Times Ledger in Queens, New York.

BEIJING/SEOUL, (Reuters) – A small earthquake near North Korea's nuclear test site on Saturday was probably not manmade, the nuclear proliferation watchdog and a South Korean official said, easing fears Pyongyang had exploded another nuclear bomb just weeks after its last one.