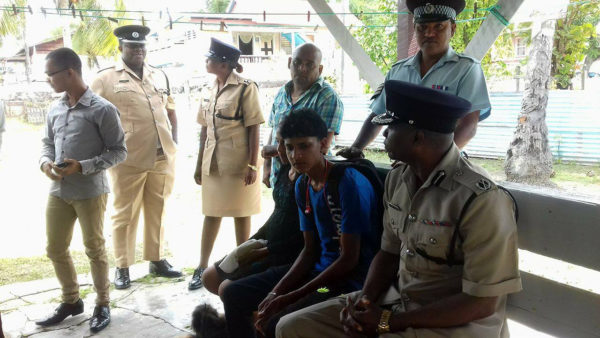 Two men clad in black barged into a house at Tain Settlement, Corentyne on Tuesday night and shot a mother of four dead after demanding cash. The police have since taken one person into custody.
Dead is Leilawatie Mohamed, also known as 'Aunty Leila', 45, a domestic worker of Lot 149, Sixth Street, Tain Settlement, Corentyne. Mohamed resided with her twenty-year-old daughter and eighteen-year-old son, who were both at home at the time of the invasion.
Ashad Ishack, the woman's son stated that the two perpetrators rushed into their yard and up the stairs, where they kicked down the door and entered at around 11:45 pm on Tuesday. He explained that his sister hid under a bed, while the men placed him and his mother on the floor. According to Ishack, only one of the attackers was carrying a gun.
"Them run in and kick down the door upstairs. Them ask where the money deh and me mommy tell them say she na get money", he said.
The eighteen-year-old who witnessed the tragedy of his mother's death, relayed that the gunman had placed the weapon on the lower region of his mother's chin and shot her at point blank range. Mohamed fell to the ground and died instantly. Ishack further noted that the men spent almost ten minutes in the house.
The two bandits, after shooting Mohamed, then decided to make good their escape.  The son stated that the men then ran out of the house, discharged one round in the air, and jumped over the fence, since the gate was locked.
According to neighbours, they were alerted upon hearing the first round which killed Mohamed, being discharged. Residents close to Mohamed's home stated that they observed the criminals running to the back of the street, then into Tain backlands.
"It get swamp and rice fields at the back there, that is where me see them run go", a resident told Stabroek News.
Meanwhile, Commander of B Division, Ian Amsterdam visited Mohammed's children yesterday, where he expressed his sympathy, and promised that investigators would work assiduously, and that they will do everything they can to catch the men who killed their mother.
Amsterdam told journalists that acting on information received, one man, also from Tain Settlement, who operates a barber shop, had been placed in custody yesterday. Amsterdam also stated that Mohamed had two wounds, one on her lower chin and one on her head, which suggests that the bullet had exited through her head.
A close relative  of  the family told this publication that the man in custody is known to the family.
"He does fight with all dem neighbours around here, he bad man," the family member noted.
Mohamed was described as being gentle, loving, quiet and kindhearted.
At the time Stabroek News visited, her three eldest children were present. The children's eyes were all filled with tears, as they could not believe that their mother was no longer alive, and they were still trying to come to terms with the way in which she had died.
Distraught neighbours were also present reminiscing about the good times they had shared with "Aunty Leila".
Comments

WASHINGTON,  (Reuters) – A former senior official in Donald Trump's 2016 presidential campaign, Rick Gates, pleaded guilty today to conspiracy against the United States and lying to investigators, and is cooperating with a federal probe into Russia's role in the election.

(Trinidad Guardian)  "Dwight, I forgive you." So stated reigning Chutney Soca Monarch Neval Chatelal in an open letter to former T&T and Manchester United striker Dwight Yorke yesterday, following the repayment of a $250,000 loan.

The controversial Production Sharing Agreement (PSA) signed between the government and ExxonMobil's local subsidiary and partners is final and will not be subject to any changes, Minister of State Joseph Harmon said yesterday.

General Manager Holly Greaves yesterday said the National Insurance Scheme (NIS) is re-examining its investment in the Berbice Bridge after dismal returns over the past few years.