After not meeting for almost seven years, the boards for the Canawaima Ferry Service (CFS) and Canawaima Management Company (CMC) met last week and discussed several issues surrounding the ferry and its service between Guyana and Suriname.
According to General Manager of the Transport and Harbours Department, Marcelene Merchant, the two boards, which draw membership from both Guyana and Suriname, met in Suriname last Thursday and Friday.
Merchant pointed out that the last time the two boards met was in August of 2010.
Since new members were appointed by Suriname some three months ago, Merchant explained, they thought it essential to have a meeting in order to make the ferry service more efficient.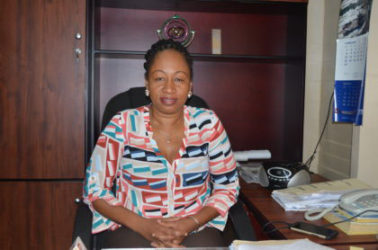 Among the issues raised was the state of the vessel itself and Merchant pointed out that presently neither of its two engines is working and it is currently being shunted by a tug.
"At the starboard side, there is an issue with the gearbox and the portside is leaking about a drum of oil per week so we had to take her out of service. We are trying to see how soon we can get that part rectified and the engineers from Suriname have since prepared a defects list," Merchant explained, while adding that on Guyana's side they are in the process of getting their engineers to prepare a defects list and then they will come together and make a decision on whether they are going to procure two new engines or if they can fix the current ones.
In terms of operational issues, Merchant related there were a whole host of problems that came up at the meeting. "One was the yellow fever vaccines. For some reason, not all passengers going over to Suriname were vaccinated and they were saying that everyone should be vaccinated and so people were being turned back who weren't," Merchant said, while, however, pointing out that according to the Terminal Manager at Moleson Creek, they were giving "100% flexibility to Surinamese coming without the vaccination.
Another issues raised at the meeting surrounded the manifests Suriname was requesting. "When our vehicles are going up, they are requesting a manifest for all the passengers, where they are stopping and everything, while on our end we weren't requesting anything," she said.
Merchant also pointed out that Suriname raised questions about buses at Moleson Creek soliciting passengers and taking them over to Paramaribo, while buses on their end were being put out of business.
Additionally, she highlighted the issue of slow processing of passengers at immigration, which is a big problem. "They were saying that we are taking too long on this end to process the vehicles and we need to look at that. There's a backlog on our side at immigration because you have four or five persons stamping passport but only one person entering it into the system," Merchant noted.
She added that the boards were able to discuss getting better training for the crew members, however, they were not able to make any decision on facilitating it.
In terms of the conclusion of the two-day meeting, Merchant explained that while they were able to resolve several minor issues, the others will have to be discussed further and another meeting is slated to take place in Guyana in three weeks.
"Most of the issues on both sides were raised and we have to try to see how we can put systems in place especially with the immigration problems. But other issues have to be taken higher and as such we will be having a follow up meeting within the next three weeks," she added, while stating that both boards are willing to work and meet regularly in order to identify the issues as early as possible and see how best they could be resolved.
"It [the meeting] was needed because a lot of issues came out," she said, while pointing out that the cooperation between the two boards will result in a more efficient ferry service.
Comments

The Customs Anti-Narcotic Unit (CANU) today said that Tiffini Collison, 26-years-old of F 21 Samaan Street Guyhoc Park, Georgetown posted four hammocks suspected to have been saturated with cocaine to an address in the USA through an International Courier Service in Georgetown sometime last week.

President David Granger (centre) today met  President of Chevron Africa and Latin America Exploration and Production Company,  Clay Neff (third from right).

Anthony Weiner   NEW YORK,  (Reuters) – Former U.S. Congressman Anthony Weiner was sentenced to 21 months in prison today for sending sexually explicit messages to a 15-year-old girl, setting off a scandal that played a role in the 2016 U.S.

A family's preparation for a memorial service ended tragically early yesterday morning when bandits stormed into their home in  East La Penitence and discharged several rounds, fatally wounding a man and injuring two of his brothers.

(Trinidad Express) The Trinidad and Tobago Defence Force and Coast Guard have been at the helm of a dramatic rescue of a family of four, including two small children, who lived in a car for four days after their home in Dominica was destroyed last Monday by Hurricane Maria.