A ship reportedly destined for Venezuela on Wednesday last sank just off the Essequibo Coast after it encountered problems.
The ship, MV Dona Marta, was said to be filled with a large quantity of rice and this publication was told that members of the Coastguard are still investigating what may have caused the ship to sink and whether it was legally traversing the waters of Guyana.
According to reports, the crew on the ship were all Venezuelans.
Stabroek News was reliably informed by local fishermen that the ship developed a leak and because the tide was high, it was quickly submerged. The crew on board the ship were all taken to safety without any reports of casualties.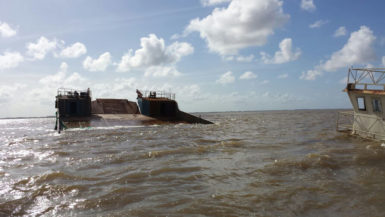 Some residents of Hampton Court and Devonshire Castle related to Stabroek News that while almost half of the quantity of the rice that was on the ship went down with the vessel, the other half was looted by rescuers. Rescuers also allegedly helped themselves to the personal items of the crew members. This looting was done after the tide dropped.
When contacted, Police Commander of 'G' Division Khalil Pareshram said that no report of the mishap was made to the police on the Essequibo Coast.
It is unclear where the crew members of the ship were taken.
Stabroek News was told that some Venezuelans had privately purchased a quantity of rice from two Essequibo Coast rice millers. However, according to sources, these were millers whose licences were revoked because they failed to pay rice farmers for their paddy, and therefore the deal was illegal. This newspaper contacted General Manager of the Guyana Rice Development Board Claude Housty yesterday, but he clarified that licensing did not fall under his purview. The relevant department was closed yesterday as it was a holiday.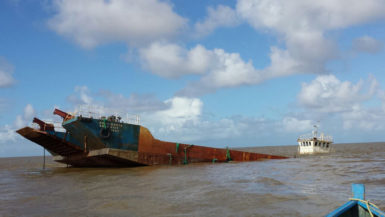 The official rice trade with Venezuela, which was done under a barter system came to an end in November 2015, after Venezuela informed this country earlier that year that it wanted to allow other South American rice producers to benefit. It began a barter system with Suriname in October 2015.
The end of Venezuela's PetroCaribe arrangement with this country came amid high tension over a maritime decree issued by its President Nicolas Maduro claiming most of Guyana's Atlantic waters
PetroCaribe is an arrangement established by Venezuela in 2005 to sell oil on soft terms to its Caribbean allies. In July, 2015 Stabroek News had reported that the rice barter component of the deal which had existed between Guyana and Venezuela since 2009 would conclude in November. Previously the agreement between the two countries was renewed annually.
At the time of this announcement, Guyana's Prime Minister Moses Nagamootoo referred to "Venezuela's position of the non-renewal of the PetroCaribe barter agreement [as] an act of economic sanction against Guyana."
The relationship between the Guyana and Venezuela had been deteriorating since May 2015, when Maduro issued the decree laying claim to most of Guyana's territorial waters along the Essequibo Coast. That decree was subsequently withdrawn and replaced with a new one that was still offensive. The initial decree was issued after United States-based oil company ExxonMobil announced that it has discovered significant evidence of oil in the Stabroek Block offshore Demerara.
Comments

President David Granger, earlier today, attended the wedding reception of Minister within the Ministry of Communities with responsibility for Housing, Valerie Patterson- Yearwood and .

Grace Mugabe   JOHANNESBURG,  (Reuters) – South African police confirmed on Wednesday that Zimbabwean first lady Grace Mugabe remained in the country and had applied for diplomatic immunity after being accused of assaulting a 20-year-old model in an upmarket Johannesburg hotel.

Daniel Craig   LONDON, (Reuters) – British actor Daniel Craig has confirmed he will reprise the role of James Bond one last time, ending months of speculation.

UN experts condemn racist violence in U.S., urge investigations GENEVA, (Reuters) – United Nations human rights experts called on the United States today to combat rising racist violence and xenophobia and to prosecute perpetrators of hate crimes.

The twin-engine Beechcraft seized by authorities on an improvised airstrip on Sunday in the North Rupununi, Region Nine area, was yesterday confirmed as bearing a registration number belonging to an investment company in Brazil.