Latoya Roberts, the Best Graduating Guyanese student at the Hugh Wooding Law School for 2016, was on Wednesday awarded for her continuous academic excellence by Attorney General Basil Williams SC.
Williams, who presented Roberts with a collection of the Law Reports of Guyana at a ceremony at the Attorney General's Chambers, said he was proud to present her with the Guyana Government's prize for her efforts.
Reading from a prepared statement, Williams said that Roberts, a 29-year-old "country girl," has made her mark academically through perseverance and an unequivocal dedication to her religious belief. He said that Roberts, who spent the majority of her childhood in Vreed-En-Rust, West Demerara, owed her success to her single-parent mother Myrtle Peters.
"Roberts remembers in her formative years she went to school barefooted and held her books in her hand or in a plastic bag. She often used a boat for most of her travels to and from school," he said.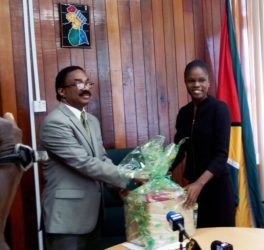 After writing the Secon-dary School Entrance Examination, she attained a place at the North Georgetown Secondary School and graduated as the valedictorian of her class after attaining passes in nine subjects. She then attended President's College, where she again graduated as the valedictorian upon completion of her studies there.
Williams said that after graduating with a LLB Degree from the Univer-sity of Guyana in 2010, Roberts, because of lack of finances, could not proceed immediately to the Hugh Wooding Law School. "Roberts opted to work and save to acquire the funds to continue her legal studies," he said, while noting that she obtained employment at the Business School and later the School of the Nations.
In 2014, he said, with the help of relatives, friends and her church, she was able to commence her studies in Trinidad. "Latoya's journey has certainly been filled with obstacles and trials but in the end her dream became her reality," he added.
Roberts later told the media that although she was good at public speaking and she had a tendency to be argumentative, after completing CSEC exams she was unsure about her career path. She said it was a father figure who suggested that she study law, which she had pursued at the Sixth Form level at President's College.
She fell in love with the subject, she noted, before adding that she believed she made the right decision by entering the field of law. She explained that she had considered working with a government agency but decided against that for now because she is unsure which area of the law she wants to specialise in.
Roberts, who works with attorney Lyndon Amsterdam, said that private practice allows one the opportunity to "dabble in all the areas of law. I get to basically taste before I decide."
Roberts said she had personally dreamed about a law school being established in Guyana and particularly while she was studying, because of the cost attached to being in Trinidad. "If this is something that Guyana can achieve in the near future, for one I would be very proud thinking about future students," she said before dispelling the perception that Guyana has too many lawyers.
Roberts opined that if Guyana specialises and diversifies, one will see the need for and value of lawyers.
Comments

Finally honouring a court decision, the New Building Society (NBS) yesterday afternoon wrote a $59,033,000 cheque to former manager Maurice Arjoon for pension owed, after his lawyers attempted to levy on the assets of the bank, which then locked the doors of its Avenue of the Republic headquarters with customers and others inside.

A Diamond resident was yesterday remanded to prison after being charged with the death of Ishwar Ramanah, the Kaneville machine operator who was fatally shot during a robbery at his home last month.

A Sisters Village shop owner and his wife were seriously injured on Monday evening when they were attacked by cutlass-wielding bandits, who robbed them of the day's sales.

Although the Government of Guyana has paid more than $26 million for the Commission of Inquiry (CoI) into the education system, its final report has not been submitted after nearly two years.

Two children were rescued on Monday night by a neighbour after a fire ripped through the top flat of their home at Unity, Mahaica, East Coast Demerara.