Latoya Roberts, the Best Graduating Guyanese student at the Hugh Wooding Law School for 2016, was on Wednesday awarded for her continuous academic excellence by Attorney General Basil Williams SC.
Williams, who presented Roberts with a collection of the Law Reports of Guyana at a ceremony at the Attorney General's Chambers, said he was proud to present her with the Guyana Government's prize for her efforts.
Reading from a prepared statement, Williams said that Roberts, a 29-year-old "country girl," has made her mark academically through perseverance and an unequivocal dedication to her religious belief. He said that Roberts, who spent the majority of her childhood in Vreed-En-Rust, West Demerara, owed her success to her single-parent mother Myrtle Peters.
"Roberts remembers in her formative years she went to school barefooted and held her books in her hand or in a plastic bag. She often used a boat for most of her travels to and from school," he said.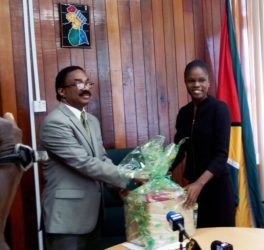 After writing the Secon-dary School Entrance Examination, she attained a place at the North Georgetown Secondary School and graduated as the valedictorian of her class after attaining passes in nine subjects. She then attended President's College, where she again graduated as the valedictorian upon completion of her studies there.
Williams said that after graduating with a LLB Degree from the Univer-sity of Guyana in 2010, Roberts, because of lack of finances, could not proceed immediately to the Hugh Wooding Law School. "Roberts opted to work and save to acquire the funds to continue her legal studies," he said, while noting that she obtained employment at the Business School and later the School of the Nations.
In 2014, he said, with the help of relatives, friends and her church, she was able to commence her studies in Trinidad. "Latoya's journey has certainly been filled with obstacles and trials but in the end her dream became her reality," he added.
Roberts later told the media that although she was good at public speaking and she had a tendency to be argumentative, after completing CSEC exams she was unsure about her career path. She said it was a father figure who suggested that she study law, which she had pursued at the Sixth Form level at President's College.
She fell in love with the subject, she noted, before adding that she believed she made the right decision by entering the field of law. She explained that she had considered working with a government agency but decided against that for now because she is unsure which area of the law she wants to specialise in.
Roberts, who works with attorney Lyndon Amsterdam, said that private practice allows one the opportunity to "dabble in all the areas of law. I get to basically taste before I decide."
Roberts said she had personally dreamed about a law school being established in Guyana and particularly while she was studying, because of the cost attached to being in Trinidad. "If this is something that Guyana can achieve in the near future, for one I would be very proud thinking about future students," she said before dispelling the perception that Guyana has too many lawyers.
Roberts opined that if Guyana specialises and diversifies, one will see the need for and value of lawyers.
Comments

The chairman of Trinidad's transparency group says that it  is imperative that an independent third party check revenues from the company extracting oil and the subsequent flows to the government.
Even as ExxonMobil announced that it doesn't expect to pay any corporate taxes to the Australian government until 2021 after an already five-year tax hiatus, the company has  been accused of generating billions in revenue in that country  but using subsidiaries in a scheme designed to avoid paying its dues.

In the wake of the state-owned Guyana Chronicle's termination of David Hinds and Lincoln Lewis as columnists, WPA executive member Tacuma Ogunseye says that party should urgently put on its agenda whether it should stay in the APNU alliance and the coalition government.

President of Transparency Institute of Guyana Inc (TIGI), Troy Thomas says he believes that it was pressure from the people that saw "the unprecedented" release of oil contracts by the government.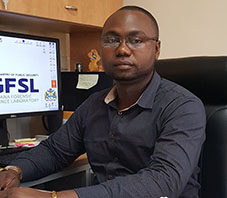 The Guyana Forensic Science Laboratory (GFSL) has spent a substantial amount of time training police investigators in various aspects of evidence collection and submission and this has resulted in a significant improvement in the quality of samples sent for testing, the facility's Director Delon France says.