As the Mayor and City Council's (M&CC) rates recovery drive continues, City Treasurer, Ron McAlman says the council has been able to recover some $14.6 million out of an outstanding balance of $382 million for the Kingston, North Cummingsburg, South Cummingsburg and Lacytown areas.
Speaking to the media yesterday, inside of the Council's Chambers, McAlman explained that since the rates recovery programme commenced on April 3, they have been able to deliver some 700 demand notices to property owners within the four wards.
"In addition to that, we would've had various outreach programmes in Agricola, Kitty and East Ruimveldt, and we would've also delivered notices in those various areas.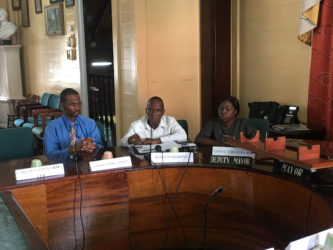 The operation so far has been successful in terms of the delivery of those notices, and we are seeing persons coming in," McAlman said, while highlighting the fact that overall the council has $3.2 billion outstanding, as it relates to payment of property taxes, hence the drive, which he said, has garnered $14.6 million so far.
In addition to the 700 demand notices, McAlman pointed out that some 100 final notices have been served and they would've recently tasked their lawyers with the names of 11 property owners to sue, which he said could take between three to six weeks before there is a judgement.
While it has been almost a month and some 700 notices have been sent out, McAlman related that even though the drive will be completed by the end of May, they are expecting to deliver some 10,000 demand notices by the end of it.
However, Kurt Clarke, Rates Recovery and Revenue Collection Officer, related that the council has had numerous challenges which have been hindering their progress. "As we speak, we have staff posted in those four areas, and notices are currently being distributed. However, we are finding, despite our appeal to the various media, that persons are not putting systems in place to receive their notices," Clarke said, while pointing out that some property owners do not have letter boxes.
He said there have been cases where persons have purchased properties and the property titles have not been updated in the M&CC records, and as such the council is advising those persons to visit the municipality and present their documents to have the records amended.
Clarke also highlighted the issue of abandoned properties and said the Council is encouraging persons to ensure that a caretaker is left to look over the property, and remind them that the rates and taxes still have to be paid up-to-date. "When they are left, they start to decay and create problems for the municipality," he said, while pointing out that within the four areas, there have been over 50 abandoned properties.
While there have been a list of properties and their respective owners published in the media, McAlman said the council is using all the avenues possible to ensure that anyone who owes taxes is made aware of the fact. "We are encouraging them to come in to the City Treasurer's department, so that we can work out a plan," he said, while stating that there are payment plans that persons can use, if they are willing to come into the council and have a discussion.
Last month, the National Sports Commission's Director of Sports, Christopher Jones presented the Council with a cheque for $30 million to settle outstanding debts that had built up over the years for properties such the Cliff Anderson Sports Hall and the Gymnasium, along with others that fall under the commission's remit.
Comments

Finally honouring a court decision, the New Building Society (NBS) yesterday afternoon wrote a $59,033,000 cheque to former manager Maurice Arjoon for pension owed, after his lawyers attempted to levy on the assets of the bank, which then locked the doors of its Avenue of the Republic headquarters with customers and others inside.

A Diamond resident was yesterday remanded to prison after being charged with the death of Ishwar Ramanah, the Kaneville machine operator who was fatally shot during a robbery at his home last month.

A Sisters Village shop owner and his wife were seriously injured on Monday evening when they were attacked by cutlass-wielding bandits, who robbed them of the day's sales.

Although the Government of Guyana has paid more than $26 million for the Commission of Inquiry (CoI) into the education system, its final report has not been submitted after nearly two years.

Two children were rescued on Monday night by a neighbour after a fire ripped through the top flat of their home at Unity, Mahaica, East Coast Demerara.