A 52-year-old Kildonan man was yesterday charged with the murder of his 82-year-old father, after he allegedly set his father's house on fire on April 10.
Colin Ross, 52, a farmer, appeared unrepresented at the Number 51 Magistrate's Court where he was charged with killing his father, Rudolph Ross. The charge stated that Ross in Kildonan Village, Corentyne, murdered his father in the course or furtherance of arson in relation to a dwelling house.
The father of two was not required to plead to the indictable charge and was remanded to prison.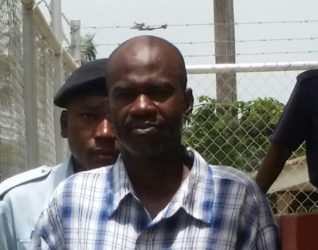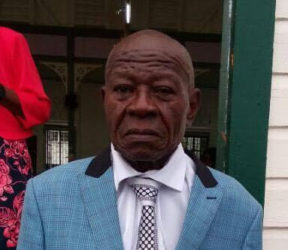 He is set to appear in court next on May 8, at the Whim Magistrate's Court for reports. Ross left the court slowly, threading his way to the awaiting prison van.
The senior Ross, also known as 'Uncle Bruce,' perished in a fire at his Kildonan Village home on April 10. Subsequently, his son Colin Ross was placed into custody after both the police and fire service had launched an investigation.
Colin Ross became the main suspect after neighbours had told investigators that Ross and his father had been involved in a heated argument. During their second visit to the crime scene, fire service investigators discovered a bottle containing what appeared to be a flammable liquid.
Rudolph Ross, according to a post-mortem examination, died from smoke inhalation, due to exposure to the flames after the fire had started in the kitchen of the upper flat of the two-storied house at Lot 14 Kildonan Village house, where he lived.
Ross's neighbour, Brian Jackson, had previously told Stabroek News that he had heard the elderly man calling for help, and upon looking out of his window, he saw flames coming from Ross's kitchen.
"I hear he calling, 'Brian! Help! Help!'" he said. "I look out and see the fire coming from he kitchen side. I run out fa help he, but I failed," the man lamented.
Jackson had rushed out, grabbed a ladder and attempted to rescue Ross through the window he was calling from, but the window had a safety iron grille which he could not get past.
Jackson then alerted other neighbours, who immediately came out and formed a bucket brigade.
However, their efforts as well proved futile. He told Stabroek News that Ross shouted for almost ten minutes straight before his voice faded.
Ross's body was later discovered on the eastern side of his home near a window.
Ross was described as a well-respected individual, who had once served as an overseer for the Bush Lot/Adventure Neighbourhood Democratic Council.
Comments

Finally honouring a court decision, the New Building Society (NBS) yesterday afternoon wrote a $59,033,000 cheque to former manager Maurice Arjoon for pension owed, after his lawyers attempted to levy on the assets of the bank, which then locked the doors of its Avenue of the Republic headquarters with customers and others inside.

A Diamond resident was yesterday remanded to prison after being charged with the death of Ishwar Ramanah, the Kaneville machine operator who was fatally shot during a robbery at his home last month.

A Sisters Village shop owner and his wife were seriously injured on Monday evening when they were attacked by cutlass-wielding bandits, who robbed them of the day's sales.

Although the Government of Guyana has paid more than $26 million for the Commission of Inquiry (CoI) into the education system, its final report has not been submitted after nearly two years.

Two children were rescued on Monday night by a neighbour after a fire ripped through the top flat of their home at Unity, Mahaica, East Coast Demerara.