A drug mule was yesterday sentenced to three years in jail and fined $4,060,800 for trafficking three pounds of cocaine, while her alleged supplier was remanded for possession of almost five pounds of the same drug.
51-year-old Bernadette Evandey Warren was yesterday read a charge which stated that, on April 16, at the Cheddi Jagan International Airport, Timehri she had in her possession 1.504 kilogrammes of cocaine, (equilavent to three pounds) for the purpose of trafficking.
Warren, of 228 Lodge Housing Scheme, Georgetown admitted to committing the crime.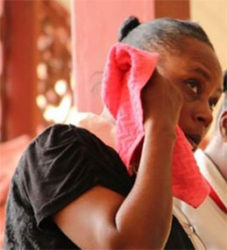 Facts presented by Customs Anti-Narcotic Unit (CANU) Prosecutor Konyo Sandiford, stated that on April 16, Warren was an outgoing passenger on Dynamic Airlines flight, 2D0402,  destined to New York. Subsequent to checking in her two bags, a carry-on, and another bag, the defendant proceeded to place her bags on the scanner belt. While the bags were in the scanner, an officer became suspicious of a false wall in one of her suitcases. When the wall was probed, a whitish substance came out, the likeness of cocaine. A field test was then conducted and the drugs placed in two transparent parcels.
Sandiford noted that the defendant provided the CANU officers with a caution statement, describing her supplier. The prosecutor, in mitigation on behalf of the unrepresented woman, asked the court to take into consideration the fact that Warren was instrumental in solving another matter.
Warren, a daycare worker, told the court that she was sorry for what had happened.
Presiding Magistrate Fabayo Azore, prior to sentencing Warren, told the court that she took into consideration the fact that the accused didn't waste the court's time, what was said by the CANU prosecutor, and the fact that she was remorseful for the crime.
Meanwhile, Joy Jacquline Caines, was remanded to prison after being read a charge which alleged that on April 16, at Lot 232 Luckhoo Street, Lodge Housing Scheme, Georgetown, she had 2.092 kilogrammes of cocaine in her possession for trafficking.
Cines, 36, the owner of a boutique, denied the allegation.
According to CANU Prosecutor Sandiford, Caines was contacted after information given to CANU officers by Warren. When CANU officers arrived at her home, cocaine was found in suitcase with a false wall, and small parcels in the kitchen. She further stated that a large amount of cash, including over $14.5 million, a large quantity of US dollars and other currencies, were found and seized, along with two vehicles, a Toyota Premio and a Toyota Avensis.
Sandiford noted that a second person may also be charged with the offence.
Caines was represented by attorney Adrian Thompson.
Magistrate Azore later remanded the accused and adjourned the matter to May 3.
Comments

(Trinidad Guardian) Fifty five years after it was formed by legendary calypsonian Lord Kitchener, the Kalypso Revue tent is set to close due to financial constraints.

Finally honouring a court decision, the New Building Society (NBS) yesterday afternoon wrote a $59,033,000 cheque to former manager Maurice Arjoon for pension owed, after his lawyers attempted to levy on the assets of the bank, which then locked the doors of its Avenue of the Republic headquarters with customers and others inside.

A Diamond resident was yesterday remanded to prison after being charged with the death of Ishwar Ramanah, the Kaneville machine operator who was fatally shot during a robbery at his home last month.

A Sisters Village shop owner and his wife were seriously injured on Monday evening when they were attacked by cutlass-wielding bandits, who robbed them of the day's sales.

Although the Government of Guyana has paid more than $26 million for the Commission of Inquiry (CoI) into the education system, its final report has not been submitted after nearly two years.