Cops ID suspect in fatal beating of Herstelling joiner
Police are in pursuit of a suspect in the death of the Herstelling, East Bank Demerara (EBD) joiner, who succumbed to injuries sustained from an attack on Sunday afternoon.
Balwan Ramsarran, 41, of Third Street, Herstelling, was beaten by a gang of men who were drinking alcohol at a shop at Farm, EBD.
Stabroek News had reported that the attacked stemmed from an argument he was involved in.
'A' Division Commander Clifton Hicken told this newspaper that a suspect was identified and police are working to arrest the man.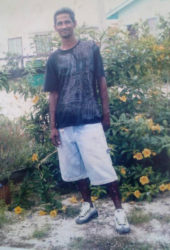 Ramsarran, who was an employee of Jettoo's Lumber Yard, was rushed to the Diamond Diagnostic Centre in an unconscious condition and later transferred to the Georgetown Public Hospital. He remained in an unconscious state up to the time of his death.
According to the man's relatives, doctors informed the family that he was "brain dead" and was not responding to medication used to treat his injuries.
The man's wife had told this newspaper that it was around 5.30 pm on Sunday that he was attacked. She explained that Ramsarran and another customer at the shop had an argument, during which a friend of the customer intervened, and lashed him on his head with a piece of wood.
"After he [the suspect] lash he, he fall and was unconscious. He never come back to he senses," the distraught wife lamented.