Police are in pursuit of a suspect in the death of the Herstelling, East Bank Demerara (EBD) joiner, who succumbed to injuries sustained from an attack on Sunday afternoon.
Balwan Ramsarran, 41, of Third Street, Herstelling, was beaten by a gang of men who were drinking alcohol at a shop at Farm, EBD.
Stabroek News had reported that the attacked stemmed from an argument he was involved in.
'A' Division Commander Clifton Hicken told this newspaper that a suspect was identified and police are working to arrest the man.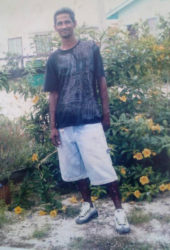 Ramsarran, who was an employee of Jettoo's Lumber Yard, was rushed to the Diamond Diagnostic Centre in an unconscious condition and later transferred to the Georgetown Public Hospital. He remained in an unconscious state up to the time of his death.
According to the man's relatives, doctors informed the family that he was "brain dead" and was not responding to medication used to treat his injuries.
The man's wife had told this newspaper that it was around 5.30 pm on Sunday that he was attacked. She explained that Ramsarran and another customer at the shop had an argument, during which a friend of the customer intervened, and lashed him on his head with a piece of wood.
"After he [the suspect] lash he, he fall and was unconscious. He never come back to he senses," the distraught wife lamented.
Comments

Alliance for Change (AFC) leader Raphael Trotman yesterday said the diversion of billions to the security sector after the destruction of the Camp Street prison was partly responsible for the government not budgeting the full sum for severance payments to laid off sugar workers.

The police were up to yesterday afternoon still working to ascertain the motive behind the murders of Ambrose Baharally and Martin Godette, the Pomeroon farmers who were shot dead on Sunday and a potential witness was taken into custody to assist with the investigation.

Former President Donald Ramotar has accused the current government of accepting loans from India that he initiated except those pertaining to the rehabilitation of the sugar industry but State Minister Joseph Harmon says he is unaware of the claim and has urged that the former head of state prove it.

Omadat Persaud, who was on trial for raping a five-year-old girl in 2015, was yesterday afternoon sentenced to 45 years in jail after a jury unanimously convicted him of the crime.

The mother of Marlon Fredericks, the mentally-challenged vendor who was fatally shot by a member of the city constabulary on Sunday, yesterday called for justice for her son, while saying that an autopsy found that he died of a gunshot wound to his chest.