Twenty local doctors are expected to undergo training today at the Georgetown Public Hospital Corporation (GPHC) to use ultrasound to detect microcephaly in pregnant women who were exposed to the Zika virus, according to the Ministry of Public Health.
The programme which will run from 8:00am – 4:30pm, will be facilitated by Drs Brendt Schimit, the Equipment Implementation Specialist at RAD-AID International and Gillian Battino, a Director, RAD-AID for Latin America.
Essentially, RAD-AID representatives will seek to engage participants in innovative strategies to support advancement of patient-care in the area.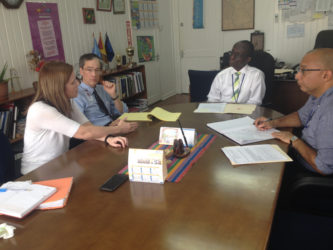 In addition to training the more than 20 General Medical Officers (GMOs) and obstetricians, drawn from the country's 10 Administrative Regions and the GPHC, Schimdt and Battino, who are already in the country, will visit the sites for the CT Machines at the Bartica Regional and New Amsterdam Hospitals. At these locations they will inspect and provide technical assistance and support in the design of permanent housing for these CT machines.
The team is also expected to meet with GPHC executives and Dr. Madan Rambaran, Director, Institute of Health Sciences Education (IHSE) to plan for infrastructure necessary for a residency programme that is scheduled to begin in August this year
A UN-affiliated non-profit organization, RAD-AID has in the past donated two new CT Machines valued at over $88M (US$440,000.00) to the Ministry of Public Health, through Phillips Corporation, USA.
Additionally, they also provide medical imaging (radiology) programmes including the first three-year Radiology Residency training programme in Guyana at the GPHC in collaboration with the University of Guyana.
Comments

President David Granger, earlier today, attended the wedding reception of Minister within the Ministry of Communities with responsibility for Housing, Valerie Patterson- Yearwood and .

Grace Mugabe   JOHANNESBURG,  (Reuters) – South African police confirmed on Wednesday that Zimbabwean first lady Grace Mugabe remained in the country and had applied for diplomatic immunity after being accused of assaulting a 20-year-old model in an upmarket Johannesburg hotel.

Daniel Craig   LONDON, (Reuters) – British actor Daniel Craig has confirmed he will reprise the role of James Bond one last time, ending months of speculation.

UN experts condemn racist violence in U.S., urge investigations GENEVA, (Reuters) – United Nations human rights experts called on the United States today to combat rising racist violence and xenophobia and to prosecute perpetrators of hate crimes.

The twin-engine Beechcraft seized by authorities on an improvised airstrip on Sunday in the North Rupununi, Region Nine area, was yesterday confirmed as bearing a registration number belonging to an investment company in Brazil.