A mother of five is now behind bars on an attempted murder charge after she allegedly stabbed her common-law husband near his heart in a drunken scuffle, leaving him in a critical condition.
It is alleged that Cynthia McIntyre, 35, at Four Miles, Arakaka, on April 17, with intent to commit murder, unlawfully and maliciously wounded Ryan Roberts.
McIntyre, of Lot 18 Ruby, East Bank Essequibo, denied the charge when she appeared before Chief Magistrate Ann McLennan in Georgetown.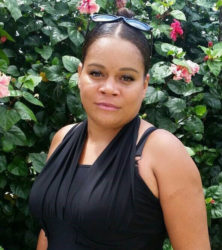 Police Prosecutor Arvin Moore told the court that Roberts is presently in the Intensive Care Unit at the Georgetown Public Hospital (GPH) in a critical condition after he sustained a stab wound to the left side of his chest in the region of his heart. The prosecutor noted that the wound is still bleeding.
According to the police's case against McIntyre, on the day of the stabbing she and Roberts were drinking when they had a disagreement, resulting in a scuffle. It was during the scuffle that the defendant allegedly broke a beer bottle and stabbed Roberts. Sometime after, Roberts was rushed to the Arakaka Health Centre and later air dashed to the GPH.
Chief Magistrate Ann McLennan remanded McIntyre until May 9, when the matter will be called at the Matthews Ridge Magistrate's Court.
Comments

Ray Lengend Ray Lengend who went on a fire-bombing spree of mosques throughout southeast Queens, this week pleaded guilty to the crimes against Muslims who the 45-year-old Guyanese man claimed in 2012 had been "trying to take over his life", according to the Times Ledger in Queens, New York.

BEIJING/SEOUL, (Reuters) – A small earthquake near North Korea's nuclear test site on Saturday was probably not manmade, the nuclear proliferation watchdog and a South Korean official said, easing fears Pyongyang had exploded another nuclear bomb just weeks after its last one.

Damaged electrical installations are seen after the area was hit by Hurricane Maria en Guayama, Puerto Rico September 20, 2017.

Colin Firth'Loving' premiere, 69th Cannes Film Festival, France – 16 May 2016 ROME, (Reuters) – British actor Colin Firth, who has often played the role of a quintessential Englishman in his many films, has become an Italian citizen, Italy's Interior Ministry said.

Police yesterday said that a Sisters Village, East Bank Berbice man has confessed to raping missing 13-year-old Leonard Archibald and then disposing of his body in the Berbice River.