Police probing report of plot against President – Harmon
Minister of State Joseph Harmon yesterday confirmed that there has been a report of a plot by a group of men to assassinate the president during one of his outreaches.
At the weekly post-cabinet press briefing, Harmon responded when asked about the issue, that "the police have provided some information to the administration about some ongoing investigations of that nature."
According to him, the investigations have reached a point where government has sought the advice of the police legal advisor. The Director of Public Prosecution is also assisting with the investigations.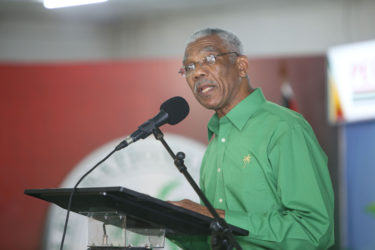 When Stabroek News contacted Crime Chief Wendell Blanhum yesterday, he said investigators from the major crimes department were involved in the investigations. He explained that the investigators have prepared a file and have asked for advice from the police legal advisor.
Harmon said due to the "nature of that investigation," he was "not at liberty to disclose (more) details," but said that the plot was a security challenge. Blanhum also echoed similar sentiments regarding the matter.
He noted that "we have a very popular president… people all over this country love him and embrace him and sometimes there are some people who are misguided; some people are guided by what they see on Facebook and the copycat type of issues and therefore we always have to be careful."
He emphasized that "security is not something that we play with. It is something that the professional people know what they do. They put certain measures in place and sometimes you always find that security runs against the presidents who are popular…"
He expressed full confidence in the "security forces to protect our president and for that matter, all of our people."
Asked whether high ranking policemen have been named in the possible assassination plot, Harmon said he was not aware of such information.