Minister of State Joseph Harmon yesterday confirmed that there has been a report of a plot by a group of men to assassinate the president during one of his outreaches.
At the weekly post-cabinet press briefing, Harmon responded when asked about the issue, that "the police have provided some information to the administration about some ongoing investigations of that nature."
According to him, the investigations have reached a point where government has sought the advice of the police legal advisor. The Director of Public Prosecution is also assisting with the investigations.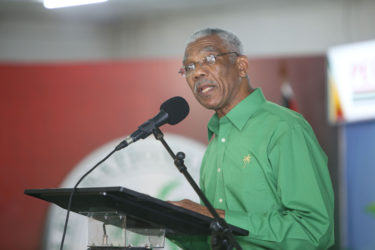 When Stabroek News contacted Crime Chief Wendell Blanhum yesterday, he said investigators from the major crimes department were involved in the investigations. He explained that the investigators have prepared a file and have asked for advice from the police legal advisor.
Harmon said due to the "nature of that investigation," he was "not at liberty to disclose (more) details," but said that the plot was a security challenge. Blanhum also echoed similar sentiments regarding the matter.
He noted that "we have a very popular president… people all over this country love him and embrace him and sometimes there are some people who are misguided; some people are guided by what they see on Facebook and the copycat type of issues and therefore we always have to be careful."
He emphasized that "security is not something that we play with. It is something that the professional people know what they do. They put certain measures in place and sometimes you always find that security runs against the presidents who are popular…"
He expressed full confidence in the "security forces to protect our president and for that matter, all of our people."
Asked whether high ranking policemen have been named in the possible assassination plot, Harmon said he was not aware of such information.
Comments

Ray Lengend Ray Lengend who went on a fire-bombing spree of mosques throughout southeast Queens, this week pleaded guilty to the crimes against Muslims who the 45-year-old Guyanese man claimed in 2012 had been "trying to take over his life", according to the Times Ledger in Queens, New York.

BEIJING/SEOUL, (Reuters) – A small earthquake near North Korea's nuclear test site on Saturday was probably not manmade, the nuclear proliferation watchdog and a South Korean official said, easing fears Pyongyang had exploded another nuclear bomb just weeks after its last one.

Damaged electrical installations are seen after the area was hit by Hurricane Maria en Guayama, Puerto Rico September 20, 2017.

Colin Firth'Loving' premiere, 69th Cannes Film Festival, France – 16 May 2016 ROME, (Reuters) – British actor Colin Firth, who has often played the role of a quintessential Englishman in his many films, has become an Italian citizen, Italy's Interior Ministry said.

Police yesterday said that a Sisters Village, East Bank Berbice man has confessed to raping missing 13-year-old Leonard Archibald and then disposing of his body in the Berbice River.