Guyana being named by the United States as a "major money laundering" nation comes as no surprise, according to Opposition Leader Bharrat Jagdeo, who yesterday laid the blame on government, which he said has failed to put the support mechanisms in place.
Jagdeo was adamant that the PPP/C, while in office, made every effort to amend the legislation but got resistance from the then parliamentary opposition and now current government.
At a news conference yesterday, he also accused government of exerting political influence on the entities that are supposed to lead the county's Anti-Money Laundering (AML) fight.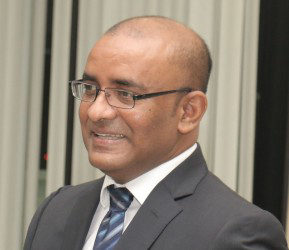 In the March, 2017 International Narcotics Control Strategy Report, Guyana was listed as "major money laundering" nation alongside 14 other Caricom countries.
Speaking to the press at his Church Street office, Jagdeo said that Guyana passed the anti-money laundering legislation under the PPP/C many years ago. He said that there were reports that some provisions needed to be made and the then PPP/C government sought to do that.
He said that the Financial Intelligence Unit (FIU) as well as the Special Organised Crime Unit (SOCU), which are integral to the anti-money laundering fight, were established by his government.
Jagdeo said that the PPP/C tried to make amendments to the existing legislation but the APNU voted against it several times. He said that back then, the PPP pointed out that such actions would have long-term consequences for Guyana.
"… Once you get on a list, it's hard to get off the list. Nevertheless they played politics with everything else….," he said, while adding that all sorts of excuses were made, including that the Caribbean Financial Action Task Force and the Financial Action Task Force could not dictate to the National Assembly.
He said that once in office, the APNU+AFC government passed the amendment. "However, it is not just passing the amendment, it's putting in place an enhanced mechanism to give effect to the new law, which we have not done as yet… they have not done that in accordance with the new law that was passed and secondly they have diverted the attention of SOCU from supporting FIU and going after drug dealers …to now going after political opponents," he charged.
Jagdeo said that in such an environment, the drug dealers and money launderers cannot be pursued.
"Two years have passed [and] nothing but they have Nandlall charged for some law books…and therefore a report of this nature coming out is not surprising," he said, before adding that government "is now caught in a trap.
Their own rhetoric is leading to these adverse reports as well as a lack of investment. They need to change their narrative to a positive one."
The report, which was compiled by the US Department of State and released recently, said that ill-equipped investigative agencies and the lack of cooperation from the business community are hampering Guyana's ability to successfully tackle money laundering.
According to the report, "there is a culture of using informal networks to move money between Guyana and the diaspora, and Guyana has a large cash-based economy."
It was also stated that many criminals use cash couriers or familial networks to move large sums of money between Guyana and the United States.
It stated that common money-laundering typologies include the use of fictitious agreements of sale for non-existing precious minerals to support large cash deposits at financial institutions; cross-border transport of small volumes of precious metals, declared as scrap or broken jewellery to avoid scrutiny by the relevant officials and the payment of relevant taxes and duties; trade based money laundering using gold; and the use of middle- and senior-aged cash couriers for the cross-border transport of large sums of US dollars.
The report said that the Government of Guyana has legislation in place that could enable a "more effective response" to the threat of money laundering.
The report said although the AML legislation gives the FIU authority to investigate alleged money laundering, the entity does not have the capacity to conduct such investigations and as such SOCU investigates those cases referred to it by the FIU.
"The effectiveness of these agencies at investigating money laundering is limited, as they lack adequate human resources, training to ensure successful prosecutions, and a strong interagency network," it added, while noting that lack of cooperation by the business community also hinders Guyana's AML efforts.
It was stated that up to the time of the compilation of the report, only one seizure of money was made under Guyana's updated AML legislation.
It recommended that Guyana raise awareness and understanding of AML laws and implementation procedures, through training and the publication of guidelines, within the judicial system and in agencies with the authority to investigate financial crimes.
Comments

Left-arm spinner Ashmead Nedd … picked up a couple wickets in Guyana's win.  

Jerry Lewis   LOS ANGELES,  (Reuters) – Jerry Lewis, the high prince of low-brow comedy on stage and in movies as well as a fund-raising powerhouse with his annual Labor Day telethon, died today of "natural causes" at the age of 91, his family said.

Beharry Automotive Limited (BAL) , the authorised distributor for Toyota parts and lubricants, says that an abundance  of imitation Toyota parts and lubricants have entered the market with the Toyota logo and trademark.

Grace Mugabe   HARARE,  (Reuters) – Zimbabwe's first lady Grace Mugabe returned from South Africa early today, state media reported, after a 20-year-old model accused her of assault in an upmarket Johannesburg hotel room.

Michael Bhopaul, 16, doesn't know if he is this year's best performer at    the Caribbean Secondary Examination Certificate (CSEC) Examinations, but with preliminary results showing that he has obtained passes in 25 subjects, he will be hard to top.