Ryan Van Lange was yesterday sentenced to nine years in jail for killing his cousin-in-law, Jason Ramotar, whom he stabbed on the night of May 31, 2015, at Kaneville, East Bank Demerara.
The sentence was handed down by Justice Navindra Singh, following Van Lange's admission of guilt for the lesser count of manslaughter, two days after initially being indicted for murder.
Before accepting his plea, Justice Singh enquired from the crying Van Lange whether he knew of his right to a trial and that by pleading guilty he would be waiving that right. He answered in the affirmative.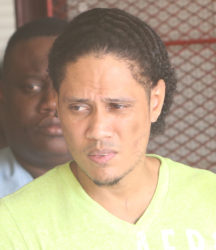 He said he had also spoken to his attorney.
He pleaded not guilty to the capital charge, but admitted that he unlawfully killed Ramotar, a father of one.
Presenting the facts of the case, Prosecutor Siand Dhurjon said that on the night of the killing, there was a birthday party for Van Lange's wife at which he, Ramotar and others were drinking.
The court heard of a dispute between the two in-laws, which escalated into a scuffle, during which Van Lange stabbed Ramotar to his neck with a knife, severing his jugular vein.
In an address to the court, a sobbing Van Lange begged the judge for mercy, while stating that he was sorry for his actions.
The 32-year-old father of three apologised to both his and Ramotar's family members, who were in court.
He also described himself as a disappointment to his wife and children and asked for their forgiveness.
He begged Justice Singh to be given a chance to contribute to society.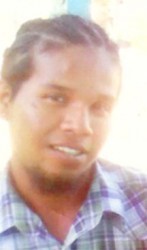 The judge, who said he believed Van Lange's remorse to be genuine, however, informed him that he had taken a life and that he must be punished for the act.
Justice Singh noted that events following the birthday celebrations were very unfortunate. He, however, reiterated sentiments previously expressed from the bench—that his court will show mercy to persons "for certain crimes," once they accept responsibility for their actions.
In handing down the nine-year sentence, Justice Singh said he considered the convict throwing himself at the mercy of the court, and not wasting the court's time.
According to the judge, Van Lange's acceptance of wrongdoing indicates a positive step towards reintegration to society. He told him to use his time in prison wisely and suggested participation in programmes aimed at self-improvement.
The court also took into account mitigating factors presented by defence attorney Mark Conway, who said that his client had no antecedents and had displayed impeccable character during his incarceration.
The judge expressed the belief that Van Lange would not again find himself in such unfortunate circumstances. He said that the convict's time would be better spent with his wife and children, making valuable contributions to society and not in prison but, again, he also reminded that punishment had to be imposed.
To a visibly-relieved Van Lange, Justice Singh announced the nine-year sentence and informed that the prison will calculate the deduction for almost the two years he has spent on remand.
The case was heard at the High Court in Georgetown.
Comments

An international firm will advise the Guyana Government on how to market the country's remaining unassigned oil blocks, according to Natural Resources Minister Raphael Trotman.

Minister of State Joseph Harmon has berated Auditor General Deodat Sharma for publicly commenting on the ongoing investigation of the D'Urban Park Development Project and for reaching out to a private company for information instead of the government.

Skeletal remains, suspected to be those of an elderly Plaisance resident, were yesterday discovered in the ruins of the Victoria Road, Plaisance, East Coast Demerara apartment building that was razed by a mystery fire on Friday.

Two business owners say they are now counting millions of dollars in losses after a fire, suspected to have been started by a child playing with matches, gutted a stall and a bond in the Parika Market Centre yesterday morning.
Following the revamping of a road project, US$10 million (G$2 billion) from an Inter-American Development Bank (IDB) loan will go towards housing subsidies in Sophia, Cummings Lodge and nearby areas.