A woman's decision to end an abusive relationship resulted in her being attacked on Sunday evening and stabbed several times about her body by her partner of three years.
Thirty-eight-year-old Karen Francis, a mother of three, sustained stab wounds to her hands, abdomen and back. She is currently a patient at the Georgetown Public Hospital in stable condition.
The suspect, who she identified as Clive Campbell called "Junior", made good his escape after the incident.
Contacted, Commander of 'A' Division Marlon Chapman confirmed that a report had been made to the police, but said that the suspect had not yet been apprehended.
Francis, from her hospital bed yesterday, explained to Stabroek News that she lived with Campbell for about three years, a period during which he was abusive.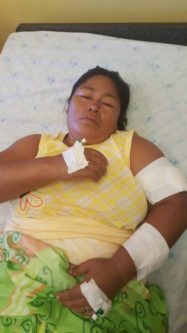 She said about one week ago she decided to move out from his Norton Street, Lodge house along with her three children and was staying at an elderly man who rescued her from the abuse she endured.
She said her former reputed husband called her and told her to go and collect her clothing. She went with her children and while she was there the man indicated that he wanted the relationship to continue. "…I tell he no, we not together anymore and he get vex and start stab me up with a knife," Francis explained.
The injured woman said the attack was witnessed by her three children.
"Soon as he done juk me up, he run away and I run out on the road after I see blood start come out nuff. Same time a taxi man pass and I ask for help so he pick we up and drop we at the hospital because we didn't had money to pay for car and so," she further explained.
Comments

Eighteen prisoners at the Lusignan penitentiary were being treated for injuries last night following a reported attempt to kill a fellow inmate during which warders fired shots.

A 12-year-old girl is now dead, while her brother narrowly escaped a similar fate yesterday after their aunt's La Bonne Intention (LBI), East Coast Demerara house, which they were under, collapsed on them.

Guyana has officially applied for membership in the European Union's Extractive Industries Transparency Initiative (EITI) which will help in tracking revenues from oil and other natural resources.

State Minister Joseph Harmon yesterday reiterated that President David Granger's directive to the Police Service Commission to halt its consideration of promotions was intended to prevent damage to the image of the Guyana Police Force but he could not say under what authority the head of state acted.

While saying that a strong security presence along the country's borders is the first line of defence against transnational criminal syndicates, President David Granger yesterday called for cooperation by all actors to see the security of Region Nine as a priority.