A woman's decision to end an abusive relationship resulted in her being attacked on Sunday evening and stabbed several times about her body by her partner of three years.
Thirty-eight-year-old Karen Francis, a mother of three, sustained stab wounds to her hands, abdomen and back. She is currently a patient at the Georgetown Public Hospital in stable condition.
The suspect, who she identified as Clive Campbell called "Junior", made good his escape after the incident.
Contacted, Commander of 'A' Division Marlon Chapman confirmed that a report had been made to the police, but said that the suspect had not yet been apprehended.
Francis, from her hospital bed yesterday, explained to Stabroek News that she lived with Campbell for about three years, a period during which he was abusive.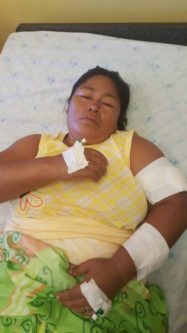 She said about one week ago she decided to move out from his Norton Street, Lodge house along with her three children and was staying at an elderly man who rescued her from the abuse she endured.
She said her former reputed husband called her and told her to go and collect her clothing. She went with her children and while she was there the man indicated that he wanted the relationship to continue. "…I tell he no, we not together anymore and he get vex and start stab me up with a knife," Francis explained.
The injured woman said the attack was witnessed by her three children.
"Soon as he done juk me up, he run away and I run out on the road after I see blood start come out nuff. Same time a taxi man pass and I ask for help so he pick we up and drop we at the hospital because we didn't had money to pay for car and so," she further explained.
Comments

The GPSU on the left and the government.(Ministry of the Presidency photo) The GPSU has rejected the government's wage increase offer for 2017.

Venezuelan citizens wait in line at a polling station during a nationwide election for new governors in Caracas, Venezuela, October 15, 2017.

Harry Ragoonanan (Trinidad Guardian) Prominent south businessman Harry Ragoonanan says he plans to challenge to his suspension from the People's National Movement (PNM).

Five persons – including a mother and two of her children – were killed yesterday in a head-on collision between a car and a paddy truck along the Number 59 Village Public Road, Corentyne.

A confrontation over the use of land at Cane Grove Backdam, Mahaica, turned deadly yesterday when a father and son were attacked and chopped.