A woman's decision to end an abusive relationship resulted in her being attacked on Sunday evening and stabbed several times about her body by her partner of three years.
Thirty-eight-year-old Karen Francis, a mother of three, sustained stab wounds to her hands, abdomen and back. She is currently a patient at the Georgetown Public Hospital in stable condition.
The suspect, who she identified as Clive Campbell called "Junior", made good his escape after the incident.
Contacted, Commander of 'A' Division Marlon Chapman confirmed that a report had been made to the police, but said that the suspect had not yet been apprehended.
Francis, from her hospital bed yesterday, explained to Stabroek News that she lived with Campbell for about three years, a period during which he was abusive.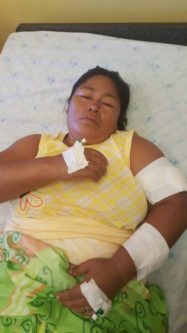 She said about one week ago she decided to move out from his Norton Street, Lodge house along with her three children and was staying at an elderly man who rescued her from the abuse she endured.
She said her former reputed husband called her and told her to go and collect her clothing. She went with her children and while she was there the man indicated that he wanted the relationship to continue. "…I tell he no, we not together anymore and he get vex and start stab me up with a knife," Francis explained.
The injured woman said the attack was witnessed by her three children.
"Soon as he done juk me up, he run away and I run out on the road after I see blood start come out nuff. Same time a taxi man pass and I ask for help so he pick we up and drop we at the hospital because we didn't had money to pay for car and so," she further explained.
Comments

The Ministry of the Presidency (MotP) last night labelled as reckless a statement by the Guyana Bar Association (GBA) expressing concern that appointments of a Chancellor of the Judiciary and a Chief Justice (CJ) might be made by the government outside of the constitutional provisions.

The office of the Auditor General (AG) has not been afforded enough access to the City Council's records to judge whether its accounts are "clean," AG Deodat Sharma said yesterday.
The National Industrial and Commercial Investments Limited (NI-CIL) recently accepted an offer made by Hong Kong Golden Telecom Limited (HKGT) to pay US$3M of the outstanding US$5M for the purchase of government shares in the Guyana Telephone and Telegraph Company (GTT), sources say.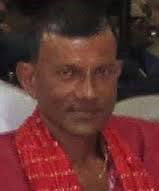 A 16-year-old was yesterday committed to stand trial for the murder of Hemant Persaud, the brother of Police Commissioner Seelall Persaud, who was fatally stabbed last year at the Stabroek Market.

Baishanlin still owes the Guyana Forestry Commission (GFC) some $80 million, according to Commissioner of Forests James Singh, who also says that claims about the company illegally logging at one of the concessions it previously owned are false.