A woman's decision to end an abusive relationship resulted in her being attacked on Sunday evening and stabbed several times about her body by her partner of three years.
Thirty-eight-year-old Karen Francis, a mother of three, sustained stab wounds to her hands, abdomen and back. She is currently a patient at the Georgetown Public Hospital in stable condition.
The suspect, who she identified as Clive Campbell called "Junior", made good his escape after the incident.
Contacted, Commander of 'A' Division Marlon Chapman confirmed that a report had been made to the police, but said that the suspect had not yet been apprehended.
Francis, from her hospital bed yesterday, explained to Stabroek News that she lived with Campbell for about three years, a period during which he was abusive.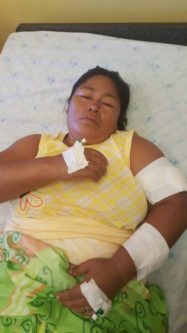 She said about one week ago she decided to move out from his Norton Street, Lodge house along with her three children and was staying at an elderly man who rescued her from the abuse she endured.
She said her former reputed husband called her and told her to go and collect her clothing. She went with her children and while she was there the man indicated that he wanted the relationship to continue. "…I tell he no, we not together anymore and he get vex and start stab me up with a knife," Francis explained.
The injured woman said the attack was witnessed by her three children.
"Soon as he done juk me up, he run away and I run out on the road after I see blood start come out nuff. Same time a taxi man pass and I ask for help so he pick we up and drop we at the hospital because we didn't had money to pay for car and so," she further explained.
Comments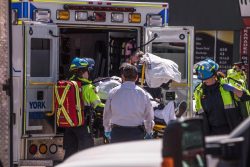 TORONTO,  (Reuters) – A driver plowed his white Ryder rental van into a crowd, killing nine people and injuring 16 along a roughly mile-long stretch of busy Toronto sidewalk during lunch hour on a sunny Monday afternoon, police said.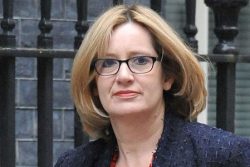 LONDON, (Reuters) – Britain will compensate some Caribbean immigrants who have lived legally in Britain for decades and have wrongly been labelled illegal immigrants because of trouble documenting their status, interior minister Amber Rudd said today.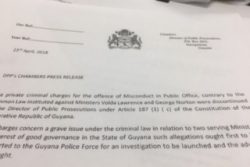 The private criminal charges instituted by two PPP/C MPs against Minister of Public Health Volda Lawrence and the former minister in the ministry, Minister George Norton have been discontinued by the Director of Public Prosecutions (DPP), Shalimar Ali-Hack.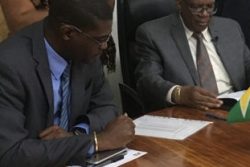 Private criminal charges have been filed against three more Ministers of Government, this time over the D'Urban Park project.