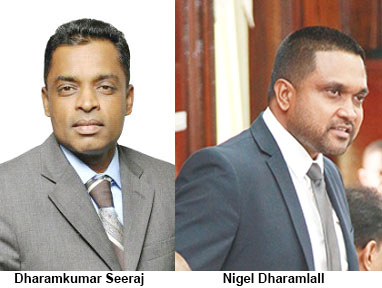 The opposition PPP last night said that two Members of Parliament for the People's Progressive Party/Civic, Dharamkumar Seeraj and Nigel Dharamlall, have recently received letters from the Consular Section of the Embassy of the United States of America, Georgetown informing them that their non-immigrant visas have been revoked.
A release from the PPP said that the letters further stated that the Consular Section is now in receipt of information which it did not have at the time that the visas were granted.
"Similar letters were received by the other persons who were slapped with fabricated charges in relation to Guyana Rice Development Board (GRDB). All the persons charged have pleaded not guilty to those charges and therefore, are presumed innocent until proven guilty", the PPP said.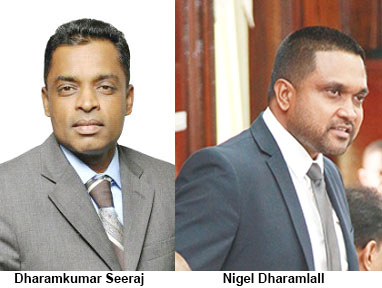 The release said that the two MPs have instructed their attorneys -at-law to write to the Consular Section of the Embassy requesting the new information which it has received.
The PPP said it will pursue this matter as far as is possible.
Those charged on May 19 before Chief Magistrate Ann McLennan in relation to the GRDB matter were: Jagnarine Singh, former GRDB General Manager; Prema Roopnarine, former Deputy Permanent Secretary for the Ministry of Agriculture; Ricky Ramraj, agricultural consultant; Badrie Persaud, business consultant; Seeraj, the General Secretary of the Rice Producers Association; and Dharamlall.
They were charged with failing to record entries for funds amounting to over $250 million in total in the agency's general ledger.
Comments

A group of international researchers and petroleum policy advisors will today meet Cabinet ministers to discuss the emerging oil and gas sector and give insight into prudent preparations for the revenues that will be generated from the industry.

A 41-year old mother from Central Amelia's Ward, Linden, died on Monday evening, having reportedly suffered severe haemorrhaging after delivering a 10-pound baby at the Linden Hospital Complex.

Autopsies performed on the remains of Dextroy Cordis, Errol Adams and Kwame Assanah, the three accused robbery suspects who were fatally shot by the police along the Seawall Public Road, in Georgetown last Thursday, have confirmed that they all died from multiple gunshot injuries The autopsies was performed on Monday at the Georgetown Public Hospital mortuary by government pathologist Dr.

Henry Rupert Smith, for the third time, has been appointed Mayor of Mabaruma by Minister of Communities Ronald Bulkan.
Acknowledging a recent ruling in which the Caribbean Court of Justice (CCJ) dismissed an appeal by Guyana Stores Limited (GSL) over the 2% minimum corporation tax applied by the Guyana Revenue Authority (GRA), Caribbean Chemicals, in a similar action, conceded defeat.