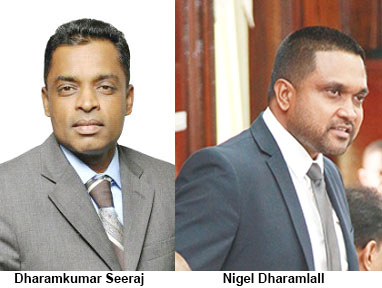 The opposition PPP last night said that two Members of Parliament for the People's Progressive Party/Civic, Dharamkumar Seeraj and Nigel Dharamlall, have recently received letters from the Consular Section of the Embassy of the United States of America, Georgetown informing them that their non-immigrant visas have been revoked.
A release from the PPP said that the letters further stated that the Consular Section is now in receipt of information which it did not have at the time that the visas were granted.
"Similar letters were received by the other persons who were slapped with fabricated charges in relation to Guyana Rice Development Board (GRDB). All the persons charged have pleaded not guilty to those charges and therefore, are presumed innocent until proven guilty", the PPP said.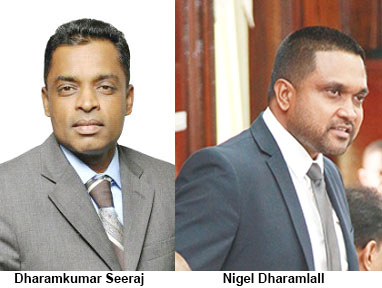 The release said that the two MPs have instructed their attorneys -at-law to write to the Consular Section of the Embassy requesting the new information which it has received.
The PPP said it will pursue this matter as far as is possible.
Those charged on May 19 before Chief Magistrate Ann McLennan in relation to the GRDB matter were: Jagnarine Singh, former GRDB General Manager; Prema Roopnarine, former Deputy Permanent Secretary for the Ministry of Agriculture; Ricky Ramraj, agricultural consultant; Badrie Persaud, business consultant; Seeraj, the General Secretary of the Rice Producers Association; and Dharamlall.
They were charged with failing to record entries for funds amounting to over $250 million in total in the agency's general ledger.
Comments

One day after saying that there was not enough evidence for the administration to act, Town Clerk Royston King yesterday dismissed the constabulary officer who is accused of sexually abusing a juvenile in the custody of City Constabulary for misconduct.

Pork knocker Aubrey Bobb was yesterday charged with the murder of businessman Godfrey Scipio, who police say he fatally shot during a robbery last Thursday.

A mother of two is now homeless and nursing injuries at the Georgetown Public Hospital (GPH) after her partner attacked her and set their Da Silva Street house on fire.

Recaptured prison escapee Mark Royden Williams, called 'Smallie,' and Sherwin Nero, called 'Catty,' were yesterday both indicted for the 2007 murder of Kumar Singh, called 'Mango Man,' but their attorney, Nigel Hughes, urged that they be discharged due to the "long time" they have had to wait for a trial.

The National Agricultural Research and Extension Institute (NAREI) yesterday signed a contract with S&K Construction Services for $19.2M to improve river defences on the Essequibo coast.