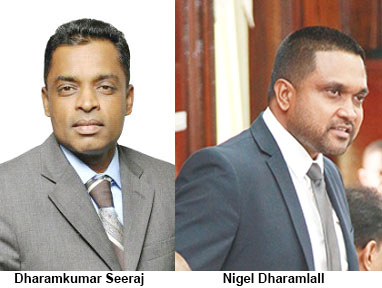 The opposition PPP last night said that two Members of Parliament for the People's Progressive Party/Civic, Dharamkumar Seeraj and Nigel Dharamlall, have recently received letters from the Consular Section of the Embassy of the United States of America, Georgetown informing them that their non-immigrant visas have been revoked.
A release from the PPP said that the letters further stated that the Consular Section is now in receipt of information which it did not have at the time that the visas were granted.
"Similar letters were received by the other persons who were slapped with fabricated charges in relation to Guyana Rice Development Board (GRDB). All the persons charged have pleaded not guilty to those charges and therefore, are presumed innocent until proven guilty", the PPP said.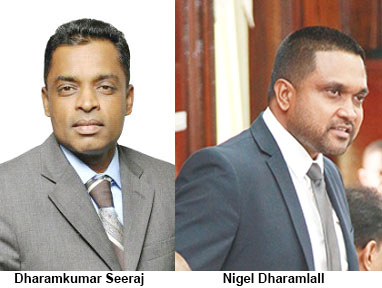 The release said that the two MPs have instructed their attorneys -at-law to write to the Consular Section of the Embassy requesting the new information which it has received.
The PPP said it will pursue this matter as far as is possible.
Those charged on May 19 before Chief Magistrate Ann McLennan in relation to the GRDB matter were: Jagnarine Singh, former GRDB General Manager; Prema Roopnarine, former Deputy Permanent Secretary for the Ministry of Agriculture; Ricky Ramraj, agricultural consultant; Badrie Persaud, business consultant; Seeraj, the General Secretary of the Rice Producers Association; and Dharamlall.
They were charged with failing to record entries for funds amounting to over $250 million in total in the agency's general ledger.
Comments

Minister of Foreign Affairs, Carl Greenidge, today,  denied saying that the entire Cabinet approved the deposit of the US$18 million signing bonus from ExxonMobil in an escrow account at Bank of Guyana (BoG).

Opposition Leader Bharrat Jagdeo needs to address behavioural challenges among  his party's parliamentarians as their actions in disrupting his speech to the National Assembly last month and last Monday's ruckus in the House are disrespectful and vulgar, President David Granger says.

Finance Minister, Winston Jordan says the US$10M purportedly paid by Canadian oil company, CGX Energy, to lawyers for the state in the maritime boundary dispute between Guyana and Suriname, under the PPP/C administration, should have been recorded in the public accounts.

Two plainclothes policemen were at the press table at parliament yesterday apparently pretending to be reporters and one was ordered away by his superiors after several journalists complained to the Clerk of the National Assembly.

A 30-year-old machine operator is currently battling for his life in a city hospital after he was shot minutes after midnight yesterday by armed bandits who invaded his Kaneville, East Bank Demerara house where a birthday dinner had just been held for his wife.