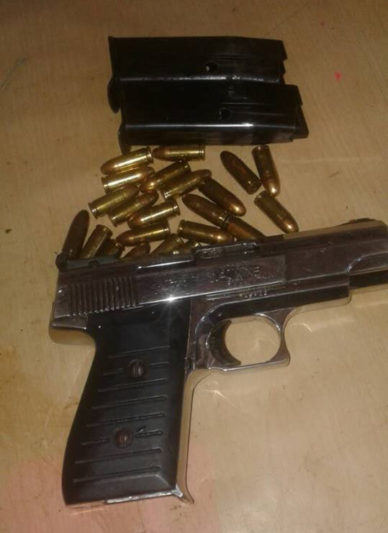 Police yesterday arrested a 63-year-old man after he was found in his camp in the Cuyuni River with an illegal gun and ammunition by ranks who were investigating a report of threats made against him.
According to a police press release, the police seized an unlicensed 9mm pistol, 23 live matching rounds as well as two magazines for the said firearm.
It stated that ranks responding to a report of threats made against the suspect, approached his camp about 09:30 hours. The sexagenarian who the release said was resting in a hammock upon seeing the ranks quickly tossed the pistol into a box in which the ammunition and the firearm components were also found.
The Duncan Street, Kitty resident is currently being processed for court.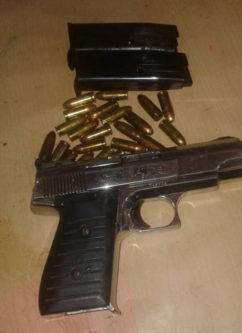 Comments
GEORGETOWN – The following letter was sent to President David Granger on behalf of the people of the United States.

In a much watched case, Magistrate Alex Moore today recommitted Muslim scholar, Nezaam Ali, to stand trial for the alleged rape of nine boys.

(Trinidad Guardian) Former T&T and Manchester United footballer Dwight Yorke yesterday denied he entered into any contract with Chutney Monarch Neval Chatelal to loan him money to pay off a debt following his Island Vibe fete last year.

The Ministry of Finance this afternoon clarified that the proposed sum to be borrowed for use by the Special Purpose Unit (SPU) as reported in today's Stabroek News, Guyana Times and Guyana Chronicle, is not solely for the reopening of the Skeldon and Enmore Sugar Estates.

A 38-year-old electrical contractor narrowly escaped death yesterday after he was shot and robbed of $600,000 by two motorcycle bandits who trailed him from a bank before cornering him at his Enmore, East Coast Demerara (ECD) worksite.