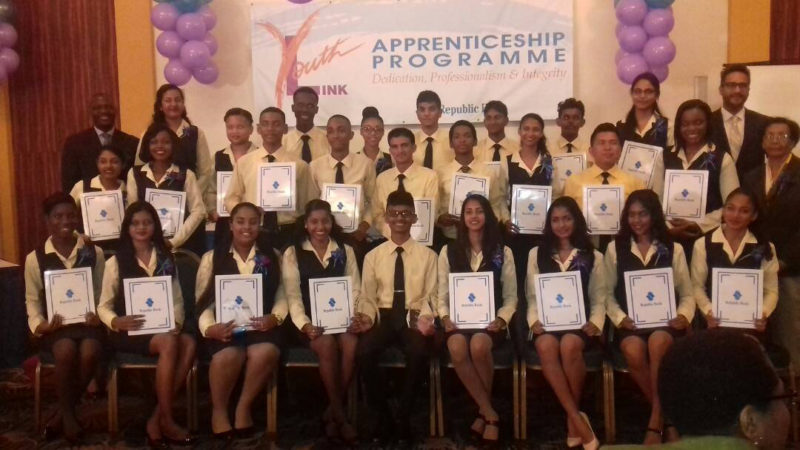 The 27 youths who graduated from the Republic Bank (Guyana) Limited's Youth Link Apprenticeship programme on Thursday were encouraged to build character and aspire for mastery in their careers.
In a ceremony held at the Pegasus Hotel, the graduates benefited from a motivational talk from Dr Marlon Hestwick, who told them that while skills and competencies will open doors for them, it is their character that will keep them in those places.
"Character fetches qualifications. Character is your responsibility. Character that fails once can make a mess of a career that took years to build," Hestick told the trainees.
Hestick, in his address, advised that rather than aspiring for excellence, mastery should be the goal they strive for.
"…I grew up thinking that `excellence' is a goal that we should aspire to and I did. I worked hard and tried to always get `excellent'. Lately, as I've looked at life and tried to understand this whole business of what we should be going after and who we should be pushing ourselves to be, I've realised that there is something beyond excellence…it is mastery…Excellence is a goal. Mastery is something you continue to reach for even after you realise the goal," the speaker said.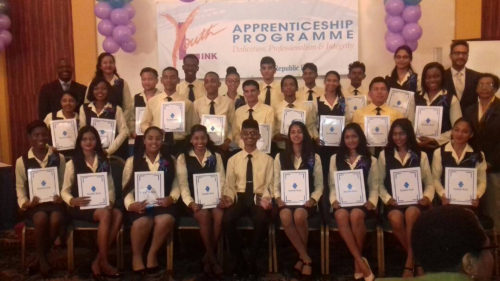 The apprenticeship programme facilitated training that once completed, allows the participants to become proficient in Banking Operations Level One, and to receive the Caribbean Vocational Qualification (CVQ) from the Caribbean Association of National Training Agencies (CANTA).
It was first introduced in 2008, and with this batch of graduates, the number of youths exposed to the initiative totals 241.
This most recent leg of the programme began in October 2016 and concluded this May.
Receiving special awards on Thursday were: Fardeen Alli for Best All Rounder and Best Business Proposal; Manesha Samaroo for Most Effective Presentation; Matthew Hunte for most Disciplined Apprentice; Saskia Solomon for Most Improved Apprentice and Esther Ann Phagoo for Most Congenial Apprentice.
In a statement, the Bank acknowledged apprentice Keisha Anthony, who was involved in an accident on the day before the apprenticeship programme ended, and succumbed a few weeks later.
"The Republic Bank family is truly saddened at the passing of young Keisha Anthony, and continue to keep in thought and prayer her family and all who mourn her loss," the release said.
Alli also shared sentiments on the loss during his Valedictorian speech.
Alli's speech had given a vivid, humorous account of his seven-month experience apprenticing and networking with other young people like himself.
"By the end of that first week, we all bonded so closely that we asked for another week of training. The role plays, the demonstrations, presentations, talks, and most importantly the wanting that drove us to success…working at our respective branches we were able to form new relationships with the persons we had to work with, including customers," he said.
In addition to the training programme, the young people were also exposed to community outreach work, which took them to the Ptolemy Reid Rehabilitation Centre and a session on First Aid training, facilitated by the Guyana Red Cross Society.
"Visiting the Ptolemy Reid Rehabilitation Centre opened our eyes, minds and hearts to reflect on the way we treat the people in our environments…Under the Power to Make a Difference initiative, the Republic Bank Youth Link Care-a-Van changed our opinion about how life works and what is important," the valedictorian noted.
In his address to the audience, Managing Director of Republic Bank (Guyana), Richard Sammy, stated that the apprenticeship programme is a demonstration of the entity's commitment to youth development in Guyana and forms a part of their wider social investment initiative, the "Power to Make a Difference".
Sammy noted that this initiative entails the execution of projects nationally and regionally which are geared at "impacting lives and circumstances" and "rewarding excellence".
"From where I stand, and remembering the anxious faces a few months ago, I see a transformed group of young professionals—capable, confident, and now certified to join any professional organisations in Guyana or the region".
Comments

Lawrence Duprey (Trinidad Express) Former executive chairman of CL Financial Lawrence Duprey was ordered by a Florida judge in July to pay more than US$60 million to British American Insurance Company (BAICO) in damages in relation to the TT$1.9 billion Green Island project in Osceola County, Florida.

Bharrat Jagdeo The PPP/C is committed to constitutional reform, says Opposition Leader Bharrat Jagdeo.

Ray Lengend Ray Lengend who went on a fire-bombing spree of mosques throughout southeast Queens, this week pleaded guilty to the crimes against Muslims who the 45-year-old Guyanese man claimed in 2012 had been "trying to take over his life", according to the Times Ledger in Queens, New York.

BEIJING/SEOUL, (Reuters) – A small earthquake near North Korea's nuclear test site on Saturday was probably not manmade, the nuclear proliferation watchdog and a South Korean official said, easing fears Pyongyang had exploded another nuclear bomb just weeks after its last one.

Damaged electrical installations are seen after the area was hit by Hurricane Maria en Guayama, Puerto Rico September 20, 2017.