Former accountant of the Guyana Rice Development Board (GRDB), Peter Ramcharran was yesterday arrested in Canada following collaborative efforts between the Guyanese and Canadian law enforcement authorities.
"We initiated the action, making a request for the arrest warrant to the competent authority (in) Minister (of Public Security Khemraj) Ramjattan who contacted Canadian authorities," Head of the Special Organised Crime Unit (SOCU) Sydney James confirmed when contacted by Stabroek News.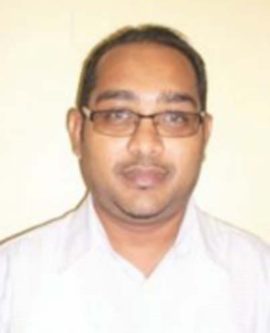 Earlier this month SOCU took to the local courts as it sought an arrest warrant for Ramcharran, in order to for him to stand trial on charges that he allegedly falsified GRDB's accounts.
It was SOCU prosecutor Patrice Henry who had made the request to Chief Magistrate Ann McLennan. The Chief Magistrate requested that SOCU's head be present at a hearing on June 5 to testify to what transpired prior to the charges being brought against Ramcharran.
James did turn up in court as requested and presented the details to the Chief Magistrate.
It is unclear when Ramcharran would be returned home to formally face the five charges for alleged falsification of GRDB accounts from 2011 to 2015.
However, this newspaper has confirmed that authorities here are in contact with their Canadian counterparts and are getting updates on the matter.
Ramcharran's case is the first since this government took office where a person wanted in connection with a state audit has been arrested overseas.
Last month, six former GRDB board members were charged with failing to record entries for funds amounting to over $250 million in total in the agency's general ledger, from 2011 to 2015.
Those charged were, Jagnarine Singh, former GRDB General Manager; Prema Roopnarine, former Deputy Permanent Secretary for the Ministry of Agriculture; Ricky Ramraj, agricultural consultant; Badrie Persaud, business consultant; Dharamkumar Seeraj, the General Secretary of the Rice Producers Association and a PPP/C MP; and Nigel Dharamlall, also a PPP/C MP.
Comments

Even as he posited that Guyana was unequally matched in negotiations with ExxonMobil and other multinationals, British Professor of Economics and Public Policy, Sir Paul Collier last evening cautioned against pulling back the contract with the US company and affiliates, saying it can spell doom for Guyana's investment climate.

-SPU representative says efficiency improved by 40-45% Photos by Dhanash Ramroop Grinding has resumed at the Enmore Sugar Estate factory in a bid to make use of cane in the fields and to attract prospective investors.

Fly Jamaica Airways crewmember Hugh Hall was caught with US$160,000 worth of cocaine taped to his legs after a flight, according to NBC news in New York.
The Cheddi Jagan Research Centre (CJRC) has accused the government of deliberately frustrating its work, after the Guyana Post Office Corporation (GPOC) failed to deliver on time an order of commemorative stamps to honour the 100th birth anniversary of the late President, Dr Cheddi Jagan.

A case management conference was yesterday morning held to set timelines for preliminary hearings ahead of the trial commencing in the challenge mounted by the Cheddi Jagan Research Committee Inc.