The Ministry of Public Security yesterday identified the 57 prisoners who were recently granted an early release by Minister Khemraj Ramjattan in the wake of the devastation of the Camp Street Prison.
A statement issued by Ramjattan's office yesterday afternoon said he released the prisoners by virtue of the ministerial powers vested in him by the constitution and based on the advice from senior prison officials, who testified to the prisoners' characters and good behaviour.
The prisoners were released during the course of the week following the fire at the Camp Street Prison on Sunday.
The statement, which misspelt the names of some of the convicts, did not identify the offences for which they were convicted. However, where possible Stabroek News has listed the offence based on its records.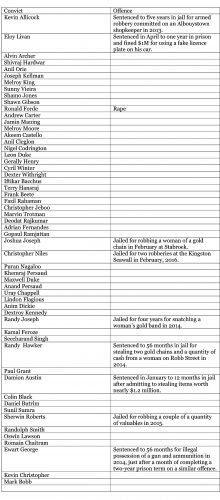 Comments

The leadership of the Alliance For Change (AFC) is to formally write A Partnership for National Unity (APNU) on a revision of the Cummingsburg Accord which birthed the coalition and saw it winning the 2015 general elections.

The Education Ministry is probing a complaint against a teacher of the Bishops' High School, who is accused of sexually grooming and molesting female students during the 10 years he has worked there.

The Special Purpose Unit (SPU), which was set up to spearhead the divestment and privatization of GuySuCo assets, yesterday moved one step closer to selecting an accounting firm to provide a valuation of assets belonging to the sugar company.

Four men were yesterday taken before a city magistrate on a charge that they stole over $2 million in cash and valuables during a violent robbery at the Stabroek Market.

While the police force remains silent on the investigation into the murder of school teacher Kescia Branche, her father said that the family can only remain patient and hopeful that one day justice will prevail and his daughter's killer/s will be apprehended.