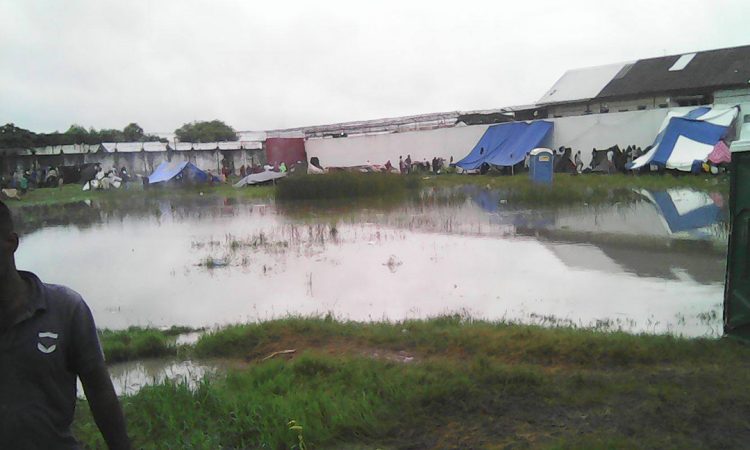 Camp Street Prison inmates temporarily housed at the Lusignan jail yesterday morning protested the conditions under which they are being kept and attempted to set the facility on fire but quick work by the Guyana Fire Service prevented what could have been a major disaster.
Stabroek News was reliably informed that the disturbance erupted around 2am yesterday and lasted for about 20 minutes. It followed heavy rain on Thursday night, which flooded the pasture where hundreds of prisoners are being kept in rough conditions.
This newspaper was told that following the heavy rainfall, the prisoners were asked to disperse to the edge of the compound, which was not affected by the flood. This apparently triggered rage among the inmates, who began to throw bricks and channa bombs into the holding centre of the prison.
This saw the eruption of small fires, which were extinguished by firefighters on standby outside the prison.
During the unrest, ranks of the police force's Tactical Services Unit (TSU) discharged several rubber bullets. There was no report of any injury.
Acting Director of Prisons Gladwin Samuels, when contacted by this newspaper yesterday, confirmed the incident. "There was indeed a small incident at the prison and it is under control," Samuels said.
This newspaper understands that the prisoners may have accessed fuel to start the fires from generators in the compound.
On Sunday afternoon, fire was set by inmates to several sections of the Camp Street prison and all the wooden buildings of the 132-year-old facility were consumed. Four prisoners, identified as Bartica massacre convict Mark Royden Williams and murder accused Stafrei Alexander, Uree Varswyk and Desmond James are believed to be the main orchestrators of the breakout. They fled the facility during the conflagration.  At some point, Cobena Stephens, also known as 'OJ,' and accused Trinidadian drug trafficker, Cornelius Thomas, also made good their escape.
During the breakout, prison officer Odinga Wickham was fatally shot while five of his colleagues were wounded.
Walled
Minister of Public Security Khemraj Ramjattan during a press conference on Thursday had said that 500-plus inmates from the Camp St facility are being housed in the walled open field adjacent to the Lusignan Prison complex.
Ramjattan had said that another walled area, with sheds and washroom facilities, is being prepared for them by the Ministry of Public Infrastructure and contractors. However, Stabroek News learnt that none of the prisoners were moved from the pasture yesterday.
The relocation to this new area was expected to happen within 24 hours. "Prisoners, they have certain rights, we have to keep them in certain conditions and those who have been critical… please, we have our obligations in accordance to international protocols and national standards and we are gonna ensure that the conditions are met," Ramjattan had stressed.
He said that it is hoped that these prisoners can be moved back to Camp Street once the debris has been removed and a brick prison there is rehabilitated and another facility, called the "cage," is prepared. The brick prison can accommodate about 250 prisoners while the "cage" can hold another 100, he had noted.
The Minister had explained that of the over 1,000 Camp Street inmates, it has been verified that 83 prisoners were sent to the Mazaruni Prison; 90 to the New Amsterdam Prison; 48 to the Timehri Prison and 151 to the Lusignan Prison.
Additionally, he said 57 persons scheduled to be released by the first week in August were released by him for good conduct. He said that magistrates have also granted self-bail to 26 others, while eight have posted bail, which had been reduced.
Comments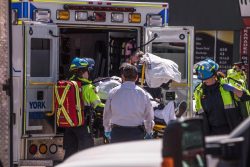 TORONTO,  (Reuters) – A driver plowed his white Ryder rental van into a crowd, killing nine people and injuring 16 along a roughly mile-long stretch of busy Toronto sidewalk during lunch hour on a sunny Monday afternoon, police said.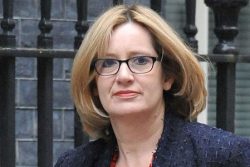 LONDON, (Reuters) – Britain will compensate some Caribbean immigrants who have lived legally in Britain for decades and have wrongly been labelled illegal immigrants because of trouble documenting their status, interior minister Amber Rudd said today.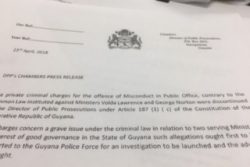 The private criminal charges instituted by two PPP/C MPs against Minister of Public Health Volda Lawrence and the former minister in the ministry, Minister George Norton have been discontinued by the Director of Public Prosecutions (DPP), Shalimar Ali-Hack.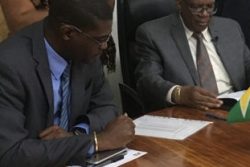 Private criminal charges have been filed against three more Ministers of Government, this time over the D'Urban Park project.