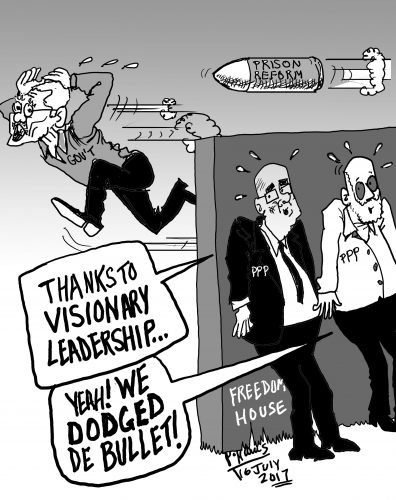 There is to be a Commission of Inquiry (CoI) into last Sunday's jailbreak which resulted in one death, injuries, escapes and a mostly destroyed Camp Street prison, Minister of Public Security Khemraj Ramjattan revealed yesterday during discussions with a group of Opposition MPs at Parliament Buildings.
PPP/C Executive member Clement Rohee who led a four-member opposition delegation has since questioned the need for this saying that the bulk of the recommendations from the last inquiry – made just over a year ago – are yet to be implemented. He said his party will now discuss the matter and decide on a way forward.
A release issued by government's Department of Public Information (DPI) said that Ramjattan, Minister of Public Infrastructure David Patterson; Commissioner of Police, Seelall Persaud and Director of Prisons Gladwin Samuels met with Rohee, Juan Edghill, Bheri Ramsarran and Harry Gill and provided a "full and frank" briefing on the fire at the Georgetown Prison along with the escape of prisoners.
The Opposition MPs were also briefed on the actions taken by the government and the security services in securing and housing the transferred prisoners and other related matters, the release said.
According to DPI, during the almost two-hour-long briefing which commenced at 09:00 hrs, several questions were asked and points raised by the Opposition MPs were responded to and addressed by Ramjattan and his team.
Ramjattan, it was stated, also "advised that there will be a Commission of Inquiry into the matter and that there will be additional opportunities to examine the responses of the disciplined forces." The release informed that the Opposition team made some suggestions which the government team acknowledged "had some merit" and these will be considered.
DPI said the government team undertook to have an updated brief as soon as additional information is available.
However, Rohee complained that he and his team were not given the opportunity to ask all that they wanted to and as such were dissatisfied with the outcome of the meeting.
"They closed down the meeting before we could ask all the questions we wanted to ask because Ramjattan kept insisting that there are here just for a briefing and we kept insisting that we had a number of questions that we wanted answered," he said. He stated that it was government that requested the meeting.
Rohee told Sunday Stabroek that it was amidst their attempts to get answers that Ramjattan announced that the President will be setting up a CoI.
"This was the first time we heard about that," he said, adding that Ramjattan indicated to them that they should await until the completion of the inquiry to "ask the kind of questions we were asking."
Asked for his view on another inquiry, the second in just over a year, Rohee, who held Ramjattan's portfolio under the former government, questioned the rational given the non-implementation of a large portion of the 70 recommendations previously made.
Following a prison fire which claimed 17 lives, an inquiry was conducted at the end of which retired judge James Patterson and his two-member team made recommendations. Government has been accused of failing to implement them.
"Given the predisposition of the administration to always hold inquiries and the fact that Ramjattan announced that's the direction they would be going… of the 69 [it is actually 70] recommendations that were made by the last CoI, not many of them have been implemented…and so what we will have is another Commission of Inquiry … [and] recommendations piling on top of each other," he said, adding that government's ability to implement the new recommendations is another matter to consider.
Rohee said he would have thought that the President would have made such an announcement given that CoIs are presidential in nature. "So I don't know that he was authorized to tell us that or whether he just blurted it out just like that…," he said, adding that he is unaware of any other meeting between the two sides to further discuss the matter.
"They tried to tell us that we will have other opportunities but when Bishop Edghill asked about these other opportunities they couldn't answer that," he said.
Rohee informed that during the meeting the opposition spoke about the government officials meeting and sympathizing with prisoners on two occasions, firearms being in the possession of prisoners, prison officers being held hostage and the nature of the response by the Guyana Police Force to such an explosive situation. "It has left much to be desired because when we asked what about the SWAT team, what about…the two rapid response bodies that are always standing ready for action, and they just kept dancing around and not giving us proper answers. There are more questions than answers," he stressed.
He told Sunday Stabroek that the opposition members left the meeting questioning its relevance. Rohee said he and his team did not accept the invitation to please government but rather to ask questions and have them answered satisfactorily and in keeping with his party's responsibility to the nation.
Rohee said that during the discourse he did point out that the majority of the recommendations from last year's inquiry were not implemented, but Ramjattan stuck to his previous comments that government has done a lot over the past year.
He said he indicated to the minister that some of the recommendations required laws to be passed, but nothing was taken before the House and he also reminded him about the meetings with former acting Chancellor Justice Carl Singh on judicial matters in wake of the last prison riot. He said while Ramjattan in response spoke of the night court and what happened subsequently, those were just a limited amount of the recommendations that were made.
Comments

Several hundred more sugar workers are expected to be laid off from the Skeldon, Rose Hall, and East Demerara estates by next month and the Guyana Agricultural and General Workers Union (GAWU) yesterday urged that the decision be reviewed.

The commencement order establishing the Telecommunications Agency was signed last Friday, in anticipation of the liberalisation of the telecoms sector, Minister of Public Tele-communications Cathy Hughes announced yesterday.

Nickela Craig-Singh, the woman who was arrested last Friday after the Customs Anti-Narcotic Unit (CANU) found over 10 pounds of cocaine in the ceiling of her Soesdyke home, was yesterday sentenced to four years in prison and fined over $14 million after pleading guilty to possession of the drug.

Almost two weeks after he made a Facebook post in which he questioned whether the Indian High Commission was interfering in Guyana's internal affairs, Director of Public Information Imran Khan yesterday said that he regretted the "furore" his post created and admitted that it should have benefitted from "greater elegance or not have been made".
A young man seen in a recent viral video being brutally murdered in neighbouring Venezuela has been identified as a Port Kaituma miner.