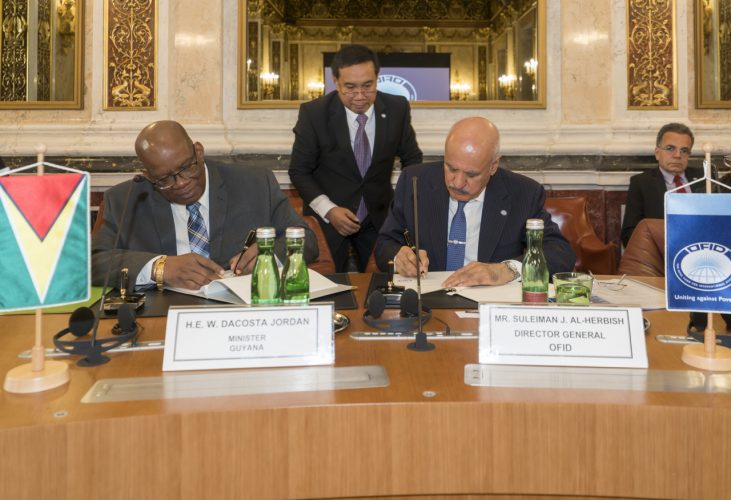 Minister of Finance Winston Jordan and the Director-General of the OPEC Fund for International Develop-ment (OFID) last Thursday signed an Agreement Encouragement and Protection of Investment that is expected to open new avenues for finance and investment for the private sector.
Jordan and OFID Director-General Suleiman J. Al-Herbish signed the agreement in Vienna, Austria, the Finance Ministry said yesterday in a statement, while noting that it is the first such agreement with a multilateral partner and sets in train a framework for the start of private sector operations in Guyana.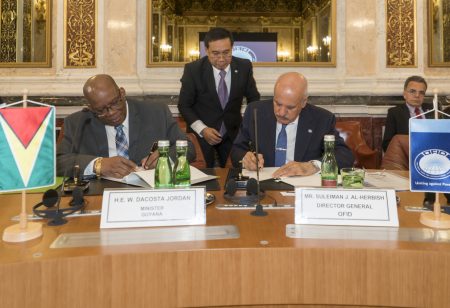 The ministry noted that OFID's private sector facility supports the private sector in developing countries through loans to micro, small and medium–enterprises, as well as directly to specific projects. As a pre-condition to such private sector investments, OFID requires the signature of a framework agreement with the country concerned for the encouragement and protection of investment. The agreement accords OFID the same privileges as those normally granted to international development institutions, it added.
The ministry also said that the signing of the agreement comes at a time when a number of other initiatives are being implemented by government to help drive private sector growth, including the design of a fiscal regime and a fiscal sustainability framework to address the management of natural resources wealth, development of a local content policy and the development of a time-lined work-plan on what the private sector needs to do to prepare for oil and thereafter.
OFID, according to the ministry, is the intergovernmental development finance institution established in 1976 by the Member States of the Organization of the Petroleum Exporting Countries (OPEC) and is bounded in 'the natural solidarity which unites OPEC countries with other developing countries in their struggle to overcome underdevelopment.'
Comments

Several hundred more sugar workers are expected to be laid off from the Skeldon, Rose Hall, and East Demerara estates by next month and the Guyana Agricultural and General Workers Union (GAWU) yesterday urged that the decision be reviewed.

The commencement order establishing the Telecommunications Agency was signed last Friday, in anticipation of the liberalisation of the telecoms sector, Minister of Public Tele-communications Cathy Hughes announced yesterday.

Nickela Craig-Singh, the woman who was arrested last Friday after the Customs Anti-Narcotic Unit (CANU) found over 10 pounds of cocaine in the ceiling of her Soesdyke home, was yesterday sentenced to four years in prison and fined over $14 million after pleading guilty to possession of the drug.

Almost two weeks after he made a Facebook post in which he questioned whether the Indian High Commission was interfering in Guyana's internal affairs, Director of Public Information Imran Khan yesterday said that he regretted the "furore" his post created and admitted that it should have benefitted from "greater elegance or not have been made".
A young man seen in a recent viral video being brutally murdered in neighbouring Venezuela has been identified as a Port Kaituma miner.