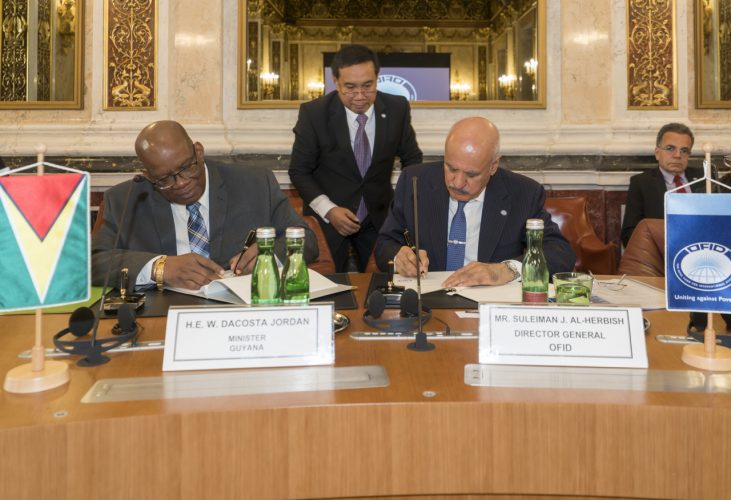 Minister of Finance Winston Jordan and the Director-General of the OPEC Fund for International Develop-ment (OFID) last Thursday signed an Agreement Encouragement and Protection of Investment that is expected to open new avenues for finance and investment for the private sector.
Jordan and OFID Director-General Suleiman J. Al-Herbish signed the agreement in Vienna, Austria, the Finance Ministry said yesterday in a statement, while noting that it is the first such agreement with a multilateral partner and sets in train a framework for the start of private sector operations in Guyana.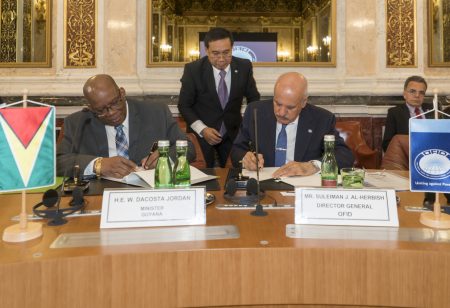 The ministry noted that OFID's private sector facility supports the private sector in developing countries through loans to micro, small and medium–enterprises, as well as directly to specific projects. As a pre-condition to such private sector investments, OFID requires the signature of a framework agreement with the country concerned for the encouragement and protection of investment. The agreement accords OFID the same privileges as those normally granted to international development institutions, it added.
The ministry also said that the signing of the agreement comes at a time when a number of other initiatives are being implemented by government to help drive private sector growth, including the design of a fiscal regime and a fiscal sustainability framework to address the management of natural resources wealth, development of a local content policy and the development of a time-lined work-plan on what the private sector needs to do to prepare for oil and thereafter.
OFID, according to the ministry, is the intergovernmental development finance institution established in 1976 by the Member States of the Organization of the Petroleum Exporting Countries (OPEC) and is bounded in 'the natural solidarity which unites OPEC countries with other developing countries in their struggle to overcome underdevelopment.'
Comments

England's Moeen Ali celebrates his century Action Images via Reuters/Peter Cziborra   BRISTOL, England,  (Reuters) – Moeen Ali hit the second fastest one-day international century in England's history to set up a win over West Indies by 124 runs today.

Keriako Tobiko   NAIROBI, (Reuters) – Kenya's chief prosecutor has directed the department of criminal investigations and the anti-corruption commission to investigate election board officials over possible offences in the invalidated Aug.

A family preparing for a memorial service today was attacked by armed bandits in East La Penitence and one brother succumbed to bullet wounds and two others have been admitted to hospital.

Prime Minister Roosevelt Skerrit of the Commonwealth of Dominica addresses the general debate of the General Assembly's seventy-second session.

Residents of East Bank Berbice were in anger and disbelief yesterday as the decomposing body of 13-year-old Leonard Archibald, who was raped and then dumped into the Berbice River, was finally found, while the main suspect in the crime was accused by young boys of carrying out a series of attacks on them over a number of years.