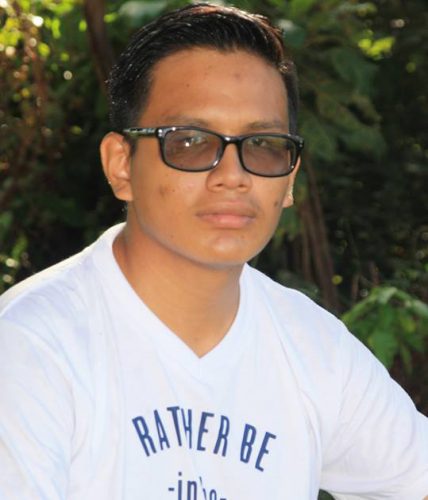 A Rupununi youth is seeking the public's help to raise funds for him to undergo surgery needed to prevent him from possibly losing his sight.
Vaughn Duncan, 21, of Lethem, Central Rupununi was diagnosed with Keratoconus, a degenerative disease of the eye by Dr Neeraj Jain of the Dr Balwant Singh's Hospital on April 12, 2017.
Stabroek News understands that Keratoconus, often abbreviated to KC, is a progressive eye disease in which the normally round cornea thins and begins to bulge into a cone-like shape, resulting in significant visual impairment.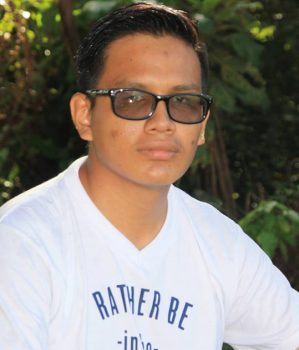 According to Duncan, who was an Economics major at the University of Guyana,  both of his eyes are effected and based on consultations with the ophthalmologist, the impairment can only be halted by a onetime treatment, called Corneal Collagen Cross Linkage + Riboflavin (commonly called C3R). But while the surgery can be carried out at the Dr Balwant Singh's Hospital, it comes at a cost of $576,000.
"Given the urgency with respect to time as well as the fact that I have recently completed my studies at UG and am currently seeking employment, I am trying my best to raise the amount needed… but I have so far only managed to raise $180,000," the young man said.
Duncan further noted that though he had approached the Ministry of Indigenous Peoples Affairs for assistance, he was told that the cost of the surgery was way out of its budget and it could only offer him $30,000.
"I am trying to get it done as fast as I can; there is no fixed date but I am hoping by year end I can raise the required amount and get the surgery done," he said.
Persons who are interested in offering assistance are kindly asked to contact Duncan on telephone number 683 5552 or by email: vaughn.duncan@yahoo.com.
Comments

HARARE,  (Reuters) – Robert Mugabe resigned as Zimbabwe's president on Tuesday a week after the army and his former political allies moved against him, ending four decades of rule by a man who turned from independence hero to archetypal African strongman.

Travis Cleveland c/d 'Spin and Kill', 31 years , unemployed of 337 South Sophia has been charged with murder of Jamal Munroe which occurred on November 03, 2017 at Black and White Bridge, 'C' Field, Sophia, ECD, the police say.

YANGON/NAYPYITAW, (Reuters) – Members of the U.S. Congress said today operations carried out against the Rohingya Muslims in Myanmar had "all the hallmarks" of ethnic cleansing, while the country's leader Aung San Suu Kyi expressed doubts about allegations of rights abuses.

The leadership of the Alliance For Change (AFC) is to formally write A Partnership for National Unity (APNU) on a revision of the Cummingsburg Accord which birthed the coalition and saw it winning the 2015 general elections.

The Education Ministry is probing a complaint against a teacher of the Bishops' High School, who is accused of sexually grooming and molesting female students during the 10 years he has worked there.