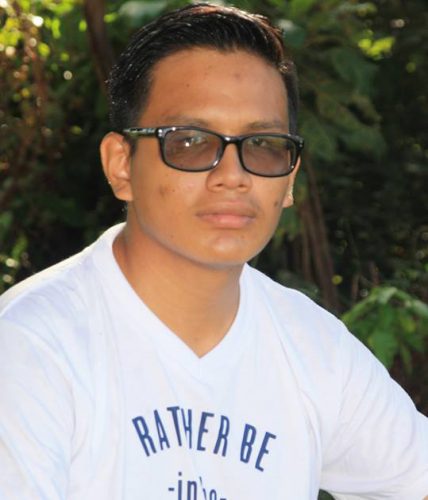 A Rupununi youth is seeking the public's help to raise funds for him to undergo surgery needed to prevent him from possibly losing his sight.
Vaughn Duncan, 21, of Lethem, Central Rupununi was diagnosed with Keratoconus, a degenerative disease of the eye by Dr Neeraj Jain of the Dr Balwant Singh's Hospital on April 12, 2017.
Stabroek News understands that Keratoconus, often abbreviated to KC, is a progressive eye disease in which the normally round cornea thins and begins to bulge into a cone-like shape, resulting in significant visual impairment.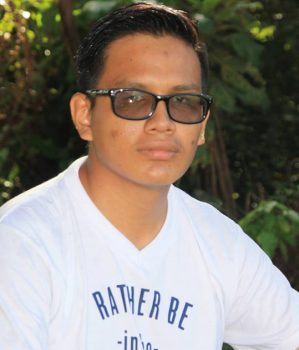 According to Duncan, who was an Economics major at the University of Guyana,  both of his eyes are effected and based on consultations with the ophthalmologist, the impairment can only be halted by a onetime treatment, called Corneal Collagen Cross Linkage + Riboflavin (commonly called C3R). But while the surgery can be carried out at the Dr Balwant Singh's Hospital, it comes at a cost of $576,000.
"Given the urgency with respect to time as well as the fact that I have recently completed my studies at UG and am currently seeking employment, I am trying my best to raise the amount needed… but I have so far only managed to raise $180,000," the young man said.
Duncan further noted that though he had approached the Ministry of Indigenous Peoples Affairs for assistance, he was told that the cost of the surgery was way out of its budget and it could only offer him $30,000.
"I am trying to get it done as fast as I can; there is no fixed date but I am hoping by year end I can raise the required amount and get the surgery done," he said.
Persons who are interested in offering assistance are kindly asked to contact Duncan on telephone number 683 5552 or by email: vaughn.duncan@yahoo.com.
Comments

MELBOURNE,  (Reuters) – Rafa Nadal's Australian Open quarter-final curse struck again on Tuesday, an injury forcing the top seed to retire in the fifth set against Croatia's Marin Cilic.

Several hundred more sugar workers are expected to be laid off from the Skeldon, Rose Hall, and East Demerara estates by next month and the Guyana Agricultural and General Workers Union (GAWU) yesterday urged that the decision be reviewed.

The commencement order establishing the Telecommunications Agency was signed last Friday, in anticipation of the liberalisation of the telecoms sector, Minister of Public Tele-communications Cathy Hughes announced yesterday.

Nickela Craig-Singh, the woman who was arrested last Friday after the Customs Anti-Narcotic Unit (CANU) found over 10 pounds of cocaine in the ceiling of her Soesdyke home, was yesterday sentenced to four years in prison and fined over $14 million after pleading guilty to possession of the drug.

Almost two weeks after he made a Facebook post in which he questioned whether the Indian High Commission was interfering in Guyana's internal affairs, Director of Public Information Imran Khan yesterday said that he regretted the "furore" his post created and admitted that it should have benefitted from "greater elegance or not have been made".