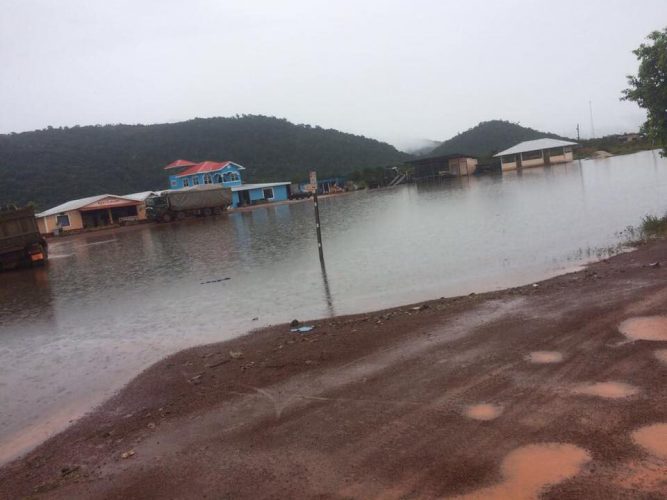 Residents in Lethem, Central Rupununi who were forced to evacuate their homes in the wake of rising flood waters have been given the green light to return home.
This was confirmed on Friday evening by Vice-Chairman Karl Singh who in an invited comment told Stabroek News that the residents who number 32 in total, will be allowed to return home on Sunday.
He was at the time offering an update on the recent flash floods that hit Region Nine (Upper Takutu/Upper Essequibo) after several days of heavy rainfall and the cresting of rivers in the region, leaving farms inundated.
Additionally, Singh said, the Regional Democratic Council (RDC) has commenced the distribution of disinfectant to those in need.
However, in the outlying communities the situation remains grim as farms are still inundated and several houses have reportedly collapsed.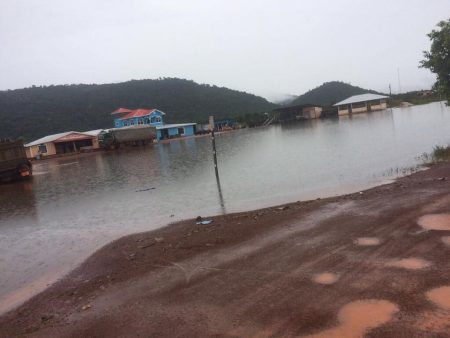 "We are still having problems in the other villages because remember their farms are still under water and these are people who depend solely on the cassava for food… 90 % of the farms in the 56 communities across the region are under water," Singh shared, before noting that the information coming from those areas was slow.
Nonetheless, he said, the RDC is expected to report to the Ministry of Communities on the exact number of farms that have been damaged and the quantity of food supplies that will be needed to cushion the foreseeable food shortage.
"After Monday then we will know how much food we will need… As it is the people don't need food today but within in the next two to three months we will need the food because the young cassava plants are underwater right now," the vice-chairman explained.
"We would have written to the Minister of Indigenous Peoples Affairs and contacted the Amerindian Peoples Association as well as the Forestry Commission for assistance food wise and with items such as mosquito nets and disinfectants. We would have sent out a truck to the city and hopefully if we get the truck loaded up they are going to return with supplies, but we have not yet received the amount of contributions as yet to full that truck so it remains in Georgetown," he added.
Meanwhile, Regional Chairman Bryan Allicock having spoken to Stabroek News on Sunday confirmed that 18 houses in three indigenous villages in the Rupununi had been destroyed as a result of the heavy rainfall and flood waters; these would have included households in Shulinab and Sand Creek.
Commenting on this, the vice-chairman said that while efforts will be made to aid in the repair and reconstruction of the houses, the focus right now remains on the farms that are affected.
As it relates to the water level, Singh said it continues to fluctuate, adding that as of last evening it had not dropped or risen.
"The Rio Bronco and Rio Negro in Brazil are still flooded so it's alarming for us… We are still in constant contact with Brazilian counterparts to monitor the situation over there and over here," he added.
Stabroek News also learnt that water in the Amazon remains high and that Boa vista is under water, which had forced residents to evacuate their homes; more bad weather is expected in the coming weeks as well.
Meanwhile, the Ministry of Public Infrastructure via the Department of Public Information (DPI) said yesterday that heavy rainfall in the North Rupununi resulted in some flooding in the villages of Annai, Rupertee, Aranaputa, Massara, Yakarinta and Wowetta, among others.
The Ministry of Public Infrastructure has awarded contracts and has teams on standby to effect repairs to sections of the Linden/Lethem trail which have been damaged as a result. The teams will commence work as soon as the heavy rainfall subsides.
Comments

WASHINGTON,  (Reuters) – A U.S. government shutdown will enter its third day today as Senate negotiators failed to reach a deal late on Sunday on Democrats' demand for legislation protecting "Dreamers," young people brought to the country illegally as children.

GEORGETOWN, Guyana,  CMC – Jason Mohammed completed his seventh first class hundred but there was little joy for Trinidad and Tobago Red Force as Guyana Jaguars needed a mere 45 deliveries to pull off an innings and 81-run win in their final round match here today.

LIMA, (Reuters) – Pope Francis wrapped up his trip to Chile and Peru today by warning that Latin America was in a deep crisis from corruption, with politics in most countries "more sick than well." Speaking in improvised remarks to bishops, he mentioned the scandal involving construction company Odebrecht, which has admitted to paying billions in bribes, as an example of greed run amok across the continent of his birth.

SYDNEY,  (Reuters) – England's Jos Buttler struck a belligerent unbeaten 100 to set up a 16-run win over Australia in the third one-day international on Sunday, as the touring side took an unassailable 3-0 lead in the five-match series.

The Public Procurement Commission (PPC) hopes that by the end of this year debarment legislation would be in place as it will soon begin meeting with stakeholders on a draft.