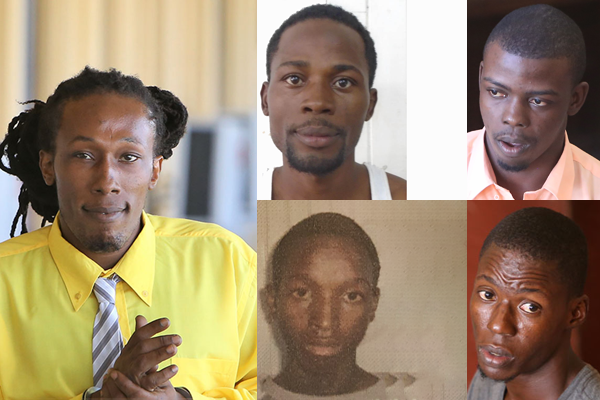 One week after the Camp Street Prison fire and jail-break which saw six prisoners escaping, joint services operations continued yesterday in Region 4 in search of the suspected criminal masterminds Mark Royden Williams, Uree Varswyck and the other escapees.
The three others are Stafrei Alexander, Cornelius Thomas and Cobena Stephens. The sixth man Desmond James, was captured on Friday evening as he hid in a shack at Canal Number One Village, Region 3.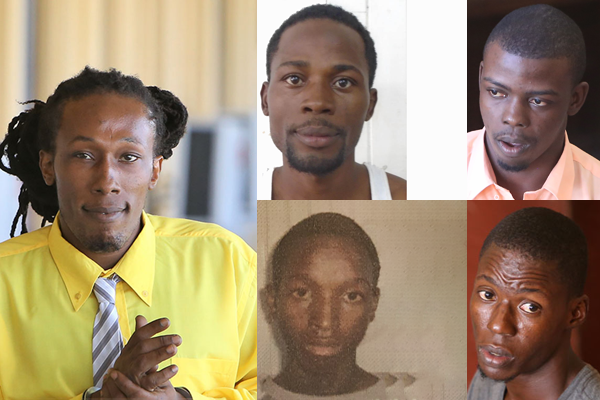 While the Ministry of Public Security and the heads of the disciplined forces remained silent on if active pursuits of the criminals were being made, soldiers and police were seen in the D'Urban Backlands area of Georgetown yesterday as an army helicopter hovered overhead.
Commissioner of Police Seelall Persaud had said that the police believe that four of the men: Williams, Alexander, Varswyck and Thomas were moving together. He told the Private Sector Commission on Friday evening that law enforcement authorities believe the men are hiding in the backlands of the East Coast of Demerara and that all efforts were being made to find them.
The PSC had floated the idea to Minister of Public Security Khemraj Ramjattan, of offering rewards to the public for information leading to the men's capture. However, up to yesterday it was not clear if the initiative would be taken up.
Under the auspices of 'Operation Safeguard', members of the Guyana Police Force, including its SWAT team and the Guyana Defence Force (GDF) were deployed last week to the Buxton backlands in search of the escapees.
Stabroek News was reliably informed that based on intelligence received it was suspected that the prisoners might have been hiding out in the backlands and as such a search was conducted.
Crime Chief Wendell Blanhum had last week told this newspaper that several measures have been put in place to recapture the escapees.
He had said that the police have been working along with intelligence operatives and they have informed their overseas counterparts including neighbouring countries to be on the alert. It is unclear whether the authorities are to seek assistance from overseas such as helicopters.
Meanwhile, government is still to list the offences committed by the 57 men that the Public Security Minister granted early release to.
Ramjattan has said that the men would have all been released by the end of August of this year since it was in that timeframe their sentences would have been completed. He noted that the names of the men were proposed by the Guyana Prison Service also.
Stabroek News yesterday tried getting on to both Ramjattan and the Head of the Department of Public Information (DPI), Imran Khan, since it was DPI that had issued the statement with the names.
Khan informed that he had just returned from Mazaruni and up to press time last evening several calls to his mobile phone went unanswered.
Director of Prisons Gladwin Samuels yesterday said that he was heading to a meeting and would not be answering questions until today.
Comments

Lawrence Duprey (Trinidad Express) Former executive chairman of CL Financial Lawrence Duprey was ordered by a Florida judge in July to pay more than US$60 million to British American Insurance Company (BAICO) in damages in relation to the TT$1.9 billion Green Island project in Osceola County, Florida.

Bharrat Jagdeo The PPP/C is committed to constitutional reform, says Opposition Leader Bharrat Jagdeo.

Ray Lengend Ray Lengend who went on a fire-bombing spree of mosques throughout southeast Queens, this week pleaded guilty to the crimes against Muslims who the 45-year-old Guyanese man claimed in 2012 had been "trying to take over his life", according to the Times Ledger in Queens, New York.

BEIJING/SEOUL, (Reuters) – A small earthquake near North Korea's nuclear test site on Saturday was probably not manmade, the nuclear proliferation watchdog and a South Korean official said, easing fears Pyongyang had exploded another nuclear bomb just weeks after its last one.

Damaged electrical installations are seen after the area was hit by Hurricane Maria en Guayama, Puerto Rico September 20, 2017.