Ranks of the Joint Services during an intelligence-led operation yesterday afternoon apprehended accused Trinidadian drug trafficker Cornelius Thomas, the second of six prisoners who escaped from the Georgetown Prison on July 9.
Crime Chief Wendell Blanhum confirmed with Stabroek News that Thomas was arrested around 15:20 hrs in 'C' Field South Sophia and is currently in police custody.
Thomas, a Trinidadian, who resided at Lot 36 Guyhoc Gardens, George-town, was remanded to prison two months ago after he was allegedly found with almost two pounds of cannabis. He had been found guilty in Dominica on a fraud charge some time back.
His arrest came less than three days after the police on the West Demerara arrested another escapee, Desmond James.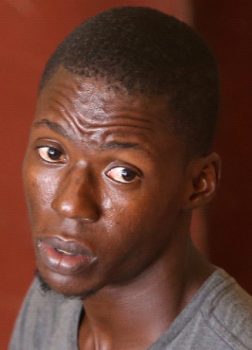 James was apprehended at minutes to midnight on Friday in an unfinished shack on an access dam at Canal Number One Polder, West Bank Demerara. He had allegedly been taken there by a woman.
The police are still hunting four other escapees: Cobena Stephens also known as 'OJ', Bartica massacre convict Mark Royden Williams, murder accused Stafrei Alexander and Uree Varswyk.
Director of Prisons Gladwyn Samuels had previously identified Williams, Alexander and Varswyk as the main orchestrators of the breakout; he had said he believed the fires were set at the facility as a smokescreen for their escape.
Following the breakout, taxi driver Matthew Shivtahal had said that four of the prisoners had hijacked his motorcar.
He had related to this newspaper that after abandoning the car at North Ruimveldt, the men took him to the backlands and later left him at Land of Canaan, East Bank Demerara. After a day of walking, Shivtahal said, he found his way to Annan-dale, East Coast Demerara.
Meanwhile, Commissioner of Police Seelall Persaud had said that the police believed four of the men: Williams, Alexander, Varswyck and Thomas were moving together. He had told the Private Sector Commission on Friday evening that law enforcement authorities believed the men were hiding in the backlands of the East Coast Demerara and that all efforts were being made to find them.
Crime Chief Wendell Blanhum had last week told this newspaper that several measures have been put in place to recapture the escapees.
He had said that the police have been working along with intelligence operatives and they have informed their overseas counterparts including neighbouring countries to be on the alert.
Under the auspices of 'Operation Safeguard', members of the Guyana Police Force, including its SWAT team and the Guyana Defence Force were deployed last week to the Buxton backlands in search of the escapees.
Stabroek News was reliably informed that based on intelligence received it was suspected that the prisoners might have been hiding out in the backlands and as such a search was conducted. The operation continued on Sunday afternoon in D'Urban Back-lands and Sophia.
Public Relations Officer of the Guyana Police Force Jairam Ramlakhan yesterday afternoon said that the force is appealing to members of the public, relatives and friends to give the police any relevant information about the whereabouts of the escapees so that they can be captured and returned to prison.
"Also an appeal is being made to the escapees to surrender to the police or relevant authority, to avoid any serious confrontation that is likely to result in the use of force," Ramlakhan said.
All information will be treated with a high degree of confidence and the rights of these escapees will also be respected and upheld, he added.
Comments

England's Moeen Ali celebrates his century Action Images via Reuters/Peter Cziborra   BRISTOL, England,  (Reuters) – Moeen Ali hit the second fastest one-day international century in England's history to set up a win over West Indies by 124 runs today.

Keriako Tobiko   NAIROBI, (Reuters) – Kenya's chief prosecutor has directed the department of criminal investigations and the anti-corruption commission to investigate election board officials over possible offences in the invalidated Aug.

A family preparing for a memorial service today was attacked by armed bandits in East La Penitence and one brother succumbed to bullet wounds and two others have been admitted to hospital.

Prime Minister Roosevelt Skerrit of the Commonwealth of Dominica addresses the general debate of the General Assembly's seventy-second session.

Residents of East Bank Berbice were in anger and disbelief yesterday as the decomposing body of 13-year-old Leonard Archibald, who was raped and then dumped into the Berbice River, was finally found, while the main suspect in the crime was accused by young boys of carrying out a series of attacks on them over a number of years.