Intense questioning of Assistant Police Commissioner David Ramnarine as to why he felt the probe of the alleged assassination plot against President David Granger was defective yesterday exposed deep rifts in the police force hierarchy and several accusations of impropriety.
During questioning, attorney Glenn Hanoman suggested that Ramnarine's testimony that the investigation was compromised was fuelled by his own ambitions and personal grievances with Commissioner of Police Seelall Persaud and Crime Chief Wendell Blanhum.
Furthermore, Hanoman also suggested that the opinion presented by Ramnarine with regard to the investigation being improperly done was something he came up with solely for the benefit of the Commission of Inquiry (CoI) probing the alleged plot, as he had not reported such to the relevant authorities.
Ramnarine made a second appearance before the CoI established to investigate the circumstances surrounding the allegation of an alleged plot to assassinate the President, based on a request made by Hanoman to the commission.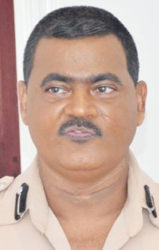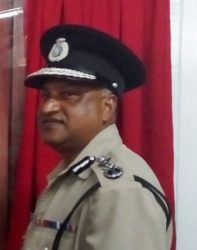 The allegation was made by Andriff Gillard, who implicated businessman Nizam Khan, in what was said to be a $7 million plot. Khan has denied the claim.
Hanoman is representing Commissioner of Police Persaud.
The basis of Hanoman's line of questioning yesterday, having established that Ramnarine had no training as a detective, was that his pronouncement on the investigation when he appeared before the commission last week, was not an expert opinion or one based on any practical experience.
During Ramnarine's first appearance before the commission, he had found issue with the early release of Khan from custody, commenting that he believed the decision compromised the investigation. The order for the man's release was said to have been passed by the Commissioner of Police though Persaud has since testified that he had only made a suggestion.
When Hanoman put to Ramnarine that his claims were because he had personal problems with Persaud and Crime Chief Blanhum as they would have initiated action against him on a number of occasions, Ramnarine stated that the assertion was "absolutely untrue."
Pressing on, Hanoman asked whether it was not widely reported in the media that he had interfered to assist his friend Siddique Rasul in the Rio Club fatal shooting investigation.
Ramnarine, clarifying that Rasul was an acquaintance and not a friend, denied that he was under investigation, or that he was currently being investigated by the Office of Professional Responsibility (OPR) for involvement in the investigation, which he indicated has since been completed.
This line of questioning was eventually discontinued on a request by Commissioner of the CoI Paul Slowe, who said that he could not see its direct relevance to the terms of reference of the CoI.
Hanoman, referencing an event earlier in the proceedings when CoI attorney James Bond had questioned Imran Khan, the brother of Nizam Khan, on an incident said to have occurred nearly a decade prior, said that like Bond, he was attempting to reveal systemic breakdowns within the force.
"What's good for the goose is good for the gander, sir," Hanoman stated, adding that he would prove that Ramnarine had reason to lie about Persaud and Blanhum.
"…Besides the malice, I will prove other things…I have information about various investigations against this witness that was instigated by the people he has bad talked here. He has a reason to lie against Mr Persaud and Mr Blanhum because of the position he has found himself in," Hanoman said.
Nevertheless, Slowe maintained that the attorney should discontinue his line of questioning, and so Hanoman instead changed course, and asked Ramnarine whether he was aware of the Commissioner of Police initiating action against him in regards to him issuing "more than a hundred" firearm licences and his association with the Rio shooting probe.
Ramnarine explained that the first allegation concerned a statement he made in October, 2016, at a press conference in response to something posted on social media claiming that he was "selling firearm licences and making millions of dollars every day."
"…The commissioner on his resumption asked the public relations officer for a transcript of the press conference because, as I saw in a memo, which the Commissioner, my Commissioner, sent to the Head of OPR, he said that it was inferred by me, in my acting capacity as Commissioner back then, that he, Seelall Persaud, had granted firearm licences to a known drug dealer," Ramnarine stated.
Investigations
He said an investigation into the matter was launched, after which it went for legal advice and the Director of Public Prosecutions (DPP) indicated that nothing was found.
"…Because when I called for an investigation based on what was on social media, she (the DPP) said the period I was referring to was the period when the commissioner had not granted any firearm licence to the man who is purportedly a drug dealer and he was not the Commissioner of Police at the time so the advice determined that I could not have been referring to Seelall Persaud," he added.
"The second allegation over firearms, when Commissioner resumed duty, he wrote…Assis-tant Commissioner (Clifton) Hicken for that matter, who was then the Commander of 'A' Division, (and who) was of the opinion that when I was acting as Commissioner, I issued firearm licences to some 113 in breach of the law. Commissioner of Police Mr Seelall Persaud, my Commissioner, sent the matter over to OPR for an investigation. The OPR Head Mr (Heeralall) Mackhanlall wrote the Commissioner and said, 'Sir, I am the head of OPR, you're asking me to investigate your office because Mr Ramnarine was acting as commissioner of police at the time.' Commissioner replied to Mr Mackhanlall and said to him, `I trust the integrity of the office of OPR, proceed with the investigations'," he further said.
"During the course of the investigations, my Commissioner, who, along with Assistant Commissioner Hicken, sent the allegation for investigation, denied the head of the OPR access to the firearms section to verify the process that I was speaking of that I utilised in granting the firearm licences," he said.
"When the matter went for legal advice, the police legal advisor Justice Claudette Singh, advised that if the investigator is not permitted to check the firearms records, what is there to contradict Mr Ramnarine's statement that he acted in accordance with the law and practice embedded in the Guyana Police Force for the granting of firearms licences?" he added.
Ramnarine noted that 70 of the 113 licences were granted to security services and the others were replacements, granted to police officers, and issued based on directions from a "senior authority."
Ramnarine described his feelings about the Commissioner's actions to be between surprise and disappointment.
Hanoman suggested that it was this "castigation" that led to his testimony, coupled with the fact that he thought it would help his chances of becoming Com-missioner of Police.
Promotion over investigation
"Do you want to be the Commissioner of Police?" Hanoman asked Ramnarine.
"I would like to," he replied.
"The reason you're saying, you're bad talking Mr Persaud and Mr Blanhum is to try and say well, `I would have left no stone unturned' and I would investigate the President and so on," Hanoman mocked, adding, "You're sucking up to the powers that be in order to try and become the commissioner."
"No. no. I am a professional. I believe in discharging my duties when I am acting as Commissioner in keeping with the Constitution, the law and the Police Act," Ramnarine responded.
Hanoman put to Ramnarine that he is more interested in promotion than investigation, which Ramnarine countered, stating that he is interested in proper investigations being conducted.
When Hanoman had asked whether he had formed his opinion of the investigation being improperly conducted during the early stages of the investigation, when he was acting as Commissioner, Ramnarine said yes, but when asked if he had reported it to the Minister of Public Security Khemraj Ramjattan, he indicated no.
Ramnarine related that the Minister had been out of the jurisdiction at the time and that he had been reporting to Minister of Citizenship Winston Felix. He said that he had not told Felix about his concerns, leading to Hanoman suggesting that he did not report it because it was not something he came up with in the initial stage of the investigation as he testified, but an opinion he formed when he came before the CoI.
Ramnarine, however, reiterated that he would have kept Nizam Khan in custody based on his knowledge and expertise and the gravity of the offence.
Asked what was the urgency in pursing the matter given the lapse in time between when the allegation was said to have occurred (2015) and now, given the fact that no attempts have actually been made on the President's life, and that there was no active crime scene, Ramnarine said that the gravity of the matter rested on the fact that it involved the Head of State and so was a top priority.
Senseless
He said that he agreed that the investigation could not be completed in 72 hours, but when asked if he agreed that it was senseless to keep someone in custody for 72 hours knowing that it would take time, he said not in this case because of the gravity of the offence.
"So tell me something: If you ever become Commissioner of Police, anybody could come and make a false allegation of a grave offence and you would put them in custody for 72 hours? That's the policy you would implement?" Hanoman questioned.
"An allegation made which involves the President of a country is not a normal investigation and must be treated as such," Ramnarine said.
He acknowledged that he believes there's a certain amount of evaluation that needs to take place in terms of determining the authenticity of a claim and he said he did have faith in the Crime Chief to make such an evaluation.
He, however, noted that the last piece of advice that he saw from the police legal advisor is that further investigation is needed because there was not enough evidence to conclude whether Gillard's testimony was a fabrication or that Khan was completely innocent.
When Hanoman suggested that every time the legal advisor sent advice it was to the tune of questioning Gillard's credibility, he responded, "maybe."
Referencing a statement made by Ramnarine that he had had cause to prod Blanhum for information regarding the investigation on the morning of March 30, Hanoman put to him that the first time that Blanhum was briefed on the matter was at a meeting held around 8.30 am that morning. So, therefore, he had not received any new information when he spoke to Ramnarine after 5 that morning as the assistant commissioner had indicated in his testimony.
Hanoman suggested that when he spoke to Blanhum around 5 that morning, the Crime Chief was reporting on information from the Divisional Commanders, and not from the Major Crimes Unit as their meeting had not yet been held.
"Let me suggest to you that the first time that Blanhum could have received a proper briefing about what would have happened the night before is at 8.30 the next morning, after he spoke to you. Let me suggest to you that you're not telling the truth about that conversation with Blanhum that you had to prompt him and all that. That Blanhum reported to you after he had his Major Crimes meeting at 8.30 that morning," he said.
Ramnarine disagreed with the statement, saying that once the Major Crimes Unit was involved in the matter, Blanhum would have been briefed before the next morning.
Asked by Hanoman if he could see the benefit of releasing someone from custody so they can be monitored, he said in some instances this could be done, while adding that he believes the nature of the matter is one that may require those involved to be placed under surveillance.
When Ian Chang, attorney for the Guyana Police Force, asked whether the Special Branch had been involved in the investigation from the beginning and whether their work involves monitoring movements, including those of Nizam Khan, Ramnarine responded affirmatively.
Chang also asked Ramnarine if the option of keeping Gillard in custody for misprision of treason (deliberate concealment of one's knowledge of a treasonable act or a felony) had ever crossed his mind or whether it had ever been discussed, to which he responded in the negative.
Hanoman, having joined the course of the inquiry belatedly, indicated that he did not feel he'd had enough time to go through Ramnarine's testimony, the transcript of which he only received about an hour before he reappeared on the stand, and so he did not think he would be able to "fully and effectively cross-examine the witness."
Ramnarine will therefore have to appear before the commission.
The CoI will reconvene on Wednesday morning, when Luanna Walker is scheduled to appear. It was reported on Thursday that Walker gave a statement to police saying that Gillard had told her of plans to frame Nizam Khan because of an issue between the two, which stems from a property dispute.
Corporal Jermaine Laundry has also been summoned to return that day, and Gillard may make another appearance later in the week.
Comments

(BBC) Bollywood superstar Sridevi has died after a cardiac arrest, her family says.
President David Granger will not be attending the Twenty-Ninth Inter-sessional Meeting of The Conference of Heads of Government of the Caribbean Community (CARICOM) in Haiti beginning on Monday.

Mashramani celebrations ground to halt for several families yesterday afternoon, when approximately 30 persons lost their homes after a fire of unknown origin ripped through three Victoria Road, Plaisance properties, including an apartment building.

Minister of State Joseph Harmon says that the US$3 million settlement offer made by Hong Kong Golden Telecom Limited (HKGT) on the outstanding balance for its purchase of government shares in the Guyana Telephone and Telegraph Company (GTT) is being actively considered, but the government's goal is to recover the entire US$5 million that is owed.

Opposition Leader Bharrat Jagdeo on Thursday criticised government and Minister of Finance Winston Jordan on the heels of the announced plan to borrow cash from local banks to reopen two sugar estates and to fund critical current and capital Guyana Sugar Corporation (GuySuCo) programmes.