Extreme weather in the Rupununi over the last month has caused severe deterioration of the roads, putting a strain on the transportation of goods and services in and out of Region Nine.
Regional Chairman Bryan Allicock, in a telephone interview with this newspaper, explained that because of the condition of the road, the Upper Takutu/Upper Essequibo Administration has been looking at possible alternatives for the transportation of fuel into Lethem.
The fuel is the regular supply that is transported from Georgetown via the Linden/Lethem trail for use by the Lethem Power Company (LPC). But though Allicock said the LPC has enough fuel to last the next two weeks, the next supply of fuel from the city is expected to arrive in the next few days. If this proves impossible, the Regional Administration could source fuel from Roraima State in neighbouring Brazil, but this would be as a last resort.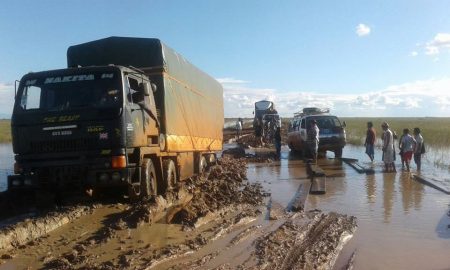 When asked about this, Allicock noted that this plan had been in place since the Rupununi experienced a similar situation in 2011. However, he added, this would take some time to get done since the requisite approval will have to be given by the government. He said he hopes it doesn't come to that.
As it relates to the road, Allicock said a tractor has been assisting with towing vehicles that become stuck in the slush. In addition to this, he said persons have been trying to get volunteers to employ a temporary fix to the problem.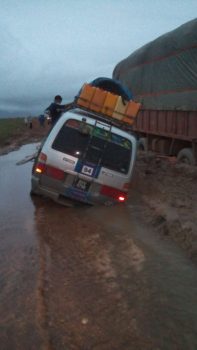 Meanwhile, Minister of Public Infrastructure David Patterson, responding to concerns raised, told Stabroek News that "A contract has already been awarded to fix that particular stretch of road which is between two rivers and the banks are swollen right now. The contractor JR Ranch Inc is there mobilized already at point…but we can't go and dig up a road that is already bad, we could probably make it worse. The second the water stops flowing from one river bank works would begin. It is a fast moving river and if it stops and the road becomes passable. Within a matter of days the contractor would start because  that stretch is traditionally bad. The whole idea is to raise it above a certain level and it would take some money…and it is probably a long term to medium term solution".
However, this may not be anytime soon since according to Allicock the rainfall is continuing in torrents, which has also resulted in the rise of water in places like Karasabai, where the road has once again become impassable.
Comments

Moruga/Tableland MP Dr Lovell Francis chats with two of his constituents whose yard was flooded following heavy overnight rains into yesterday.

India-born South African businessmen brothers, Atul, Rajesh and Ajay Rajesh Gupta. The Gupta family, one of South Africa's wealthiest, has been accused of wielding undue influence behind the scenes.

Although government's advisor on oil and gas, Jan Mangal, has argued that competitive bidding should be employed in the award of future oil exploration leases, Minister of Foreign Affairs Carl Greenidge says such an approach may not benefit Guyana's interests in the long term.

Police investigators will be focusing on the alleged sexual abuse of a 15-year-old boy committed by a city constabulary officer two months ago and not on the failure of the Mayor of City Council (M&CC) of Georgetown to report the case in a timely manner, 'A' Division Commander Marlon Chapman said yesterday.

A domestic brawl nearly turned deadly on Tuesday night when a man allegedly armed himself with a bottle of gasoline and attempted to set his wife on fire at Newtown, Kitty.