Former promoter and Mayor and City Hall Councillor Hector Stoute has passed away at the age of 80.
Stoute who was also a retired army officer died yesterday morning at his Bent Street residence.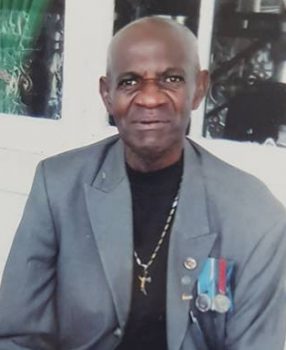 In a social media post, Mondale Smith, Stoute's son wrote that he had suffered a stroke in 2014 from which he was recovering.
He added that, "up until his passing he was known as Mr. White Shoes who preferred to walk than take public transportation. During his youthful days, the former Army Officer promoted and hosted show such as Oldies are Goldies, In search of a star etc. He was also a singer who toured the Caribbean and as far as England."
He also served as a councillor under former Georgetown Mayor Hamilton Green and also worked as a Director of Culture in the PNC administration.
Comments

A family's preparation for a memorial service ended tragically early yesterday morning when bandits stormed into their home in  East La Penitence and discharged several rounds, fatally wounding a man and injuring two of his brothers.

(Trinidad Express) The Trinidad and Tobago Defence Force and Coast Guard have been at the helm of a dramatic rescue of a family of four, including two small children, who lived in a car for four days after their home in Dominica was destroyed last Monday by Hurricane Maria.

The two East Bank Berbice men who were taken into custody in relation to the murder of 13-year-old Leonard Archibald are expected to be placed before the court today.

Residents of Georgetown will by the end of October, 2017, be able to pay their rates and taxes using the Guyana Telephone and Telegraph's Mobile Money Guyana (MMG) application.

In a back lot just off the ever-bustling Regent Street, easily hidden by the clothing stores and snackette that dominate in the forefront, is A&A, a transportation and accommodation service that caters solely to Cuban visitors.