Former promoter and Mayor and City Hall Councillor Hector Stoute has passed away at the age of 80.
Stoute who was also a retired army officer died yesterday morning at his Bent Street residence.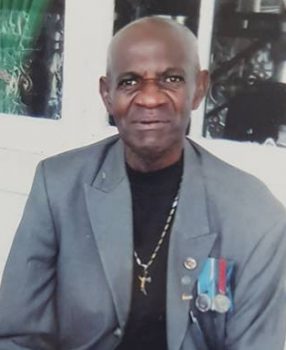 In a social media post, Mondale Smith, Stoute's son wrote that he had suffered a stroke in 2014 from which he was recovering.
He added that, "up until his passing he was known as Mr. White Shoes who preferred to walk than take public transportation. During his youthful days, the former Army Officer promoted and hosted show such as Oldies are Goldies, In search of a star etc. He was also a singer who toured the Caribbean and as far as England."
He also served as a councillor under former Georgetown Mayor Hamilton Green and also worked as a Director of Culture in the PNC administration.
Comments

LIMA, (Reuters) – Pope Francis wrapped up his trip to Chile and Peru today by warning that Latin America was in a deep crisis from corruption, with politics in most countries "more sick than well." Speaking in improvised remarks to bishops, he mentioned the scandal involving construction company Odebrecht, which has admitted to paying billions in bribes, as an example of greed run amok across the continent of his birth.

SYDNEY,  (Reuters) – England's Jos Buttler struck a belligerent unbeaten 100 to set up a 16-run win over Australia in the third one-day international on Sunday, as the touring side took an unassailable 3-0 lead in the five-match series.

The Public Procurement Commission (PPC) hopes that by the end of this year debarment legislation would be in place as it will soon begin meeting with stakeholders on a draft.

A bill to provide a legal framework for the protection of witnesses was passed without amendment by the National Assembly on Friday evening despite arguments by the parliamentary opposition that it failed to take into account modern challenges.

The ownership of over $7 million in local and foreign currencies and several vehicles that were all seized during a raid by the Customs Anti-Narcotics Unit (CANU) at Soesdyke, East Bank Demerara on Friday has raised questions and a separate probe is expected to be launched.