Former promoter and Mayor and City Hall Councillor Hector Stoute has passed away at the age of 80.
Stoute who was also a retired army officer died yesterday morning at his Bent Street residence.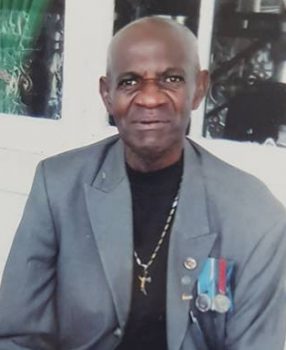 In a social media post, Mondale Smith, Stoute's son wrote that he had suffered a stroke in 2014 from which he was recovering.
He added that, "up until his passing he was known as Mr. White Shoes who preferred to walk than take public transportation. During his youthful days, the former Army Officer promoted and hosted show such as Oldies are Goldies, In search of a star etc. He was also a singer who toured the Caribbean and as far as England."
He also served as a councillor under former Georgetown Mayor Hamilton Green and also worked as a Director of Culture in the PNC administration.
Comments

Prime Minister Moses Nagamootoo yesterday called on the Opposition to put to an end their dilatory tactic because it violates the standing order of the National Assembly.                    

(Trinidad Guardian) Stop embarrassing the Chinese government and people! That was Prime Minister Dr Keith Rowley's rebuke to the Opposition in Parliament yesterday, after being pressed on the change of plans for his China trip.

Despite the AFC's claim that it was not involved in the selection of a Guyana Elections Commission (Gecom) Chairman, its two senior leaders, Khemraj Ramjattan and Raphael Trotman, had advised President David Granger that he could utilise the constitutional proviso and make a unilateral appointment.

The National Assembly last evening approved over $8 billion in total budgetary allocations for 16 constitutional agencies even as the government's failure to properly account for cuts to requested expenditure drew criticism.

Opposition MPs were yesterday reprimanded by Speaker Dr Barton Scotland for their raucous behaviour on November 2nd, when they staged a protest that drowned out most of President David Granger's address to the National Assembly.