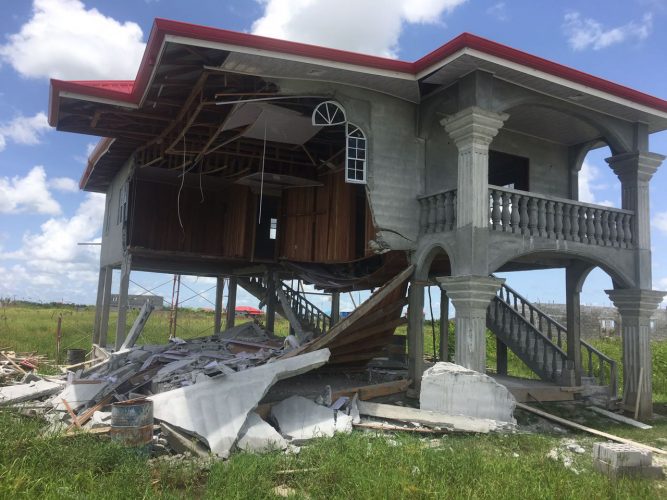 When her new home began to crumble last Wednesday, so did homeowner Althea Thegg's dream of owning a home.
Thegg's property, located in Phase Two, Farm Housing Scheme, East Bank Demerara, is continuing to fall apart and building experts, who were brought in to assess the structural integrity, have recommended that it be torn down due to poor construction.
In a telephone interview last evening, Thegg said that a huge section of her home fell apart last Wednesday and an adjoining section followed last Saturday. The distraught woman explained that she has spent approximately $9 million for the construction, which was financed through a bank loan.
Construction of the house started in April and she noted that it was almost completed.
Thegg said a perimeter column broke away from the house and based on the experts' opinion the mixture of sand, stone and cement that was used was not up to standard, resulting in the collapse. She added that on Saturday, the front section of the building, close to verandah, also collapsed.
The woman said she bought all the materials the contractor asked for. "I did the shopping on his advice. What he asked for, I bought. This is not a case of cutting costs, I supplied all the materials he and his workers asked for. And now for this to happen, I don't know what to say…," she lamented.
According to Thegg, she has not heard from the contractor since the building began to collapse. However, she wants justice. She said she is prepared to take legal action against him, while noting that contractors never take the blame for the bad work they put out. "I will seek justice and stop at nothing until that contractor … pays me every cent for my losses. Often… contractors rob and abuse home builders and walk scot free. It's time this stops," she said.
Thegg also called on the relevant authorities to develop policies to hold contractors accountable. "Sometimes people are not able to hire the big certified contractors and go with what they afford. All people want is house to live a decent life and that is why I think the contractors should be licensed and home owners should enter into a legal contract with them," she stressed.
Thegg said she was visited by representatives of the Central Housing and Planning Authority (CH&PA), which is responsible for the housing scheme, but she was unclear whether the entity would intervene.
Comments

Commissioner of the Guyana Elections Commission, Sandra Jones has died. Jones became a member of GECOM in 2012 after the death of Deputy Mayor of Georgetown Robert Williams.

(Reuters) – Charles Manson, the wild-eyed cult leader who orchestrated a string of gruesome killings in Southern California by his "family" of young followers, shattering the peace-and-love ethos of the late 1960s, died on Sunday, prison officials said.

Attorney General (AG) Basil Williams SC says that construction of a local law school is still on the cards and that once the University of Guyana identifies the spot at the Turkeyen Campus where it will be located, work will begin.
The MovieTowne complex at Turkeyen, East Coast Demerara is now set to open next year, according to an advertisement in yesterday's Sunday Stabroek.

Team Innosys (Innovative Systems) yesterday beat out six other competitors to emerge the winners of this year's Hackathon, gaining the opportunity to develop their concept into a real database management system for tax collection at the local government level.