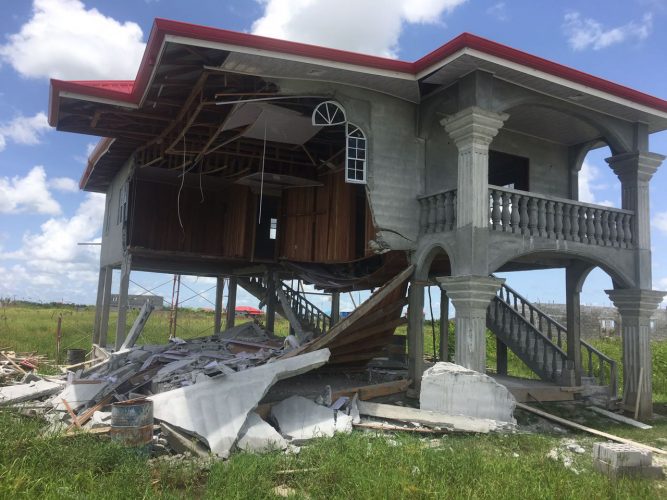 When her new home began to crumble last Wednesday, so did homeowner Althea Thegg's dream of owning a home.
Thegg's property, located in Phase Two, Farm Housing Scheme, East Bank Demerara, is continuing to fall apart and building experts, who were brought in to assess the structural integrity, have recommended that it be torn down due to poor construction.
In a telephone interview last evening, Thegg said that a huge section of her home fell apart last Wednesday and an adjoining section followed last Saturday. The distraught woman explained that she has spent approximately $9 million for the construction, which was financed through a bank loan.
Construction of the house started in April and she noted that it was almost completed.
Thegg said a perimeter column broke away from the house and based on the experts' opinion the mixture of sand, stone and cement that was used was not up to standard, resulting in the collapse. She added that on Saturday, the front section of the building, close to verandah, also collapsed.
The woman said she bought all the materials the contractor asked for. "I did the shopping on his advice. What he asked for, I bought. This is not a case of cutting costs, I supplied all the materials he and his workers asked for. And now for this to happen, I don't know what to say…," she lamented.
According to Thegg, she has not heard from the contractor since the building began to collapse. However, she wants justice. She said she is prepared to take legal action against him, while noting that contractors never take the blame for the bad work they put out. "I will seek justice and stop at nothing until that contractor … pays me every cent for my losses. Often… contractors rob and abuse home builders and walk scot free. It's time this stops," she said.
Thegg also called on the relevant authorities to develop policies to hold contractors accountable. "Sometimes people are not able to hire the big certified contractors and go with what they afford. All people want is house to live a decent life and that is why I think the contractors should be licensed and home owners should enter into a legal contract with them," she stressed.
Thegg said she was visited by representatives of the Central Housing and Planning Authority (CH&PA), which is responsible for the housing scheme, but she was unclear whether the entity would intervene.
Comments

England's Moeen Ali celebrates his century Action Images via Reuters/Peter Cziborra   BRISTOL, England,  (Reuters) – Moeen Ali hit the second fastest one-day international century in England's history to set up a win over West Indies by 124 runs today.

Keriako Tobiko   NAIROBI, (Reuters) – Kenya's chief prosecutor has directed the department of criminal investigations and the anti-corruption commission to investigate election board officials over possible offences in the invalidated Aug.

A family preparing for a memorial service today was attacked by armed bandits in East La Penitence and one brother succumbed to bullet wounds and two others have been admitted to hospital.

Prime Minister Roosevelt Skerrit of the Commonwealth of Dominica addresses the general debate of the General Assembly's seventy-second session.

Residents of East Bank Berbice were in anger and disbelief yesterday as the decomposing body of 13-year-old Leonard Archibald, who was raped and then dumped into the Berbice River, was finally found, while the main suspect in the crime was accused by young boys of carrying out a series of attacks on them over a number of years.