The family of Charles Peters, the Melanie Damishana labourer who was fatally shot by the police two weeks ago, says it is being kept in the dark about the investigation.
Peters, 36, a father of two of Lot 184 Melanie Damishana, East Coast Demerara, succumbed at the Georgetown Public Hospital (GPH) on July 26, one day after he was shot twice by the police.
The police had said that Peters was observed running on the road and acting in a suspicious manner. As a result, he was stopped and challenged and it is being alleged that he was attacked a police rank, resulting in him being shot.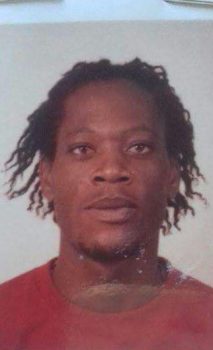 Contacted on Monday, the dead man's niece, Onica (only name given), said the family is frustrated and is currently contemplating its next step in light of not hearing anything about the case from the police.
The woman said the last update her family was given was that an investigation had started. This, she said, was related when the Divisional Commander had visited Peters' home days after his death to offer sympathy and any assistance needed.
"They did say that they will give we assistance needed but my uncle bury on Saturday and on to now nobody ain't give us any help," Onica said. "From since then, up to now, we ain't hear back anything. All I can say right now is that we are going to go far because we need justice. The matter is not over, it's not going to go down like that," she added.
However, when contacted for a comment, Divisional Commander Calvin Brutus said that the matter is being investigated by the Guyana Police Force's Office of Professional Responsibi-lity (OPR).
Onica explained that after the shooting, the family started to hear different versions of what the police said transpired on the day Peters was shot.  "The amount of times they say they shoot he is totally different from what we saw when we see the body," she noted.
The woman also said that the post-mortem examination revealed that Peters died as a result of multiple injuries. She said based on what they were told, he was also beaten during the encounter. "After they cut he, they said that he was also beaten around his stomach area," she noted.
Meanwhile Natasha Caesar, another niece, had previously related to Stabroek News that while she was not present when the shooting took place, residents in the area had told her that Peters surrendered after being pursued by the police but he was still shot. "I hear he surrender and when they did patting he down, he keep telling them he is not a thief and they shot him to his leg. They say he jump in a trench and then the police shoot he again to his arm," she said.
"I wasn't there but I hear when they go after he, people in the area telling them not to shoot he, they know he from around the area, but they still shoot he," the woman added.
Comments

Fifteen city councillors voted yesterday in favour of accepting the recommendations of the parking meter renegotiation committee, which would see a reduction in parking fees to $150 per hour, exemptions for religious organisations and schools, and Smart City Solutions (SCS) giving up on their claim to garage parking.

A GDF rank was yesterday remanded to prison over three armed robbery charges and alleged possession of an unlicensed gun and ammunition.
Minister of Natural Resources and Leader of the Alliance for Change (AFC), Raphael Trotman on Monday praised ExxonMobil for investing in the oil sector here and said it is now resulting in other important companies wanting to do business here.

The city lance corporal, who on Sunday allegedly shot and killed Marlon Fredericks, a mentally-challenged vendor, after he reportedly attempted to flee custody is to be charged with manslaughter.

Former Magistrate and Univer-sity of the West Indies (UWI) lecturer Christopher Arif Bulkan was yesterday sworn in as a temporary Appellate Judge by President David Granger who said that the appointment is part of efforts to ensure that justice is dispensed in an efficient and timely manner.