Soma Basmattie Jaikaran, a former clerk for the Everest Cricket Club, was yesterday charged with defrauding the organisation of over $500,000.
Soma Basmattie Jaikaran appeared before city magistrate Leron Daly, who read a charge which stated that between September 28, 2016, and November 15, 2016, at Georgetown, being employed as a clerk or servant at the Everest Cricket Club, she fraudulently converted $549,600 taken into her possession, in the name or on account of the club.
Jaikaran, of 468 Block 'A' Mon Repos, East Coast Demerara, denied the charge.
Attorney Nigel Hughes, who represented Jaikaran, requested that she be released on reasonable bail.
There was no objection made to this request by the prosecution, however, the prosecutor asked that conditions be attached to the woman's release.
As a result, Magistrate Daly granted Jaikaran her release on $100,000 bail and ordered that she report to the person in charge of the desk at the Criminal Investigation Department on the first Monday of each month, until the completion of her trial. The case is scheduled to be called again on September 22.
Comments

The chairman of Trinidad's transparency group says that it  is imperative that an independent third party check revenues from the company extracting oil and the subsequent flows to the government.
Even as ExxonMobil announced that it doesn't expect to pay any corporate taxes to the Australian government until 2021 after an already five-year tax hiatus, the company has  been accused of generating billions in revenue in that country  but using subsidiaries in a scheme designed to avoid paying its dues.

In the wake of the state-owned Guyana Chronicle's termination of David Hinds and Lincoln Lewis as columnists, WPA executive member Tacuma Ogunseye says that party should urgently put on its agenda whether it should stay in the APNU alliance and the coalition government.

President of Transparency Institute of Guyana Inc (TIGI), Troy Thomas says he believes that it was pressure from the people that saw "the unprecedented" release of oil contracts by the government.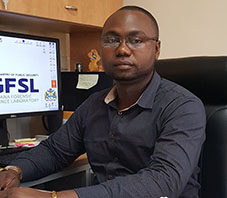 The Guyana Forensic Science Laboratory (GFSL) has spent a substantial amount of time training police investigators in various aspects of evidence collection and submission and this has resulted in a significant improvement in the quality of samples sent for testing, the facility's Director Delon France says.