Days after the Georgetown Mayor and City Council (M&CC) reclaimed responsibility for garbage collection in the capital, residents of several wards yesterday complained that they were still awaiting the start of the new service.
Stabroek News yesterday visited several communities listed on the new collection schedule released by the M&CC and many residents complained bitterly that they would have put their garbage out on the listed day [Thursday] but up to yesterday no trucks had visited their areas. This was the situation at Houston, Agricola, McDoom and Alexander Village.
A Houston resident said it had been more than a week since there was any garbage in the area. "Nobody nah come here. They come since last week fuh pick up the garbage but look all through here you can see the bins overflowing," the resident said.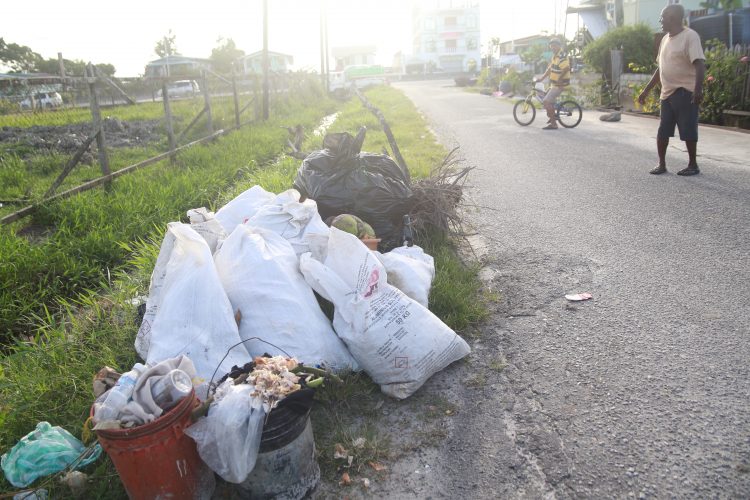 In Agricola, another resident also    complained bitterly at the fact that they would not have had their garbage picked up in a timely manner. "Today gon mek two weeks and nobody ain't come and pick up this garbage," the resident noted.
Asked about the situation, M&CC Solid Waste Management Director Walter Narine yesterday said that the contractor encountered several problems and as a result the Solid Waste Department will be heading into the affected areas today to bring some relief to residents.
The M&CC along with three small contractors commenced garbage collection services in the city on Monday after issues arose with longstanding private contractors, Cevons Waste Management and Puran Brothers Disposal, which moved to withdraw their services from this week over hundreds of millions owed to them and the council's continued failure to service its debt. The two firms were subsequently informed by Town Clerk Royston King that their actions were viewed as the "termination" of their contracts based on the fact that there was no provision in their respective agreements for the suspension of services. Moreover, King, in a letter, directed that the collectors "should not return to fulfill the contractual obligation of garbage collection until and unless the matter is resolved in its entirety."
According to the M&CC's new collection schedule, while residential areas will be cleared once weekly, businesses will receive clearance once daily.
Comments

Former Attorney General Anil Nandlall says that the Attorney General's Chambers' retention of six attorneys to prosecute a number of high profile cases is unconstitutional and he is warning that the right to a fair trial will be compromised by a politically-tainted process.
Guyana's total public debt increased from $317.7 billion to $330.6 billion in 2016 but the total debt as a percentage of Gross Domestic Product (GDP) declined to 46.4% from 48.6% at the end of 2015 due to a nominal increase in the GDP.

Family, friends and well-wishers turned out in their numbers to say their final goodbyes to murdered school teacher Kescia Branche, who was laid to rest yesterday afternoon.

A recent Biodiversity Assessment Team (BAT) survey of the Kaieteur National Park (KNP) and the Upper Potaro area has led to the discovery of up to 31 new or potentially new species to science.

A Mon Repos, East Coast Demerara resident died on Thursday after he was attacked by a swarm of bees while returning home.