Days after the Georgetown Mayor and City Council (M&CC) reclaimed responsibility for garbage collection in the capital, residents of several wards yesterday complained that they were still awaiting the start of the new service.
Stabroek News yesterday visited several communities listed on the new collection schedule released by the M&CC and many residents complained bitterly that they would have put their garbage out on the listed day [Thursday] but up to yesterday no trucks had visited their areas. This was the situation at Houston, Agricola, McDoom and Alexander Village.
A Houston resident said it had been more than a week since there was any garbage in the area. "Nobody nah come here. They come since last week fuh pick up the garbage but look all through here you can see the bins overflowing," the resident said.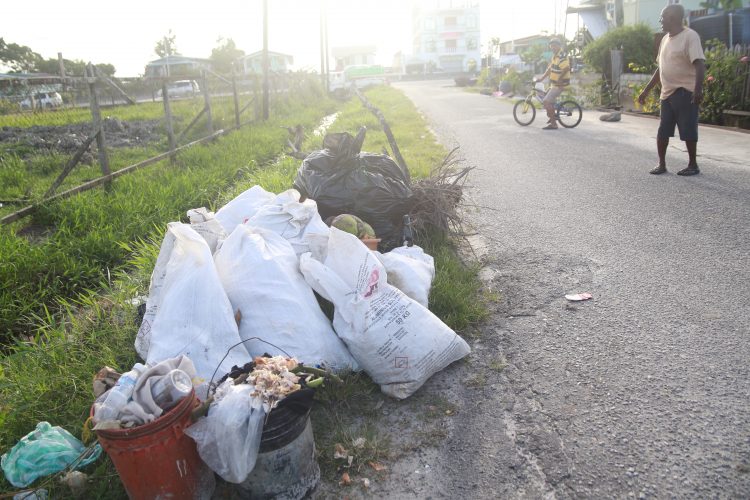 In Agricola, another resident also    complained bitterly at the fact that they would not have had their garbage picked up in a timely manner. "Today gon mek two weeks and nobody ain't come and pick up this garbage," the resident noted.
Asked about the situation, M&CC Solid Waste Management Director Walter Narine yesterday said that the contractor encountered several problems and as a result the Solid Waste Department will be heading into the affected areas today to bring some relief to residents.
The M&CC along with three small contractors commenced garbage collection services in the city on Monday after issues arose with longstanding private contractors, Cevons Waste Management and Puran Brothers Disposal, which moved to withdraw their services from this week over hundreds of millions owed to them and the council's continued failure to service its debt. The two firms were subsequently informed by Town Clerk Royston King that their actions were viewed as the "termination" of their contracts based on the fact that there was no provision in their respective agreements for the suspension of services. Moreover, King, in a letter, directed that the collectors "should not return to fulfill the contractual obligation of garbage collection until and unless the matter is resolved in its entirety."
According to the M&CC's new collection schedule, while residential areas will be cleared once weekly, businesses will receive clearance once daily.
Comments

Clifton Bacchus demonstrating how one of the slot machines work. (SN file photo) Anil Nandlall, attorney for Clifton Bacchus today accused the state-owned Guyana Chronicle of libeling the hotelier and damaging his business in a news report that appeared in its edition today.

Joe Root hit his 13th centuryfeatured   BIRMINGHAM, England, (Reuters) – England's Joe Root and Alastair Cook crafted superb centuries to lead the hosts to a commanding 348 for three on the opening day of their first day-night test against West Indies today.

A police officer helps evacuate people after a van crashed into pedestrians near the Las Ramblas avenue in central Barcelona, Spain August 17, 2017.
A post-mortem examination is expected to be performed on the body of housewife Janice Edwards, 38, of 121 'C' Field, Sophia, ECD, to determine the cause of her death.

A sketch of the proposed Curepe Interchange (Trinidad Guardian) China Railway Construction Corporation (CRCC) has been awarded a $221.7 million contract by the National infrastructure Development Company (Nidco) to build the controversial Curepe Interchange, the state company's chairman Herbert George has confirmed.