The stable exchange rate recorded by the Bank of Guyana over the period January to June, 2017, "masks the reality of a short-lived period of exchange rate instability," the Ministry of Finance has said.
According to the recently released 2017 Mid-Year report, the Bank of Guyana's exchange rate between the Guyana dollar and United States dollar remained at G$206.5 per US$1, the same as the previous year, due mainly to net purchases of foreign exchange to market.
"The apparent stability of the Bank of Guyana's reported rates masks the reality of a short-lived period of exchange rate instability," it said, while adding that commercial banks' mid-rate for the US dollar was 5.3 percent higher over the same period.
Over this same period, the international reserves held by the Bank of Guyana fell by US$18.3 million or 3.1 percent to US$578.4 million, compared to US$596.7 million in 2016, the equivalent of 3.4 months of import cover. Net foreign assets held at the Bank of Guyana were recorded at US$574.9 million as of June.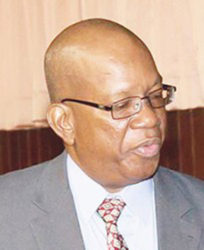 In January, at the opening of the Citizen's Bank Head Office, Minister of Finance Winston Jordan attempted to quell claims of a shortage of foreign exchange by disclosing that the foreign reserve balances held by the central bank at the end of 2016 were US$616 million as compared to US$598 million at the end of 2015, and that the commercial banks' foreign reserves were up to US$315 million. He further pointed out that the central bank had sold US$30 million to the commercial banks in 2016 to smooth out spikes in seasonal demands.
He had claimed in that presentation that media reports about a shortage of foreign currency had led to several developments, including creating "a climate of speculation and hysteria" which had artificially stressed the foreign exchange market.
Several weeks later the government announced plans to introduce stricter regulations and closer monitoring of the foreign exchange market.
Meanwhile, Minister of State Joseph Harmon confirmed that an overseas-based entity had remitted over US$100 million to its foreign accounts. Government also declared that it was aware of hard currency issues in the region affecting Venezuela, Trinidad, Barbados, Jamaica, Brazil and Suriname, and that businesses here had been making use of the foreign exchange market in Guyana to assist their counterparts. The central bank confirmed that it was aware of the fact that the bigger companies had been buying large quantities of foreign exchange.
During this period, the rate of exchange at the cambios crept from $206 to US$1, to $215 to US$1 and Guyana's net foreign reserves fell below US$600 million for the second time in the last two years.
As a result, the Guyana Manufacturing and Services Association called for Central Bank to make releases from its reserves into the market. This call was conditionally answered by government, which made a guarded promise in March to release some of the reserves into the market if the commercial banks were to "weed out" illegitimate requests for foreign currency.
Meanwhile, the Mid-Year Report also stated that due to a decline in remittances, net current transfers declined by US$3.8 million to US$169.6 million in the first half of 2017.
Conversely, increasing foreign direct investment in the petroleum industry as well as a rise in disbursements to the non-financial public sector has seen the capital account balance improve to a surplus of US$35.6 million in the first half of 2017, from a deficit of US$31.2 million in the first half of 2016.
Specifically disbursements to the non-financial public sector increased to US$31.6 million in the first half of 2017, from US$15.9 million in 2016, while inflows from foreign direct investment increased by US$66.9 million to US$96.1 million, in the first half of 2017, compared to US$29.2 million recorded in the first half of 2016.
Comments

President Robert Mugabe and his wife Grace attend a rally of his ruling ZANU (PF) in Chinhoyi, Zimbabwe, July 29, 2017.

CARACAS/HOUSTON, (Reuters) – Venezuela's state-run oil firm, PDVSA, is increasingly delivering poor quality crude oil to major refiners in the United States, India and China, causing repeated complaints, canceled orders and demands for discounts, according to internal PDVSA documents and interviews with a dozen oil executives, workers, traders and inspectors.

Lance Corporal Devon Fraser The Police say they are investigating a fatal accident which occurred about 2.20 this morning on the Lethem Public Road that resulted in the death of pedestrian Devon Fraser, 28, a Guyana Defence Force Lance Corporal of Buxton, East Coast Demerara.

(Trinidad Guardian) Preliminary investigations have revealed that the source of the oil spill that occurred in Chaguaramas over the weekend can be an offshore rig.

LONDON, (Reuters) – Over four million people in Britain are having difficulties paying their monthly bills, the Financial Conduct Authority (FCA) said on Wednesday, at a time when inflation is rising and interest rates may follow.