The body of a man in an advanced state of decomposition was discovered yesterday morning at Mibicuri, Black Bush Polder.
The body was found around 6 am by a rice farmer, who noticed it floating in the irrigation canal between the rice fields. The farmer immediately alerted residents and the police.
Although police arrived at the scene around 7 am, they were only able to retrieve the corpse and remove it from the area until around 4 pm as they experienced difficulties sourcing a tractor for the operation.
When the body was recovered, it was observed that parts of the man's face and hands appeared to have been eaten away by fish. The man had been clad in brown pants and a green shirt.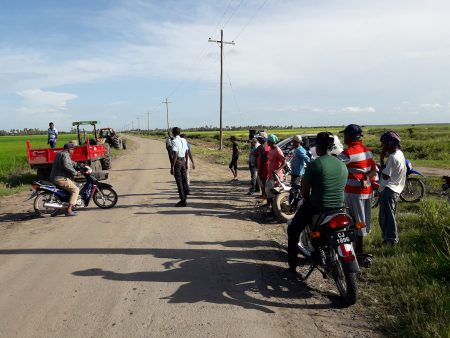 Residents of the various polders in Black Bush had flocked to view the body in order to offer assistance in identifying the man. However, up to press time last evening, they were unsuccessful.
Residents were also heard saying that there were no reports of missing persons in the area.
The body was transported to the Port Mourant Hospital's mortuary, since a funeral parlour in Rose Hall refused to keep the body due to its decomposition.
Comments

WELLINGTON, (Reuters) – New Zealand's bowlers steadily chipped away at the West Indies lineup to record a ruthless 240-run victory shortly before tea on the fourth day of the second test at Seddon Park in Hamilton on Tuesday to wrap up a 2-0 series sweep.

(Trinidad Guardian) Special Reserve police officer Richard Babwah was killed last evening during an attempted robbery at a Chinese restaurant in Arouca.

Photos by Keno George The start of the consideration of the estimates of the revenue and expenditure for 2018 descended into chaos yesterday when opposition MPs faced off against police over a bid to physically remove member Juan Edghill from the parliament chamber and PPP/C members claim they were assaulted in the ensuing melee.

The body of an 18-year-old Qualfon employee was yesterday morning discovered in a cemetery at Triumph, East Coast Demerara with her face mutilated and the police have since arrested five persons for questioning.

Acting Chief Justice Roxane George has ruled that President David Granger acted unlawfully when he revoked the leases for lands belonging to a group of Seafield, West Coast Berbice farmers.