The body of a man in an advanced state of decomposition was discovered yesterday morning at Mibicuri, Black Bush Polder.
The body was found around 6 am by a rice farmer, who noticed it floating in the irrigation canal between the rice fields. The farmer immediately alerted residents and the police.
Although police arrived at the scene around 7 am, they were only able to retrieve the corpse and remove it from the area until around 4 pm as they experienced difficulties sourcing a tractor for the operation.
When the body was recovered, it was observed that parts of the man's face and hands appeared to have been eaten away by fish. The man had been clad in brown pants and a green shirt.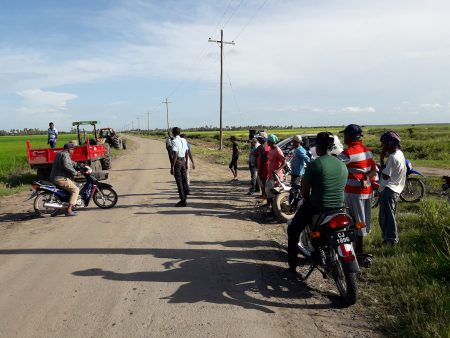 Residents of the various polders in Black Bush had flocked to view the body in order to offer assistance in identifying the man. However, up to press time last evening, they were unsuccessful.
Residents were also heard saying that there were no reports of missing persons in the area.
The body was transported to the Port Mourant Hospital's mortuary, since a funeral parlour in Rose Hall refused to keep the body due to its decomposition.
Comments

President Robert Mugabe and his wife Grace attend a rally of his ruling ZANU (PF) in Chinhoyi, Zimbabwe, July 29, 2017.

CARACAS/HOUSTON, (Reuters) – Venezuela's state-run oil firm, PDVSA, is increasingly delivering poor quality crude oil to major refiners in the United States, India and China, causing repeated complaints, canceled orders and demands for discounts, according to internal PDVSA documents and interviews with a dozen oil executives, workers, traders and inspectors.

Lance Corporal Devon Fraser The Police say they are investigating a fatal accident which occurred about 2.20 this morning on the Lethem Public Road that resulted in the death of pedestrian Devon Fraser, 28, a Guyana Defence Force Lance Corporal of Buxton, East Coast Demerara.

(Trinidad Guardian) Preliminary investigations have revealed that the source of the oil spill that occurred in Chaguaramas over the weekend can be an offshore rig.

LONDON, (Reuters) – Over four million people in Britain are having difficulties paying their monthly bills, the Financial Conduct Authority (FCA) said on Wednesday, at a time when inflation is rising and interest rates may follow.