The mother of Winston Hinds, the murder accused who was shot dead at the Timehri Prison during a reported escape attempt just over a week ago, is calling for a full investigation of the circumstances surrounding his death as she maintains that there is evidence that he was unlawfully killed.
Vanessa Bess told Stabroek News yesterday that inmates who witnessed the events leading to her son's death have told her that Hinds was shot after a confrontation with a prison officer.
"They [the prisoners] call me and tell me that he was wrongfully shot," Bess said, while explaining that the men admitted to her that they had a fight with Hinds over a cigarette lighter, which led to the prison officers on duty moving to place him in a cell where the "bad boys" were being kept.
"Is when they push he to put he in that cell I hear he run out because he was afraid; that he asked them how they gon put he in deh because he and them boys got beef," Bess said. "Is scared he did scared when they tell he they will put he with the bad ones, that's why he run out the cell because them same bad ones did attack he before," she added.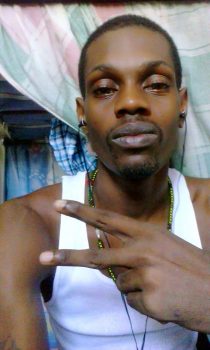 Bess recalled that a few months ago, Hinds was beaten by other inmates and she only learnt of the incident three days after.  "They did beat him up and chop he right in deh and I didn't know 'til after three days when the prisoners call me and tell me. When I see my son, he had a set of stitches," she said.
A police source yesterday told this newspaper that an investigation is ongoing.
The Guyana Prison Service had said that Hinds, called "Town Man," 26, of Lot 28 Blueberry Hill, Wismar, Linden, was fatally shot on August 4 after ignoring requests by prison officers for him to halt during an escape bid.
He was shot once to his abdomen and was taken to the Diamond Hospital, where he was pronounced dead on arrival.
Stabroek News was previously told that the prisoner's alleged attempt to escape followed a brawl among inmates in the prison dormitory. As a result, prison officers intervened to break up the fight when Hinds, who was allegedly armed with an improvised weapon like those inmates involved in the brawl, ran out into the yard and tried to escape.
The Department of Public Information (DPI) had said in a statement that Hinds had fled into the prison yard in an apparent bid to escape. "Clear and repeated orders were issued for Hinds to desist but he refused in every instance and continued running. Prison officers were left with no option than to curtail his escape bid," the statement explained. "This necessitated the use of live rounds as a last resort after every other option had failed," it added.
Bess said since it was late in the afternoon when she was notified of Hind's death, she went to the Lyken Funeral Parlour the following day and positively identified his remains.
A post-mortem examination revealed that Hinds died due to a gunshot injury he sustained to his abdomen. The results, Bess said, clearly determined that Hinds was facing his shooter prior to his death. She argued that if it was indeed the case where he tried to flee from the prison, he would have been shot in the back and not the abdomen. "Like he [Hinds] did giving the officer hot mouth and he [the officer] ain't want that because he got some high position, so he don't want anybody to tell he anything so he shoot," she said.
Bess said she received a call on the afternoon of the shooting from the acting Director of Prisons Gladwin Samuels, who informed her that Hinds had died. She added that during the same phone call, she was also given an opportunity to speak to the officer who was responsible for the shooting. "He [the shooter] tell me that he sorry and that he won't like if anything like that happen to anyone of his family and so," Bess related.
According to her, both Samuels and the reported shooter offered to provide her with financial assistance. However, she said to date she has not received any help from either of them. "The Director [Samuels] said he would do everything to help out and the officer who shot said he will provide a monthly assistance for them children after I tell he about them and that I can't afford and so," she said.
Efforts made to contact Samuels yesterday were unsuccessful.
Bess also noted that she has been unable to work due to her poor health and she only gets by on the public assistance that is given to her. As a result, she called for financial assistance from the government. "I need help. I lost my son, yes, but I still got my grandchildren to bring up and the lil boy [Hinds' eldest child] bright, so he has to go to school," she added.
She explained that while she takes care of the elder of the two children, the other lives with her mother's parents in George-town. "The lil boy does be staying between me and his mother and the girl does live with the mother parents in town," the woman said.
Bess emphasised that Hinds' main goal was to get out of prison the legal way. She noted that it was not the first time that he was remanded to prison and she pointed out that he never tried to escape. "I help my son from since the starting to the ending and he never tried to escape because he know how he mudda stay," she said, before adding "All he does be doing is praying to come out and he always pray that when he got court, the case would dismiss."
In January last year, Hinds was charged with the murder of Richard Remington, which was committed in February, 2015, at Cholmondeley Hill, Wismar, Linden.
The decomposing remains of Remington were found in a clump of bushes along a track in the vicinity of Matthew's Lane in the Cholmondeley Hill area on February 12, 2015. He had been shot three times, including once to the head. His relatives had said that he had left his home three days before his body was discovered and opined that he might have been lured into the bushy spot by someone he knew.
Two other suspects, Owen Belfield, 27, of Lot 59 Victory Valley, Linden and recently recaptured prison escapee Stafrei Alexander were also charged with the crime. Hinds was also previously charged with five counts of armed robbery.
Comments

The controversial Production Sharing Agreement (PSA) signed between the government and ExxonMobil's local subsidiary and partners is final and will not be subject to any changes, Minister of State Joseph Harmon said yesterday.

General Manager Holly Greaves yesterday said the National Insurance Scheme (NIS) is re-examining its investment in the Berbice Bridge after dismal returns over the past few years.
A gunman yesterday afternoon shot and robbed a senior CARICOM Secreta-riat employee after he left the Republic Bank (Guyana) Limited branch at Triumph, East Coast Demerara (ECD), in what is the most recent attack on the bank's customers.
As Guyana celebrates 48 years as a Republic, President David Granger has reiterated his government's intention to take the Venezuelan border controversy to the World Court and declared each citizen a protector of the nation's sovereignty.

`B' Division policemen last evening blocked the Corriverton flag raising ceremony because permission had not been sought but Mayor Krishnand Jaichand believes it was stopped because the Region Six council objected to Minister of Public Security, Khemraj Ramjattan as the featured speaker.