Joylyn Nicholson, one of the rice farmers who successfully challenged last year's cancellation of their leases by President David Granger, says she feels vindicated by the judgement in the case although she remains convinced that the move against her was an act of political victimisation.
And while satisfied with the court's recent ruling, Nicholson last Thursday said she will now lodge a complaint with the Ombudsman against two senior officers of the Mahaica, Mahaicony, Abary-Agricultural Development Authority (MMA-ADA), whom she felt acted unprofessionally in the case.
"We [the farmers] have been denied the opportunity to hold those at MMA accountable. I am taking them to the Ombudsman…. What those two officers did should not just die down and be allowed to go away like that," she told Stabroek News in a telephone interview, while detailing the struggles that she and more than a dozen other Number 40 Village, West Coast Berbice farmers endured at the hands of two MMA-ADA officials, whom she named, and a group claiming to be a Co-operative.
Nicholson, a retired head teacher, charged that the two officials colluded with the claimed Co-op. She spoke of a previous confrontation where the group came to reap rice crops that her family had planted. "We planted our rice and they claimed that they were instructed by them [the MMA-ADA] to reap and divide up the rice," an upset Nicholson recalled. She said that she and the other farmers, however, stood their ground and managed to thwart the attempts.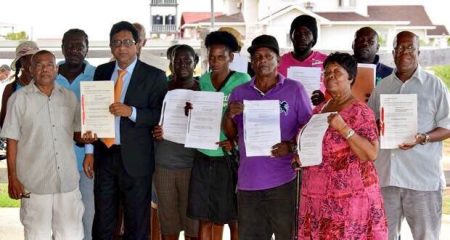 Nicholson and her sons, Gratien Nicholson, Vaughn Aaron and Herman Nicholson, were issued 50-year leases in 2014 by former president Donald Ramotar. The leases were cancelled in March, last year. As a result, Nicholson and her children along with follow villager Brian George and his daughter, Tiffany Hubbard, filed a constitutional motion challenging the cancellation of the leases. Last Tuesday, the court ruled in their favour, saying that the cancellation was unconstitutional given in part that the leases were valid and binding. This ruling now affirms their right to occupy the disputed land without hindrance.
Though the matter was before the court, the farmers heeded advice and remained occupants of their respective lands. Because of flooding in Region Five, they have been unable to plant, but plan to do so for the next crop.
Nicholson told Stabroek News that the issue started in September, 2015 but she and the other farmers from her village only became affected last March. Other farmers residing at Seafield, another West Coast Berbice village, have also filed court actions but those matters are yet to be concluded.
Nicholson recounted that they had visited the MMA-ADA office during the latter part of 2015 to get more information on what was happening but "we got de royal runaround."
She said that they observed a notice in the Kaieteur News, published by the MMA-ADA on March 18, 2016, under the caption "Cancellation of State Land Leases Seafield and No. 40 Villages, West Coast Berbice."
It stated, "Notice is hereby given that His Excellency, the President of the Cooperative Republic of Guyana has cancelled all State land leases as described in the Schedules hereunder."
Recalling how they came to be granted leases, Nicholson said that in March, 2014, there was a public notice stating that 212 Co-ops, including the one at Number 40 Village, would be dissolved and subsequently villagers were invited to meetings which were being held to deal with the regularisation of the leased lands. It was during those meetings that the residents suggested that the lands could be divided among them and after getting the go-ahead they all applied and were interviewed. It was after they were granted their leases following a fair and transparent application process that they learnt that the two senior officers had colluded with the group calling itself a Co-op that wanted possession of the lands. Six members of one family are among the members of this grouping.
She said that since the problem with the land started, a letter was penned to Granger requesting a meeting and an acknowledgement letter was later received. After hearing nothing more, she went to the media and subsequently learnt that the president had instructed Minister of State Joseph Harmon to look into the matter. She said that after not hearing from Harmon, she engaged a member of civil society and after being told that a meeting was scheduled with Harmon, she and a busload of farmers turned up at his office, but were unable to make it pass the security hut as Harmon's secretary could find no record of a scheduled meeting. She said that attempts were also made to engage Agriculture Minister Noel Holder and an APNU official who resides in Region Five but to no avail.
Political victimisation
Nicholson insisted that the cancellation of the leases was "political victimisation," while saying that those fighting the family for their land were behind articles in the Guyana Chronicle about them being PPP supporters and it was on that basis she concluded that the cancellations were political in nature. "It was claimed we are PPP supporters but what that got to do with it?" she asked while stressing that she and the other farmers had leases.
She said that the farmers endured countless problems at the hands of members of the claimed Co-op group but stood their ground.
Nicholson informed that it is after becoming frustrated at the lack of interest shown by the government that she and several other farmers engaged Opposition Leader Bharrat Jagdeo and it was following this that PPP/C MP and attorney Anil Nandlall took up their plight.
"We ended up at the opposition as a last resort," she said, while adding that it took months for them to move to the court because they did not want their case to be turned into a "political football."
"We feel vindicated but it is not all over," she added, before making an appeal for the 13 other lease holders from the community to go and air their views at the Commission of Inquiry into lands, which is scheduled to begin hearings later this month.
Meanwhile, George said that he too has concluded that the cancellations were a political move.
"I was targeted for political reasons," he insisted, while adding that the lease granted to him covers 11 acres.
George, who is a retired teacher and a native of Essequibo, told Stabroek News from his home at Number 40 Village that the process to obtain his lease was not illegal. He said that despite receiving a letter which claimed that his lease was cancelled, he continued to occupy the land.
He stated that the MMA-ADA gave members of the Co-op a document stating that they could occupy the lands and they turned up on December 12 and forced his tractor off the land. He said that he had gone to level the land so that he could begin planting a crop. He returned two days later and was able to complete the task.
George told this newspaper that the judgement has reaffirmed his right to any land given to him by any authority. "I served Guyana. I am entitled to benefit and I agree with the judge's ruling," he stressed.
During the court proceedings, the Attorney General had argued that the President and his actions
were immune from legal challenge and that the applicants' leases were invalid because they were not signed by Ramotar but this was rejected by the court.
Asked about this, George, who is not related to acting Chief Justice Roxane George SC who heard the case, stated that this is a non-issue as the leases issued by Granger since he took office doesn't have his signature.
"If those are valid, fine, ours are valid. That was my attorney's line of argument and he cited cases," he stressed.
George's father was a part-time rice farmer in Essequibo and this was his motivation for planting rice following his retirement from the teaching profession.
In a statement to the media following the conclusion of the matter, Nandlall said that Justice George on Tuesday made her ruling and granted to the applicants several orders.
The orders granted are: a declaration that the cancellation of the Applicants' lease amounted to the compulsory acquisition of their leasehold interest thereof without the prompt payment of any or adequate compensation as is guaranteed by Article 142 of the Constitution of Guyana; a declaration that the cancellation of the Applicants' lease was unlawful, null, void and of no effect; and a conservatory order prohibiting the servants and/or agents of MMA-ADA, or any other Officer of the State from entering upon, remaining, occupying or in any manner whatsoever interfering with the Applicant's quiet and peaceful possession, occupation and enjoyment of the said lease unless compensation is paid which is to be determined by the parties.
Additionally, he said the court ordered costs to the applicants in the sum of $300,000.
Nandlall said that in her ruling, Justice George held that the applicants' leases constituted property under Article 142 of the Constitution and that the revocation of those leases by the president was unconstitutional and null and void.
The judgement was delivered orally.
Comments

A Brooklyn, New York  man was convicted of manslaughter yesterday for shooting a Guyanese high school girl who authorities said he wanted to date.

(Trinidad Guardian) Soca superstar Machel Montano and music producer Kernal Roberts have won their appeal against their convictions for assaulting a group of friends at a nightclub, almost a decade ago.

By December 29, approximately 4,000 employees across the sugar industry will be without a job, the Guyana Sugar Corporation (GuySuCo) says.
While stating that he is deeply concerned about the significant gap in the appointment of a substantive Chancellor of the Judiciary and Chief Justice, President David Granger yesterday said that he is working to have this issue resolved at the earliest opportunity.
Speaker of the National Assembly, Dr Barton Scotland yesterday disallowed a motion by  PPP/C MP Irfaan Ali to adjourn the budget deliberations in order to facilitate a debate on the controversial US$18 million ExxonMobil signing bonus.