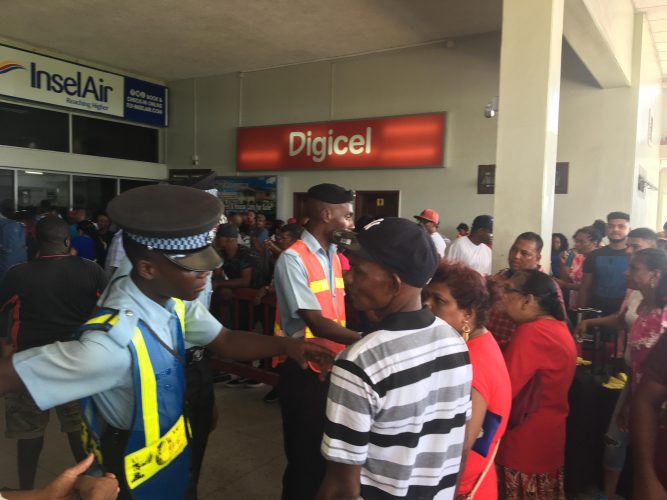 Passengers travelling to New York with US-based carrier Dynamic Airways have once again voiced their frustration at the continued cancellations and delays they have been experiencing.
The airline's latest snag occurred on Saturday when hundreds of passengers scheduled to travel on Dynamic's 2D 402 flight to New York turned up to the Cheddi Jagan International Airport, Timehri only to be told that the flight had been cancelled and the passengers would instead be departing today.
According to one woman, when the time came for check in to commence, it was only then that passengers were told that only those persons who were scheduled for Friday's flight would be leaving. "I hear that yesterday flight (Friday) had some problem so people ain't get to travel but I didn't think too much about it. Is when time come for us to go and check in then they gon come outside and say that only those on some list from Friday getting to go.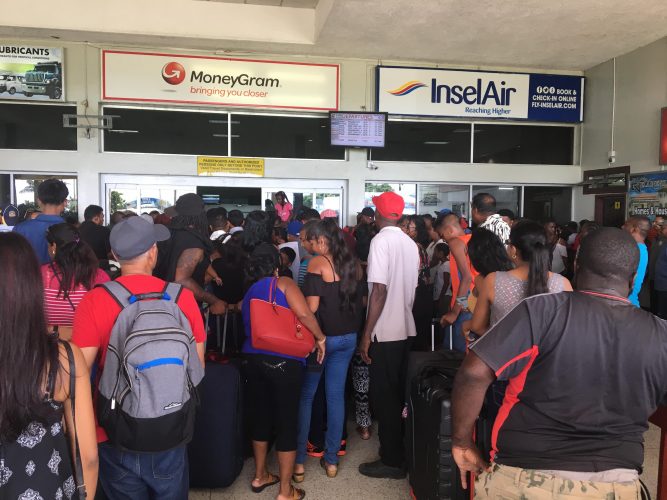 These people ridiculous. They could have called and told people what was going on instead of making us waste our time and travel all the way up here. Now I got to go back to Berbice and come back here on Monday," the woman argued.
Other passengers also lamented the fact that they had work commitments that would now be put in jeopardy due to the cancellation. "I have work on Monday. How can they now tell me that the flight is on Monday when I have to report for work on Monday morning? I travelled to the airport since early this morning (Saturday) only to be told that my name is not on the list of persons that will be travelling today," one elderly man lamented.
He said that he was scheduled to travel Saturday and had travelled from a far distance only to now have to return to the airport today. "My job is going to be in jeopardy now.
Over there is not like Guyana where the people does flex with you if you can't make it to work. Who is going to compensate me for missing the day?" the man questioned.
Yesterday, when Stabroek News reached out to Dynamic Airways' representative,  Captain Gerry Gouveia for a comment on the situation he said that they have three flights operating round the clock to shuttle passengers to their destinations.
He added that a flight was to have departed last evening as they work to have the backlog of passengers who were left stranded in Guyana cleared by tomorrow.
Last month, the US-based airline filed for bankruptcy even as it assured passengers that normal operations will continue.
In April, the airline was fined US $120,000 ($25m) by the United States Department of Transportation (DoT) for failure to provide prompt refunds to passengers after flight cancellations and failure to promptly notify passengers of the cancellations.
This failure violated a cease and desist provision made in March 2016.
Meanwhile, at a press conference on Thursday, Guyana Civil Aviation Authority (GCAA) Director General Lt. Col (Ret'd) Egbert Field was asked whether persons travelling on Dynamic Airways or Fly Jamaica have been making any claims.
He informed that while individuals have been vocal about the delays they are suffering, no one has been making claims. "I guess the reason is because Dynamic and Fly Jamaica they continue to offer the service. This happens in the aircraft world. Aircraft are made of aluminum and they can break down. The last Dynamic I was told made a cautionary stop in Puerto Rico and it is all for the safety of the passengers. We do not like delays. If delays are chronic it says something about the system of the operator.
But if they are interspersed or now and then, we do understand we still impress on the operator the element of keeping the schedule and we ensure that they stick to the safety regulations. If it is chronic we have to look at it very closely to see if it is a management problem, competency problem.
He further explained that while there is a bond lodged by charter and non-scheduled operators, the GCAA does not have the authority to refund passengers any money. "In actual fact we don't give clearance to anybody. The funds are there as a bond. Each charter or non-scheduled operator is required to place a bond with the Government of Guyana and that bond is utilized should the (service) go under. We do not offer or we are not the authority to refund individuals money," Field said.
A certified air carrier based in Greensboro, North Carolina, Dynamic has in the past faced intense scrutiny over repeated delays and cancellation of flights.
Comments

The controversial Production Sharing Agreement (PSA) signed between the government and ExxonMobil's local subsidiary and partners is final and will not be subject to any changes, Minister of State Joseph Harmon said yesterday.

General Manager Holly Greaves yesterday said the National Insurance Scheme (NIS) is re-examining its investment in the Berbice Bridge after dismal returns over the past few years.
A gunman yesterday afternoon shot and robbed a senior CARICOM Secreta-riat employee after he left the Republic Bank (Guyana) Limited branch at Triumph, East Coast Demerara (ECD), in what is the most recent attack on the bank's customers.
As Guyana celebrates 48 years as a Republic, President David Granger has reiterated his government's intention to take the Venezuelan border controversy to the World Court and declared each citizen a protector of the nation's sovereignty.

`B' Division policemen last evening blocked the Corriverton flag raising ceremony because permission had not been sought but Mayor Krishnand Jaichand believes it was stopped because the Region Six council objected to Minister of Public Security, Khemraj Ramjattan as the featured speaker.