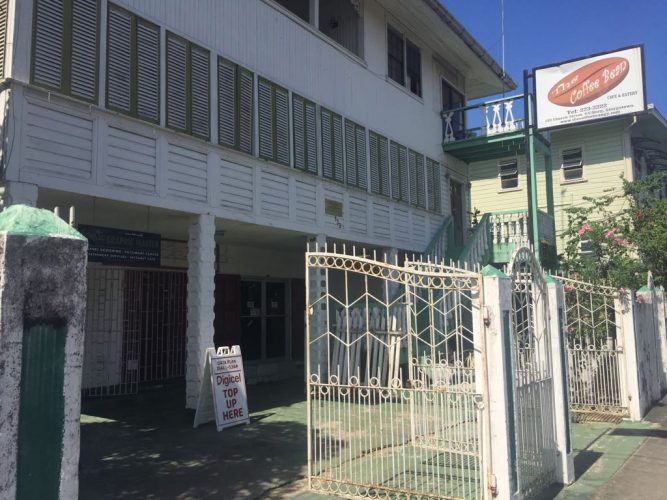 Gunmen posing as customers cornered a businessman and his driver in the Coffee Bean Café on Church Street just before midday yesterday and relieved them of an undisclosed amount of cash, shortly after they had left a city bank.
"They just wanted the money but they didn't know where it was", Manager of the café Narvini Dewnath told reporters yesterday.
The ordeal which occurred around 11.35am lasted for about five minutes.
At the time, about seven customers were present in the café along with the staff members who were all forced to lie on the ground.
Dewnath explained to reporters that the two men entered the café and ordered two meals. She said, they were only alerted that there was a robbery when staff members began to shout "robbery! robbery!"
"While preparing meals, staff members at the counter started to shout robbery. I looked in the surveillance camera and was able to see two men walking around terrorising people. "Going from person to person checking and everybody was down on the ground", Dewnath explained.
It is suspected that the bandits trailed the two victims; a businessman and his driver, from a city bank where they had visited to make a withdrawal and the cafe was not the target.
Dewnath said, "based on what I was told by one of the men (the victim) they followed them straight from the bank and they keep asking where the money is and apparently they had it in the car, so they (the victims) gave them (the gunmen) the keys for the vehicle, they collected phones from a few people and they went outside and collected the cash and escaped".
The police were summoned and when Stabroek News arrived at the scene the business was open for business as per normal and investigators were taking statements.
The attack was caught on CCTV and up to yesterday afternoon the police were reviewing the footage in an effort to identify the perpetrators.
Comments

The Customs Anti-Narcotic Unit (CANU) today said that Tiffini Collison, 26-years-old of F 21 Samaan Street Guyhoc Park, Georgetown posted four hammocks suspected to have been saturated with cocaine to an address in the USA through an International Courier Service in Georgetown sometime last week.

President David Granger (centre) today met  President of Chevron Africa and Latin America Exploration and Production Company,  Clay Neff (third from right).

Anthony Weiner   NEW YORK,  (Reuters) – Former U.S. Congressman Anthony Weiner was sentenced to 21 months in prison today for sending sexually explicit messages to a 15-year-old girl, setting off a scandal that played a role in the 2016 U.S.

A family's preparation for a memorial service ended tragically early yesterday morning when bandits stormed into their home in  East La Penitence and discharged several rounds, fatally wounding a man and injuring two of his brothers.

(Trinidad Express) The Trinidad and Tobago Defence Force and Coast Guard have been at the helm of a dramatic rescue of a family of four, including two small children, who lived in a car for four days after their home in Dominica was destroyed last Monday by Hurricane Maria.