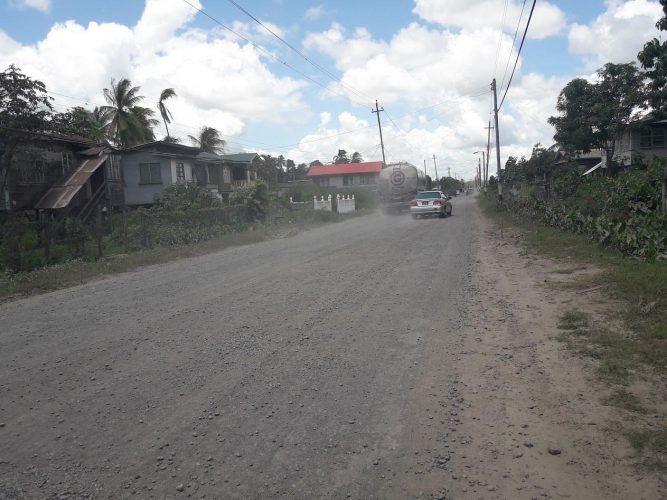 The residents of East Bank Berbice are at their wits end with the present dust situation in the area, which has been causing several health problems for them.
The residents charged that "crusher run" work was done on the main access road, which resulted in the present dust situation. They also expressed their disgust at the government, who announced that rehabilitation works would have commenced on the road in early June.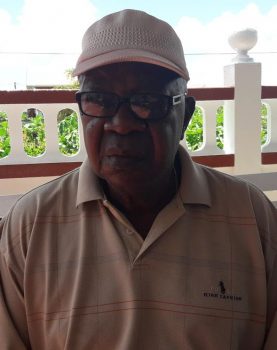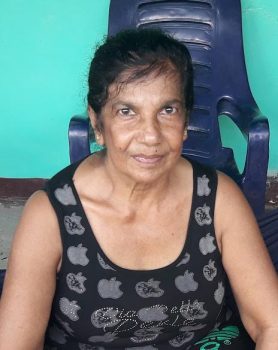 Minister of Public Infrastructure, David Patterson, on June 4 in the East Bank Berbice area announced that works on the road would have started the following day, June 5. However, one resident told Stabroek News, "… All them do is lil crusher run, best them did leave the road how it went, because this dust dangerous for our health".
Another resident, Samuel Mona, 82, stated, that the dust caused an infection in his left ear, which resulted in an inflaming of his thyroid gland. He said due to the illness he coughs repeatedly and is encountering difficulties sleeping. "I coughing all night and I can't sleep whole night, here swollen because of infection from the dust"
He said that the dust began immediately after workers started to "crusher run the road", which was about three months ago. He said, officials have deemed him a representative of the residents, as such he has been trying to contact said officials to alert them of the situation, and also to verify when the work will commence on the road. However, he strongly believes, that they are being given a "bull story". "They tell you one thing today and change it tomorrow", he noted. "This road should have begun according to the Infrastructure Minister three month ago, he came and had a meeting where he announced the road would a began the next day", a frustrated Mona said. "I'm not stupid if you're going to begin something you must have the materials where by you are going to do the work, there was no materials".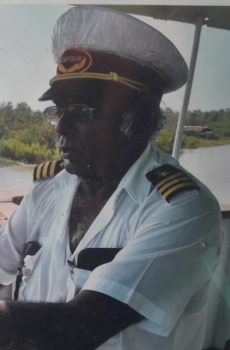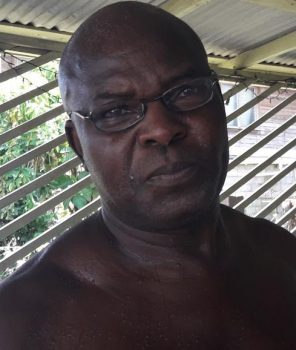 According to information gathered, one resident of the area, who is asthmatic passed away about three weeks ago due to respiratory problems. His family believes, that the dust situation contributed significantly to the man's illness.
Maheswar Sugrim, 73, passed away on July 11, after being rushed to the New Amsterdam Public Hospital several times for breathing issues. His wife, Gomattie Sugrim, 67, said, he died as a result of the "dust blocking up his lungs, which stop his breathing. Since the dust, every week he a take in, he can't sit down outside and so". The woman explained, that before the dust situation the man had his asthmatic problem under control. "The dust start block up he lungs and that make it turn more bad".
Dangerous
Another resident, Randolph Mars stressed, that the "dust is definitely dangerous". According to Mars, "The ministry might be saying them smoothing the road but it really dangerous, is people health, lil children, old people, all the colour on the house changing because the dust so much…I pleading for somebody in authority to come and look into this thing because is people health involve".
Mars who was also at the meeting where the minister announced that work would commence in June, stated that since the meeting, "I see some guys them deh on the road and digging every hundred feet and besides that when the rain fall them grade it and raise up all the dust, the cement mix up with the dust and all kinda thing".
Residents of the area who have children stated, that their kids have been suffering from "cold and cough" due to the dust. The residents are pleading with the authorities to look into the matter immediately.
Stabroek News, was told that the road is being soaked at various times throughout the week. However, residents believe this is not enough. "Sometimes them a soak it one time a day, sometimes three times a week and sometime for the whole week them na do nothing, this is not fair man, even when them soak it and the sun dry it up back in fifteen minutes, dust start again", one hire car driver said.
Regional Chairman, Region Six, David Armogan stated, that there has been no news since Minister Patterson announced that the project would have commenced in June. "Unfortunately to date all we've seen is some crusher run being thrown on the road, some sand being thrown on the road, it become a very big dust nuisance to the people of the area".
Armogan relayed, that residents have been visiting his office repeatedly to notify him of the dust situation. "The minister need to come forward again with another date when the project is going to start", he suggested.
In early June, Patterson had announced, that the project would have been done in phases. He had noted, that phase one would have commenced on June 5 and be completed in eight months' time. He made the announcement to residents at Overwinning, Market Square, East Bank Berbice. Patterson had explained, that initially when they were in talks with the Inter-American Development Bank (IDB) to fund the project it was estimated to cost some $1.8 B. However, he had said that after they did not receive the necessary support from the IDB due to many reasons, he took it upon himself to work out a lower cost and pleaded with the Ministry of Finance for funding. He had then stated, that the project now costs some $1.2B and is being funded by the Government of Guyana.
He had told those gathered that the project will commence at Stanleytown and conclude at Everton Village, covering some 5.5 kilometers of road. However, he had also said, eventually all the way to Mara Village, will see reconstruction.
Comments

The Customs Anti-Narcotic Unit (CANU) today said that Tiffini Collison, 26-years-old of F 21 Samaan Street Guyhoc Park, Georgetown posted four hammocks suspected to have been saturated with cocaine to an address in the USA through an International Courier Service in Georgetown sometime last week.

President David Granger (centre) today met  President of Chevron Africa and Latin America Exploration and Production Company,  Clay Neff (third from right).

Anthony Weiner   NEW YORK,  (Reuters) – Former U.S. Congressman Anthony Weiner was sentenced to 21 months in prison today for sending sexually explicit messages to a 15-year-old girl, setting off a scandal that played a role in the 2016 U.S.

A family's preparation for a memorial service ended tragically early yesterday morning when bandits stormed into their home in  East La Penitence and discharged several rounds, fatally wounding a man and injuring two of his brothers.

(Trinidad Express) The Trinidad and Tobago Defence Force and Coast Guard have been at the helm of a dramatic rescue of a family of four, including two small children, who lived in a car for four days after their home in Dominica was destroyed last Monday by Hurricane Maria.