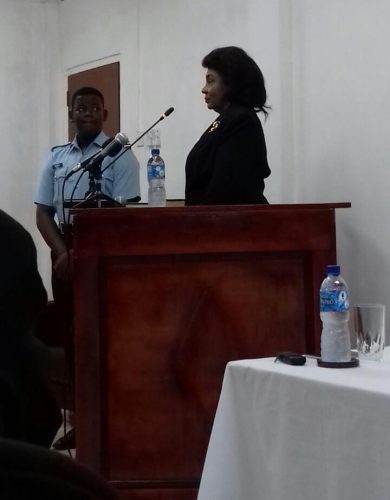 Legal Advisor to the Police, retired Justice of Appeal, Claudette Singh yesterday testified that there was insufficient evidence in the allegation made by Andriff Gillard of an alleged plot to assassinate President David Granger.
Justice Singh was testifying before the Commission of Inquiry (CoI) set up by the President into the matter.
On March 29, 2017,  Gillard made a report to the Criminal Investigation Unit (CID) that businessman Nizam Khan had offered him $7 million in June 2015 to assassinate the President.
Justice Singh has been working in the capacity of legal adviser to the police since September 2014.
While being led in evidence by CoI attorney James Bond, Justice Singh said that she could not, based on the "state of the evidence," and "in all honesty" recommend anyone to be prosecuted, as the evidence was unreliable. In her legal advice to the police, it was reported that Justice Singh described the evidence as being "tenuous" but recommended that investigations be continued.
"…I could not, on the state of the evidence say that Gillard was lying, neither can I say that Khan was innocent…that was why I said the evidence was tenuous, meaning unreliable. And I could not in all honesty advise anybody there to be prosecuted because of the state of the evidence…" she related to Bond.
Justice Singh, who served as a judge for 20 years, was questioned extensively by attorney Glenn Hanoman, who is representing Commissioner of Police Seelall Persaud, on the actions of the police in the matter, and the role she played in relation to it.
Justice Singh agreed that the advice she provided to the police took the form of written correspondence, oral advice, and minutes. She noted that the oral advice was not usually documented in the minutes prepared by her as she would deal with several cases per day and that would be a strenuous exercise.
She said she was convinced that the police were doing their best to comply with all the advice she relayed and said it was carried out "to a certain extent," as far as the police could have managed.
Hanoman proceeded to ask Justice Singh whether, based on her advice, she had not always had questions about the credibility of Gillard's story, to which she responded that her concerns were not just in relation to his story alone, but to the evidence as a whole. She emphasised that she was not condemning anyone, but had an open mind about the matter.
"Mr Hanoman you would know, where I come from as a judge that I know when we would see the persons in action where they would give their evidence subject to cross-examination and I can ask questions, but in this case I'm only reading what the police wrote so sometimes I have to be very careful. Regardless how I may feel, I have to always have an open mind," Justice Singh stated.
Discrediting
She disagreed with Bond's suggestion that the investigation was more focused on discrediting Gillard rather than reaching for balance. She said that she did get the impression that the police were searching for evidence to support Gillard's claims, but pointed out that the difficulty lay in the fact that Gillard had told police that it was only himself and Khan who were around at the time of the incident.
Responding to whether she saw any attempts made by the police to determine whether Khan had possession of the gun described by Gillard, she said she was told that Khan's house was searched.
Asked whether she is satisfied with the nature and quality of the investigation in her capacity as Police Legal Adviser, she stated that she provided advice based on what was told to her and is unaware of what happened outside of that, but noted that Crime Chief Wendell Blanhum had told her the police were having great difficulty with the matter.
When asked if at one point she advised that the investigation be shelved, she also agreed, noting that it was because confrontations needed to be held.
Justice Singh also agreed to Hanoman's statement that the fact that Gillard could not pinpoint the specific date that the incident occurred did make it difficult for police to verify the story.
Hanoman pressed on, asking whether Justice Singh believed that the difficulties the police had in the investigation was in getting persons to turn up for the confrontations, notably Gillard, who had failed to show up on several occasions.
She stated that that was what was indicated by the file, but noted that it was reported that another witness, Lloyd Adams, too, was reluctant to come.
Justice Singh admitted that subsequent to that piece of advice, she would have recommended that the investigation continue, but did not offer any legal advice as to how the police should proceed.
In this regard, she stated that the police are aware of what they have to do and she would not be able to direct them on that basis. She also said that she advised that the investigation should continue and Khan should be monitored.
Justice Singh accepted that the time lapse between the alleged incident, which was said to have occurred in June 2015 and the report, which was made in March of this year, proved to be an issue in the investigation. She also admitted to raising questions about the fact that Gillard had had several encounters with the police over that period, and had made reports about other matters, including one against Khan, but yet had failed to make a report about the plot.
Asked if there were any concerns that Gillard seemed to have malice against Khan, she acknowledged that evidence showed that the two were friends and had had problems in the past.
Under re-examination by retired Chief Justice Ian Chang,, counsel for the police, Justice Singh noted that the reason she concluded that the evidence in the case was "tenuous" was because there was no corroboration in the reports and such still does not exist, though the case remains open.
Asked whether she remembered Gillard saying that the reason he took so long to report the matter was because he was "afraid", Singh said yes. However, she also agreed with Justice Chang's statement that she was made aware that during the period between the alleged incident and the report, Gillard not only moved next door to Khan's neighbour, but had also reported Khan (in relation to an incident involving a battery) to the police, although he claimed fear had stopped him from reporting the matter before.
She later admitted that the statements provided by witnesses Leon Baldeo, Lloyd Adams and Louanna Walker tended to support Khan.
Issues of bail and treason
Justice Singh had told the commission that she guided the police from day one of the investigation, but then went on to say that her communication began after she received the file on April 12th.
When she was questioned by Hanoman, however, who presented to the commission an activity log of all that occurred concerning the matter, Justice Singh accepted that Assistant Superintendent of Police Mitchell Caesar may have visited her and discussed the allegation on the day the allegation was made (March 29) and that she may have advised that the matter be treated as solicitation/incitement to commit murder. She also agreed that it is possible that Caesar may have briefed her the next day on the status of the investigation.
She noted that the events referenced by Hanoman sounded "familiar" but explained that she deals with several cases on a daily basis and it is not unknown for police to interact with her informally. She reiterated however, that the first written advice she would have sent would be the day after she received a file on the matter. That would have been on April 13th.
Of key interest in this inquiry, has been the issue of whether Khan should have been granted bail on the evening of his arrest as was the case, given the nature of the allegation.
Justice Singh told the commission that she was not consulted on the issue of bail as she did not become involved in the matter until the file was presented to her. She related that the first she heard anything concerning the issue of bail was when the Assistant Commissioner of Police David Ramnarine testified before the commission.
Questioned by Bond on the categories of offences the police were considering in regards to the matter, she noted that based on the evidence, they were exploring incitement to commit murder for Khan and giving false information to police for Gillard.
When Bond mentioned that "treason" has been brought up a number of times over the course of the CoI, Justice Singh said that in her understanding, treason is when a foreign state invades a country, or if someone attempts to overthrow the government. She stated that in her view, the offence in question was not one of treason.
Under questioning by Hanoman, Justice Singh agreed that incitement to commit murder is an offence that attracts bail, however, when Hanoman attempted to delve further into that realm, Justice Singh made it clear that she does not advise on such matters [bail]. She did, though, eventually accede to Hanoman's suggestion that placing a person on bail might make it easier for police to observe them if surveillance is necessary.
Comments

Bharrat Jagdeo The PPP/C is committed to constitutional reform, says Opposition Leader Bharrat Jagdeo.

Ray Lengend Ray Lengend who went on a fire-bombing spree of mosques throughout southeast Queens, this week pleaded guilty to the crimes against Muslims who the 45-year-old Guyanese man claimed in 2012 had been "trying to take over his life", according to the Times Ledger in Queens, New York.

BEIJING/SEOUL, (Reuters) – A small earthquake near North Korea's nuclear test site on Saturday was probably not manmade, the nuclear proliferation watchdog and a South Korean official said, easing fears Pyongyang had exploded another nuclear bomb just weeks after its last one.

Damaged electrical installations are seen after the area was hit by Hurricane Maria en Guayama, Puerto Rico September 20, 2017.

Colin Firth'Loving' premiere, 69th Cannes Film Festival, France – 16 May 2016 ROME, (Reuters) – British actor Colin Firth, who has often played the role of a quintessential Englishman in his many films, has become an Italian citizen, Italy's Interior Ministry said.