Ranks of the Joint Services yesterday morning conducted a search in the brick prison on Camp Street during which a quantity of contraband items and twenty improvised weapons were unearthed.
Acting Director of Prisons Gladwin Samuels yesterday afternoon confirmed the raid which was conducted between 6.15am and 8.40am yesterday.
Stabroek News understands that a joint operation was carried out where the entire brick prison was searched and a small portion of cannabis, three cell phones, three SIM cards, four lighters, three razor blades and twenty improvised weapons were found.
An investigation has been launch-ed.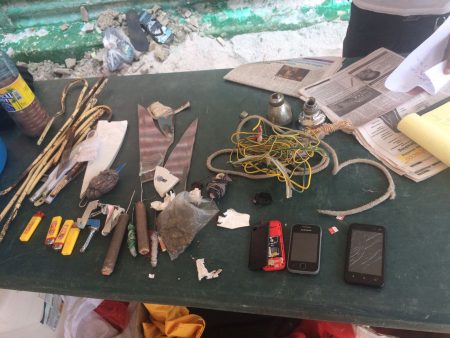 This discovery came less than two weeks after a quantity of contraband including improvised weapons, mobile phones and marijuana was uncovered at the Timehri and New Amsterdam prisons and the new holding area outside the Lusignan Prison.
Samuels had said during these raids, the lives of his officers were threatened.
The prisons system has been wracked by unrest for more than a month.
Comments

TAROUBA, Trinidad,  CMC – Left-arm spinner Veerasammy Permaul snatched three of the four remaining wickets to end with five in the innings and nine in the match, as Guyana Jaguars routed Trinidad and Tobago Red Force by an innings and 217 runs in their fourth round match here today.

Since producing its first gold bar in August 2015, Canadian miner, Guyana Goldfields Inc (GGI) says it has paid US$26.5m in royalties to the state and purchased US$84.1m in goods and services from local businesses.

(Trinidad Guardian) When everyone felt that the case was closed on the kidnap and murder of United States citizen Balram "Balo" Maharaj, comes news that new motions have been filed in the Federal Court in Washington DC, which could see a new trial for the seven convicted Trinidadians.

HARARE,  (Reuters) – President Robert Mugabe was dismissed as leader of Zimbabwe's ruling ZANU-PF party today in a move to force a peaceful end to his 37 years in power following a de facto military coup.

Former Attorney General Anil Nandlall says that the Attorney General's Chambers' retention of six attorneys to prosecute a number of high profile cases is unconstitutional and he is warning that the right to a fair trial will be compromised by a politically-tainted process.