Ranks of the Joint Services yesterday morning conducted a search in the brick prison on Camp Street during which a quantity of contraband items and twenty improvised weapons were unearthed.
Acting Director of Prisons Gladwin Samuels yesterday afternoon confirmed the raid which was conducted between 6.15am and 8.40am yesterday.
Stabroek News understands that a joint operation was carried out where the entire brick prison was searched and a small portion of cannabis, three cell phones, three SIM cards, four lighters, three razor blades and twenty improvised weapons were found.
An investigation has been launch-ed.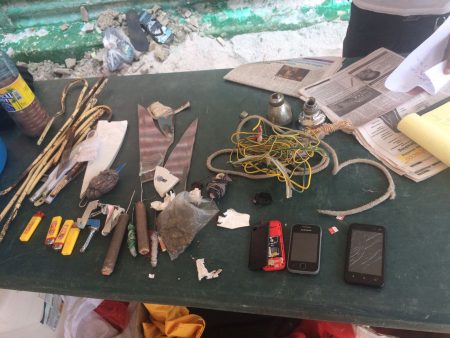 This discovery came less than two weeks after a quantity of contraband including improvised weapons, mobile phones and marijuana was uncovered at the Timehri and New Amsterdam prisons and the new holding area outside the Lusignan Prison.
Samuels had said during these raids, the lives of his officers were threatened.
The prisons system has been wracked by unrest for more than a month.
Comments

The Customs Anti-Narcotic Unit (CANU) today said that Tiffini Collison, 26-years-old of F 21 Samaan Street Guyhoc Park, Georgetown posted four hammocks suspected to have been saturated with cocaine to an address in the USA through an International Courier Service in Georgetown sometime last week.

President David Granger (centre) today met  President of Chevron Africa and Latin America Exploration and Production Company,  Clay Neff (third from right).

Anthony Weiner   NEW YORK,  (Reuters) – Former U.S. Congressman Anthony Weiner was sentenced to 21 months in prison today for sending sexually explicit messages to a 15-year-old girl, setting off a scandal that played a role in the 2016 U.S.

A family's preparation for a memorial service ended tragically early yesterday morning when bandits stormed into their home in  East La Penitence and discharged several rounds, fatally wounding a man and injuring two of his brothers.

(Trinidad Express) The Trinidad and Tobago Defence Force and Coast Guard have been at the helm of a dramatic rescue of a family of four, including two small children, who lived in a car for four days after their home in Dominica was destroyed last Monday by Hurricane Maria.