Works on the East Bank Demerara pedestrian overpasses at Houston, Peter's Hall, Eccles and Diamond continue to move apace.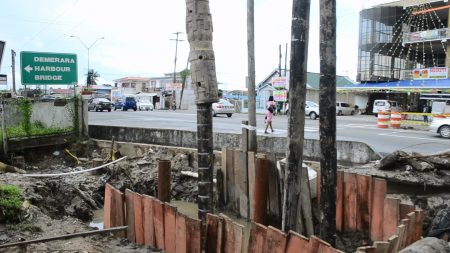 Public Infrastructure Minister David Patterson told the Department of Public Information (DPI) that to date all the piles have been driven and works should be completed by November.
"Some of the contractors started doing the foundations… all five will be completed by November this year. When completed, the overpasses will (be accepted) as a normal design.
For those who may not be able to walk the stairs to get up to the bypass, the elevator will take them up, and they will go to the other side and get down. I'm excited to have that done and completed," Patterson said.
Comments

Fifteen city councillors voted yesterday in favour of accepting the recommendations of the parking meter renegotiation committee, which would see a reduction in parking fees to $150 per hour, exemptions for religious organisations and schools, and Smart City Solutions (SCS) giving up on their claim to garage parking.

A GDF rank was yesterday remanded to prison over three armed robbery charges and alleged possession of an unlicensed gun and ammunition.
Minister of Natural Resources and Leader of the Alliance for Change (AFC), Raphael Trotman on Monday praised ExxonMobil for investing in the oil sector here and said it is now resulting in other important companies wanting to do business here.

The city lance corporal, who on Sunday allegedly shot and killed Marlon Fredericks, a mentally-challenged vendor, after he reportedly attempted to flee custody is to be charged with manslaughter.

Former Magistrate and Univer-sity of the West Indies (UWI) lecturer Christopher Arif Bulkan was yesterday sworn in as a temporary Appellate Judge by President David Granger who said that the appointment is part of efforts to ensure that justice is dispensed in an efficient and timely manner.