Works on the East Bank Demerara pedestrian overpasses at Houston, Peter's Hall, Eccles and Diamond continue to move apace.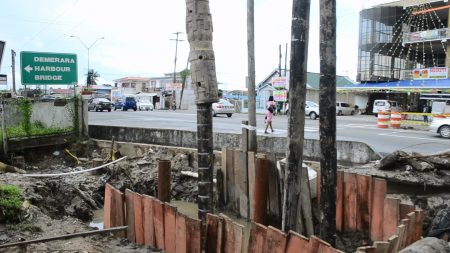 Public Infrastructure Minister David Patterson told the Department of Public Information (DPI) that to date all the piles have been driven and works should be completed by November.
"Some of the contractors started doing the foundations… all five will be completed by November this year. When completed, the overpasses will (be accepted) as a normal design.
For those who may not be able to walk the stairs to get up to the bypass, the elevator will take them up, and they will go to the other side and get down. I'm excited to have that done and completed," Patterson said.
Comments

In keeping with its aggressive exploration programme, ExxonMobil's subsidiary, Esso Exploration and Production Guyana Ltd (EEPGL) is set for drilling at a new site called Sorubim which is northwest of its famous Liza find.

HARARE,  (Reuters) – Afghanistan qualified for next year's cricket World Cup as captain Asghar Stanikzai played through the pain barrier to produce a heroic innings and lead them to a five-wicket victory over Ireland on Friday.

(Trinidad Guardian) Domestic violence murder victim Anita Bahadur made her last complaint to the San Juan Police Station five days before she was killed, head of the T&T Police Service's corporate communications, Ellen Lewis, confirmed yesterday.

Misconduct complaints against police ranks cannot be properly dealt with by the Police Complaints Authority (PCA) as it remains headless more than a year after its chairman, Justice (retired) Cecil Kennard was forced out because of his age.

Some residents of Windsor Estates, on the East Bank of Demerara, yesterday accused the developer of the gated community of seeking to victimise them after they protested an increase in their homeowners' association fee.