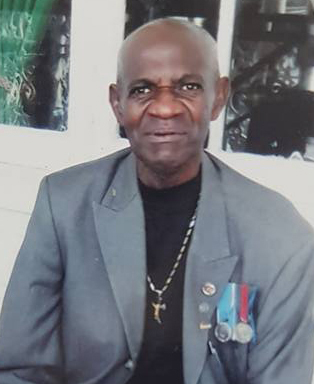 President David Granger yesterday extended condolences to the family and friends of the late Hector Stoute, retired army officer, entertainer and councillor of the City of Georgetown, who passed away on August 6, 2017 and was interred yesterday. He was 80 years old.
Born to the late Herby Joseph of Bartica,  Stoute was an Officer of the Guyana Defence Force, a former Director of Culture, Executive of the Guyana Calypsonian Association and Officer Manager of Evening News, a statement from the Ministry of the Presidency said. He had also promoted and hosted shows such as "Oldies are Goldies" and "In search of a Star" among others and toured the Caribbean and England as a singer.
He also served as an announcer at Amateur Boxing tournaments and moderated public events hosted by the People's National Congress and other organisations.
President Granger, on behalf of the Government and people of Guyana, extended sympathies to his wife,  Lovern Stoute and his children, as well as other family members and friends.
Comments

Since producing its first gold bar in August 2015, Canadian miner, Guyana Goldfields Inc (GGI) says it has paid US$26.5m in royalties to the state and purchased US$84.1m in goods and services from local businesses.

(Trinidad Guardian) When everyone felt that the case was closed on the kidnap and murder of United States citizen Balram "Balo" Maharaj, comes news that new motions have been filed in the Federal Court in Washington DC, which could see a new trial for the seven convicted Trinidadians.

HARARE,  (Reuters) – President Robert Mugabe was dismissed as leader of Zimbabwe's ruling ZANU-PF party today in a move to force a peaceful end to his 37 years in power following a de facto military coup.

Former Attorney General Anil Nandlall says that the Attorney General's Chambers' retention of six attorneys to prosecute a number of high profile cases is unconstitutional and he is warning that the right to a fair trial will be compromised by a politically-tainted process.
Guyana's total public debt increased from $317.7 billion to $330.6 billion in 2016 but the total debt as a percentage of Gross Domestic Product (GDP) declined to 46.4% from 48.6% at the end of 2015 due to a nominal increase in the GDP.