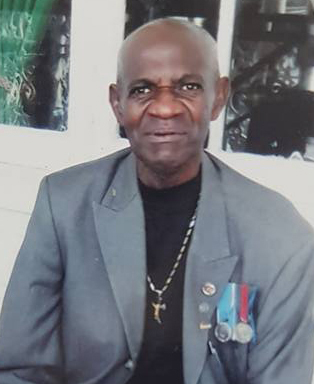 President David Granger yesterday extended condolences to the family and friends of the late Hector Stoute, retired army officer, entertainer and councillor of the City of Georgetown, who passed away on August 6, 2017 and was interred yesterday. He was 80 years old.
Born to the late Herby Joseph of Bartica,  Stoute was an Officer of the Guyana Defence Force, a former Director of Culture, Executive of the Guyana Calypsonian Association and Officer Manager of Evening News, a statement from the Ministry of the Presidency said. He had also promoted and hosted shows such as "Oldies are Goldies" and "In search of a Star" among others and toured the Caribbean and England as a singer.
He also served as an announcer at Amateur Boxing tournaments and moderated public events hosted by the People's National Congress and other organisations.
President Granger, on behalf of the Government and people of Guyana, extended sympathies to his wife,  Lovern Stoute and his children, as well as other family members and friends.
Comments

A family's preparation for a memorial service ended tragically early yesterday morning when bandits stormed into their home in  East La Penitence and discharged several rounds, fatally wounding a man and injuring two of his brothers.

(Trinidad Express) The Trinidad and Tobago Defence Force and Coast Guard have been at the helm of a dramatic rescue of a family of four, including two small children, who lived in a car for four days after their home in Dominica was destroyed last Monday by Hurricane Maria.

The two East Bank Berbice men who were taken into custody in relation to the murder of 13-year-old Leonard Archibald are expected to be placed before the court today.

Residents of Georgetown will by the end of October, 2017, be able to pay their rates and taxes using the Guyana Telephone and Telegraph's Mobile Money Guyana (MMG) application.

In a back lot just off the ever-bustling Regent Street, easily hidden by the clothing stores and snackette that dominate in the forefront, is A&A, a transportation and accommodation service that caters solely to Cuban visitors.