Mark Anthony, of New Amsterdam, was yesterday remanded to prison on a narcotics trafficking charge after he was allegedly found with 2.8 kilogrammes of cannabis after colliding with a police vehicle.
Anthony, 35, of 56 Stanleytown, New Amsterdam, was arraigned before Chief Magistrate Ann McLennan in Georgetown, where he was read a charge that stated that on July 24, at Evans Street, Charles-town, Georgetown, he had 2.8 kilogrammes of cannabis for trafficking.
Anthony entered a not guilty plea.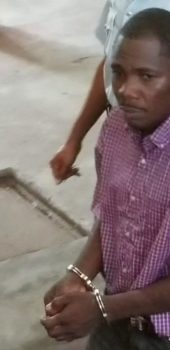 Police Prosecutor Arvin Moore objected to the accused being granted bail on the grounds that there were no special reasons put forward as well as the likelihood of the man fleeing the jurisdiction. He also noted that Anthony was previously charged with providing the police with false information.
According to the prosecution's case, on July 23, the accused collided with a police vehicle. After the collision, he tried to conceal a suitcase he had in his vehicle in a nearby yard. The police ranks then called for backup and a search was carried out. The suitcase was discovered and it was found to contain the cannabis.
Chief Magistrate McLennan remanded Anthony to prison and adjourned the matter until September 8.
Comments

THE HAGUE, (Reuters) – A U.N. tribunal today convicted former Bosnian Serb military commander Ratko Mladic of genocide and crimes against humanity for orchestrating massacres and ethnic cleansing during Bosnia's war and sentenced him to life in prison.

Chinese companies yesterday dominated the submission of tenders to prequalify for the financing, designing and building of the new Demerara River Bridge.

Coen Jackson, the Bishops' High School teacher accused of sexually grooming and preying on female students, yesterday denied the allegations levelled against him, while charging that the complaint now being investigated by the Education Ministry stemmed from a personal grudge.

In restructuring its sugar industry, Guyana has the advantage of being able to learn from the mistakes and successes of those Caribbean territories that have already completed the process, according to consultant Sharma Lalla.

A city magistrate yesterday cleared former Roraima Airways baggage handler Kennard De Jonge of a conspiracy to traffic narcotics charge.